Page 7 - New England Condominium May 2021
P. 7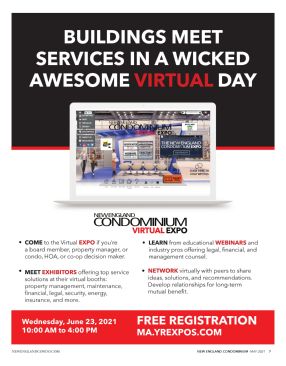 NEWENGLANDCONDO.COM 
NEW ENGLAND CONDOMINIUM  
-MAY 2021     
7 
BUILDINGS MEET  
SERVICES IN A WICKED  
AWESOME  
VIRTUAL  
DAY 
Wednesday, June 23, 2021 
10:00 AM to 4:00 PM 
FREE REGISTRATION 
MA.YREXPOS.COM 
COME 
 to the Virtual  
EXPO 
if you're  
a board member, property manager, or  
condo, HOA, or co-op decision maker.  
MEET  
EXHIBITORS 
 offering top service  
solutions at their virtual booths:  
property management, maintenance,  
fi nancial, legal, security, energy,  
insurance, and more.  
NETWORK 
virtually with peers to share  
ideas, solutions, and recommendations.  
Develop relationships for long-term  
mutual benefi t.  
LEARN  
from educational  
WEBINARS 
 and  
industry pros offering legal, fi nancial, and  
management counsel.