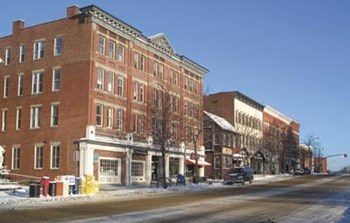 Nestled into the curves of the Connecticut River Valley, Amherst, Massachusetts, is a study in contrasts: Rolling farmlands and a bustling retail center; historic inns and high-rise dormitories.
First settled as a part of Hadley in the 1730s, Amherst — named in honor of Lord Jeffery Amherst, a hero of the French and Indian War — was incorporated as a separate town in 1775. Not long after its incorporation, the town embarked on a path that distinguishes it to this day. This is a community focused on education.
The mere mention of its name brings immediate recognition, not only from residents of Massachusetts or New England, but from across the nation and beyond. Amherst is the home of the main campus of the University of Massachusetts, Amherst College and Hampshire College, and the hub of the "five college consortium" that includes Smith College in Northampton and Mt. Holyoke College in South Hadley. Surrounded by fertile farmland, it's no surprise that the University — now serving some 25,000 students, about half of whom live on campus — began as the Massachusetts Agricultural School (affectionately known as "Mass Aggie.") Today, the flagship campus of the state university system is virtually a city within the town, with its own fine arts center, libraries, athletic center, hotel and restaurants.
At the same time, the private Amherst College, founded in 1821, adds a couple thousand students to the local population, and Hampshire College — the 'new kid' on the block, having admitted its first students just four decades ago — boosts the population by another 1,500.
As of the 2010 census, the population within the town's 27.8 square miles was 37,819, with a density of 1,365 persons per square mile. Despite its size, the town is still governed by a select board and town meeting. Recent attempts to change the governance to a town council and mayor were not successful, and the town meeting continues to be composed of 254 elected members rather than New England's more-traditional attendance of the population at large. In addition to its elected officials, the community has a town manager, hired to handle the day-to-day operations.