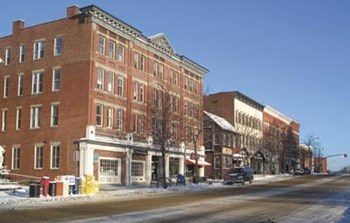 Nestled into the curves of the Connecticut River Valley, Amherst, Massachusetts, is a study in contrasts: Rolling farmlands and a bustling retail center; historic inns and high-rise dormitories.
First settled as a part of Hadley in the 1730s, Amherst — named in honor of Lord Jeffery Amherst, a hero of the French and Indian War — was incorporated as a separate town in 1775. Not long after its incorporation, the town embarked on a path that distinguishes it to this day. This is a community focused on education.
The mere mention of its name brings immediate recognition, not only from residents of Massachusetts or New England, but from across the nation and beyond. Amherst is the home of the main campus of the University of Massachusetts, Amherst College and Hampshire College, and the hub of the "five college consortium" that includes Smith College in Northampton and Mt. Holyoke College in South Hadley. Surrounded by fertile farmland, it's no surprise that the University — now serving some 25,000 students, about half of whom live on campus — began as the Massachusetts Agricultural School (affectionately known as "Mass Aggie.") Today, the flagship campus of the state university system is virtually a city within the town, with its own fine arts center, libraries, athletic center, hotel and restaurants.
At the same time, the private Amherst College, founded in 1821, adds a couple thousand students to the local population, and Hampshire College — the 'new kid' on the block, having admitted its first students just four decades ago — boosts the population by another 1,500.
As of the 2010 census, the population within the town's 27.8 square miles was 37,819, with a density of 1,365 persons per square mile. Despite its size, the town is still governed by a select board and town meeting. Recent attempts to change the governance to a town council and mayor were not successful, and the town meeting continues to be composed of 254 elected members rather than New England's more-traditional attendance of the population at large. In addition to its elected officials, the community has a town manager, hired to handle the day-to-day operations.
Included in the Springfield, Massachusetts, Metropolitan Statistical Area, Amherst is located 23 miles from Springfield, 87 miles from Boston, and 157 miles from New York City. Despite its rural setting, Amherst is well-served by public transportation provided by the Pioneer Valley Transit Authority and the UMass Transit Service. Ridebuzz.org, a popular new carpooling transportation option, links people needing a ride with drivers heading in the same direction.
Setting the Tone
The town's interesting 250-year history is bolstered by a veritable "who's who" of former residents, from celebrated American poets Emily Dickinson and Robert Frost to authors Helen Hunt Jackson ("A Century of Dishonor"), Eugene Field ("Wynken, Blynken, and Nod") and Howard Roger Garis (the "Uncle Wiggly" children's series). Melvil Dewey devised the familiar Dewey Decimal system while working as an assistant librarian at Amherst College in 1876, and Harlan Fiske Stone attended Amherst public schools and was expelled from the Massachusetts Agricultural College before graduating from Amherst College and going on to become dean of the Columbia Law School, Attorney General, and ultimately, Chief Justice of the United States Supreme Court.
Not surprisingly, the colleges have played a large role in shaping the town, and continue to influence the community culture. The official town website describes Amherst as a "diverse, inclusive community offering numerous educational and cultural opportunities."
A welcoming home to new residents, the town offers year-round recreational opportunities, from Cherry Hill Golf Course, with its stunning scenic views, to the Amherst Leisure Services Community Theater and youth sports leagues. Residents who enjoy the outdoors are fortunate to have at their doorsteps the Metacomet-Monadnock Trail, which extends from the Connecticut border to the New Hampshire line, passing through communities of the Pioneer Valley along the way, intersecting with the 47-mile long Robert Frost Trail in eastern Amherst.
With a mix of long-and short-term residents — spurred by the ebb and flow of students — Amherst's real estate market is a broad blend of apartments, condominiums and single-family homes. Recent condominiums on the market included a two-bedroom, 1,000-square foot row house priced at $137,500; a three-bedroom, two-bath South Amherst townhouse at $248,900; and a three-bedroom, three-bath, 2,766-square foot townhome priced at $586,500.
On Campus, and Off
The colleges alone account for an influx of thousands of visitors each year, but beyond the campus borders, those visitors are likely to stop by sites like the Emily Dickinson Homestead, the Eric Carle Museum of Picture Book Art and the Theodore Baird Residence, designed by architect Frank Lloyd Wright. And don't forget the Amherst Farm Winery, home to award-winning fruit wines, produced from local ingredients and available for tastings in the 19th century post-and-beam barn.
With the venues provided by the college campuses, local residents are able to join students in enjoying a stunning array of art exhibits and performances — from the college ranks and from around the world. Consider this sampling of recent attractions: The Chinese Theatre Works: Toy Theatre Peony Pavilion; Chicago jazz bassist Harrison Bankhead's quartet; Dave Samuels' Grammy Award-winning Caribbean Jazz Project; and TEAL-One97, an all-star rock music collective's Arab and North African Music Project.
Although set amid a largely-rural area, Amherst sports a lively, unique shopping district with an eclectic urban feel. Music stores, flower shops and office supply centers share sidewalk space with businesses like Worlds Apart Games, billed as "America's first all-volunteer, collectively owned game store," and Food for Thought Books, a not-for-profit, workers' collective bookstore. A true heart of the community, downtown Amherst is also the place to find film festivals, contra dances, block parties and farmers' markets.
A study in contrasts, but united by its educational focus, Amherst is an intriguing place to live — and study — in the western Massachusetts landscape.
Pat Gale is associate editor of New England Condominium.