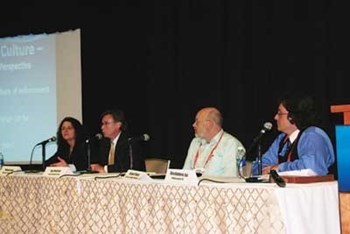 New England Condominium's Condo Expo was the place to be on May 22, as thousands of community association board members, homeowners and industry professionals gathered at Boston's Seaport World Trade Center to meet vendors, get free advice, and sit in on a wide range of educational seminars covering everything from pest control to foreclosures.
"Our primary goal is to present attendees with information and products that will make running their communities easier and more efficient," says Yale Robbins, President of Yale Robbins, Inc., Expo producer and publisher of New England Condominium, "but we also put a great deal of thought into the bigger picture, anticipating trends and trying to broaden and build on our offerings from year to year."
Henry Robbins, Executive VP and Director of Sales for Yale Robbins, Inc., added that despite a sluggish economy, overall attendance and interest in the Expo—both from vendors and attendees—has grown each year since the show was launched in 2007. "It's really our exhibitors and our attendees who make this show what it is," says Robbins. "Their enthusiasm and interest is contagious—the fact that the event grows and draws more people each year is proof of that." The 2012 Expo included 120 exhibitors and attracted over 1,500 visitors.
One of those visitors was association board member Dr. Paul W. H. Tung, who gave the event high marks being well-organized and informative. "It was my first visit to such an exposition and I enjoyed meeting the vendors and having discussions with them," he said. "[Our board] plans to further our discussions regarding future projects with these vendors."
Head of the Class
Beyond the exhibits featuring community essentials ranging from alarm systems to roofing, the New England Condo Expo offered seminars designed to enlighten attendees about key issues affecting both condominium and apartment building management.