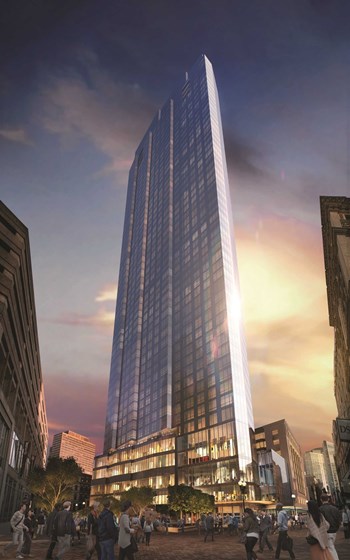 The past several years have been an unsettling ride for residential real estate across the nation, with a stomach-lurching slide from 2006 to 2012—but if the past two years mark a trend, the market may be on an upswing in New England.
"Outside of Boston, condo sales seemed steady with some price appreciation in 2014, and the Boston luxury market seems to have no end," says Stephen DiNocco, principal of Affinity Realty & Management in Boston. "Many developments are either coming online or are in the pipeline, and demand seems to readily absorb supply."
State by State
Macro economist Elliot F. Eisenberg, Ph.D., president of GraphsandLaughs, LLC, says that "the percentage of the U.S. population that lives in Massachusetts has continuously fallen from 3% in 1954 to slightly above 2% today"—but that fact did not stop the downtown Boston condominium market from being very strong in 2014.
According to Deborah Taylor Blair, President of Link in Boston, "The average selling price in Quarter 3 was $731,000, an 11% increase over the previous year's quarter. Condominiums located in luxury full-service buildings had an average selling price in Quarter 3 of $1,775,000, a 5% increase over the previous year's quarter."
And, notes Keith Shirley, a licensed realtor with Meridian Realty Group in Boston, "average prices in Massachusetts have continued to rise at $404,493 in 2014, up from $382,181 in 2013. Overall the market volume in 2014 was $7.7 billion up from $7.37 billion in 2013, an increase of over 4.66%."
The news was good for New Hampshire as well, where closed sales were up 6.2% and median sale prices were up 4.8%. According to Matthew Mercier, a realtor with Keller Williams Metropolitan Realty in Bedford, New Hampshire, "the 2014 market was a good year for buyers who had purchased their condos in prior years and watched their home values decrease. They finally saw the market shift and appreciation in their condos and were able to sell and move into a larger or smaller condo or single family home."
In Connecticut, however, the figures tell a more mixed story. Debra Chamberlain, the outgoing 2014 president of the Connecticut Association of Realtors, explains that "the median sale prices in Connecticut between November of 2013 and November of 2014 went down .9% from $161,500 to $160,000, but the number of transactions went up 1% from 7,243 to 7,316, and if we look at the entire year, it is not so unhappy a picture."
What's Next?
What these figures mean for 2015, though, seems to be anyone's guess. Tim Warren, CEO of The Warren Group, a real estate and financial data provider in Boston, says: "In the second half of this year we have five months of data where there were four down months, and only one month up in October, but we would be hard pressed to predict if this represents a trend or not. My gut feeling is that condos will continue to be popular simply because of demographics."
As Chamberlain explains, the Baby Boomer generation may be the reason the condominium market will continue to hold steady. She says, "Boomers are downsizing, and they want condos because they are tired of mowing lawns; and there are a lot of boomers." She continues, "The trend now is towards the over 55 Active Adult Communities, designed for retirees and built around amenities like golf courses."
Warren agrees. "City condos are very popular now, driven by the big demographic bubble of baby boomers who are empty nesters, looking for simple living and interested in moving back to the city." He continues that another factor contributing to condominium sales is that people who were inclined to rent between 2006 and 2010 because of fears about the real estate market are now buying because renting is becoming expensive, and those fears about the market are now vanishing in the wake of recent good years.
In Shirley's experience, " a vast number of first-time home buyers are now taking advantage of the exciting opportunity to become homeowners," and Blair says, "there are now pockets of affordable new construction 'family friendly' units in South Boston and Charlestown, which include attached townhouses and duplexes" that are attractive options for those buyers. In Mercier's experience, "The millennial generation especially seems to be drawn toward condos which allow them the freedom to do exactly what they wish—which is to enjoy their lives without the responsibility of home maintenance."
Foreclosures Linger
The upward trend in condominium sales has not been without its struggles, however. Chamberlain says that in Connecticut, "Foreclosures have affected urban areas, especially towns like Bridgeport and New Haven." She explains that "as a judicial foreclosure state, it can take three years between when a property is foreclosed upon and when it comes back on the market." As such, "Connecticut is in last place with its real estate recovery." Also, "portions of the state were hit very hard with job losses of high wage income earners, and our real estate market is joined at the hip with the job market"—which means people have been slow to resume purchasing of real estate.
The good news, though, is that Chamberlain is seeing more first-time homebuyers than ever before. And, she says, "Buyers who are qualified with little debt and who have jobs can now get rates under 4% and lots of different loans, so they're taking advantage of the opportunity they have." In addition, cash investors who have been buying properties for cheap and then selling have not been able to find the same types of deals lately, "which is a good sign that we're working our way in the right direction," Chamber notes.
Looking at the New Hampshire picture, Mercier agrees. "We've seen a reduction in foreclosures and short sales, and condominium associations now seem to have healthier financial situations and even monetary reserves," Mercier says.
A Great Year?
As 2015 progresses, Shirley predicts "a strong year as buyers continue to gain confidence in the real estate market." He says that "due to increasing values, owners have gained additional equity in their homes, making the decision to sell an easy one, and we expect 2015 to be a great year to both buy and sell." He adds that "the Boston condo development is booming with the resurgence of downtown and the continued improvement of South Boston's Seaport District. Boston saw $4 billion in new construction in 2014, and the Boston Redevelopment Authority has already approved an additional $3.7 billion in development."
Warren confirms that "there has been a trend toward developing more luxury condominiums in Boston and Cambridge which are selling for big prices," but he wonders whether some of the enthusiasm for owning a condominium has slowed down. He says that "until recently the condominium market was outperforming the single family home market, but we did see a drop in November where the market fell 14% from the prior November."
DiNocco, though, feels that "2014 was a pretty routine year, and I expect 2015 to follow suit." Blair, too, believes that "due to extremely low inventory, properties will continue to appreciate in value in 2015," but notes that "low bidders are not buying," and one wonders why.
According to Eisenburg, "regulations make building single family detached units hard, and because getting construction permits is so tough, they simply do not get built, which causes house prices and rents to become very high. So over time,you wind up with a metro area of increasingly rich people as poor ones have an increasingly difficult time finding an affordable place to live."
Does this mean then that people of a certain income are frozen out of the condominium market? "No," says Mercier. "There are a lot of condominiums to be found between $75,000 and $150,000." What he does indicate, though, is that "there seems to be a schism between those condominiums and then the ones which sell for $300,000 to $350,000, which leaves the range in between vacant."
What seems to be clear is that, at least for now, condominium sales are not in any danger of drastically slowing down. According to Mercier, "we are seeing a lot more townhouse-style and flats being designed for the baby boomer generation, as well as 'clustering" communities where homes are in the center with community amenities like walking trails and a community gardening on the surrounding property." Blair adds that developers are also adding to their condominium offerings. "With respect to new developments," she says, "the trend seems to be offering a high level of 'in-house' services to unit owners only. For example, having a private chef for unit owners rather than leasing space to a high profile restaurant open to the public." As 2015 progresses and new condominium construction moves forward, potential buyers can be assured that there are not only opportunities for condominium purchasing but choices for them as well.
Paula Castner is a freelance writer and a frequent contributor to New England Condominium.