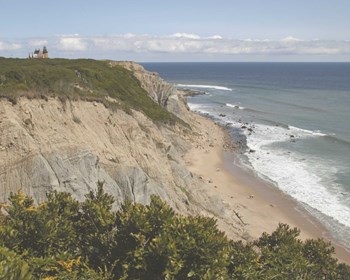 Nestled in the frothy Atlantic, 12 miles from coastal Rhode Island—its home state — Block Island is a scenic haven that promises rest, relaxation and refuge for visitors and residents alike.
It's small—just 21square miles—and only accessible by boat or plane.
But its solitude and natural beauty make it a popular vacation destination and favorite spot for weddings, as well as the place that 1,100 year-round residents call home.
Block Island is renowned for its 17 miles of free, public beaches, sparkling water, dramatic bluffs and acres of preserved open space. These factors caused the Nature Conservancy to designate it "one of the 12 last great places in the Western Hemisphere."
Its beauty first drew realtor Mary Stover here 21 years ago, and she never left.One vacation home led to another, then she started renting them, Stover recalled. "Soon, I started selling real estate and then opened my own agency," said Stover, principal owner of Beach Real Estate.