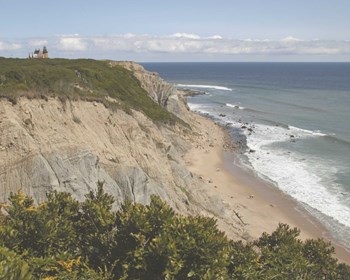 Nestled in the frothy Atlantic, 12 miles from coastal Rhode Island—its home state — Block Island is a scenic haven that promises rest, relaxation and refuge for visitors and residents alike.
It's small—just 21square miles—and only accessible by boat or plane.
But its solitude and natural beauty make it a popular vacation destination and favorite spot for weddings, as well as the place that 1,100 year-round residents call home.
Block Island is renowned for its 17 miles of free, public beaches, sparkling water, dramatic bluffs and acres of preserved open space. These factors caused the Nature Conservancy to designate it "one of the 12 last great places in the Western Hemisphere."
Its beauty first drew realtor Mary Stover here 21 years ago, and she never left.One vacation home led to another, then she started renting them, Stover recalled. "Soon, I started selling real estate and then opened my own agency," said Stover, principal owner of Beach Real Estate.
Even after two decades here, Stover still marvels at Block Island's beauty.
"It's the Bermuda of the north," she said. "The water is so crystal clear that you can stand in it up to your shoulders and see right down to your toes."
History abounds
Block Island is part of the Outer Lands region, a coastal archipelago, created when a giant glacier retreated 22,000 years ago and left rolling hills and ponds behind on this speck of land that juts from the sea.
The Niantics, its first inhabitants, were a tribe of Native Americans who merged with the Narragansett people. They called the island "Manisses," which means"Island of the Little God." A migratory clan, they moved from forests to coastal areas, depending on the seasons, and lived on the deer, fish and shellfish that they caught and the corn, beans and squash that they grew.
Italian explorer Giovanni da Verrazzano first sighted Block Island in 1524. But it was Dutch explorer Adrian Block who gave it his name when he sailed here in 1614.
Capt. William Kidd, the infamous pirate of the late 1600s, visited Block Island on his escapades. Legend has it that he buried treasure on the island, according to Block Island Historical Society archives.
During the American Revolutionary War, Block Islanders kept watch on Beacon Hill — the island's highest point—and lit fires to warn when enemies were in sight. In the 1800s, an observatory was built as a tourist attraction on the hill, which stands 211 feet above sea level. Today, the observatory is a private home.
The federal government built the island's first lighthouse in 1829 on Sandy Point. Four others have stood here since, with Northlight, the most recent, constructed in 1867 and now open for public tours.
Victorian vacations
Block Island's reputation as a vacation destination began in the 1850s. Since then, four U.S. presidents—Ulysses S. Grant, Franklin Delano Roosevelt, Dwight D. Eisenhower and Bill Clinton—have enjoyed its beauty.
Today, seven or eight of its Victorian-era hotels still welcome visitors, including the first, Spring House, which was built in 1854.
"Block Island has the highest percentage of Victorian-era hotels in the country that still operate as hotels," said Stover.
But vacationers will find smaller inns, bed and breakfasts, and a small number of rental homes to stay in, said Stover.
Only about five percent of homes are rental properties, she added.
"People love being here so much that very few homeowners rent their homes," said Stover.
Island living
Block Island's population swells to 15,000 people in the busy months of July and August.
Summer ferries come from New London, Connecticut, Montauk, New York, and Newport, Rhode Island. A year-round ferry runs daily, except on Christmas, from Point Judith, Rhode Island.
Visitors come for the beaches and natural surroundings.Fifty percent of Block Island is preserved as conservation land by the Nature Conservancy, the Audubon Society and the Department of Fisheries and Wildlife, said Stover.
People enjoy the active life—kayaking, hiking, horseback and bike riding, bird watching, sailing, snorkeling and swimming.
But it's fine to relax and savor the view or visit the shops, galleries and restaurants in New Shoreham, the island's only town.
Every summer, Block Island Race Week churns the island's waters with sailboat races in Block Island Sound and around the island. Summer also brings the annual Fourth of July Parade and celebration and concerts on the beach. In early winter, holiday cheer spreads across the island during the annual "shopping stroll," said Stover.
"You won't have a problem filling your day with things to do on Block Island. But we do recommend that you sit back and enjoy the unique art of doing absolutely nothing," urges the Block Island Tourism Council website.
Condo scene
Condominium living is limited here, said Stover.
"Our zoning regulations are strict and don't encourage condos," she said.
Currently, three condo developments exist here, with most owner-occupied and not available for rent.
Crescent Beach Cottages, the most exclusive, is comprised of 24 three-bedroom town homes on the waterfront with seven acres of shared land.
"You can easily walk to the beach and the views are great," said Stover.
In August, she had one listed for sale at $1.9 million.
Salt Pond Settlement, near the yachting mecca of the Great Salt Pond, has 34 one- to three-bedroom condos, a community pool and shared outdoor spaces. In August, two were listed at $790,000 each.
Harbor Pond condos, the smallest development, has four one-bedroom units and six two-bedroom units.
"Owners typically stay for the summer and don't rent or sell—there is little turnover," said Stover.
That's understandable, given Block Island's seclusion, charm and beauty.
"Block Island is an amazing place to live. You see beautiful views around every corner, residents are welcoming and life is simple and safe here. As a mom raising two small children, there's no place that I would rather call home," said Jessica Willi, executive director of the Block Island Tourism Council.
"After coming here, I never wanted to live anywhere else," she said.
Nancye Tuttle is a freelance writer and a frequent contributor to New England Condominium.