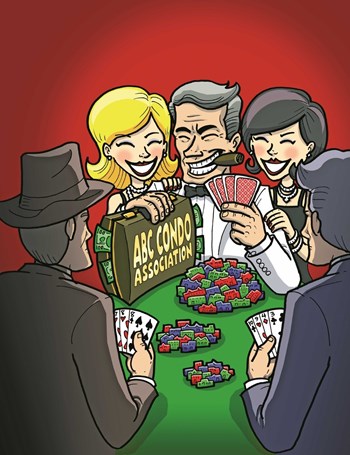 Given recent headlines, condo associations could be forgiven for thinking they need to put an armed guard and razor wire around the petty cash box. A wave of fraud appears to be hitting condominiums from New England to Florida and beyond.
A bookkeeper in Maine was charged with stealing $30,000 from two different condo associations. In Connecticut, a former business manager – whom police allege had a gambling problem –pleaded not guilty to stealing $226,000 from a condo association in Ledyard. In New York last December, a Rockland County treasurer pleaded guilty to taking more than $130,000 from an association. Perhaps the largest case of fraud reported in recent months is that of a New York manager who allegedly stole $1.3 million in property taxes from six co-ops.
"It's all over the country – it isn't just condo boards and associations," says Michael Kessler, a certified fraud accountant and owner of Kessler International in New York. "The amount of fraud that we see is just astronomical." (If it's any comfort, someof Kessler's cases make the co-op theft look like chump change. His firm recently broke open a Ponzi scheme worth $463 million.) But "condos and co-ops are up there," he says.
That leaves associations and boards having to grapple with an uncom-fortable situation in this struggling economy. Fraud can devastate a small condominium's finances and leave boards of all sizes feeling violated and distrustful. But how can an association tell if there's a problem without feeling like they're suspecting everyone in their employ?
Three Scenarios
Take three hypothetical scenarios andsee if you can spot the most likely thief: An employee has been heading for Mohegan Sun Casino on weekends. The treasurer just traded in his 10-year-old Honda Civic for an Audi TT. And then there's the dedicated bookkeeper, who's been with the company 20 years and never, ever takes a vacation.