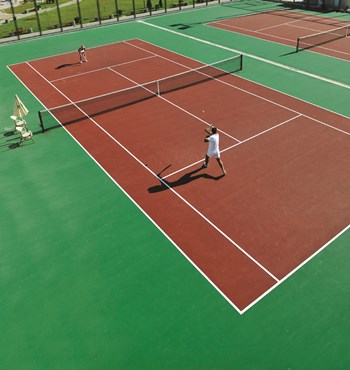 The amenities found at New England's condominium communities can run the gamut from glamorous to the merely mundane. Some of the larger communities are virtual resorts with enough real estate—and revenue—to offer riding stables, golf courses, ski lifts, an airstrip for private planes or a marina with private boat slips. More typically, suburban communities provide a clubhouse and fitness center, and maybe a pool. For small developments, especially in urban locations, an important amenity may just be a parking space or laundry room. Amenities, however, can create ongoing challenges for management, as both an extra responsibility and potential controversy.
"There are two schools of thought around amenities such as pools and tennis courts," observes Candice Morse, a property manager at Thayer & Associates in Cambridge, Massachusetts. "Some segments of the community see these as a liability, and the other segment are the people who really use the facilities, or regard them as adding value," and think they're indispensable.
"One trend we're noticing," she continues, "is fitness centers, which seem to be getting more use, so associations have been upgrading equipment." Most workout or equipment rooms or fitness studios in condo communities, she observes, tend to be unstaffed and "use at your own risk," the way pools are managed recently—with no lifeguards. "We don't see many fitness centers that provide staff for class instruction," adds Morse, "probably since there may be liability issues… if you hire outsiders to teach classes, then who pays if someone gets hurt?"
The bottom line, she states, "is that while contractors and vendors may be hired to do specialized work such as pool maintenance, [the management team] is ultimately responsible for overseeing everyone… and everything" that gets done.
With any special amenity, there seems to come special monitoring and management. "How far do you go… where do you draw the line with security and safety? There has to be a balance," notes attorney Robert Ducharme of Portsmouth, New Hampshire. "Association boards can run into all kinds of unexpected challenges when operating a pool or playground facility. As an example, at one condo community with a pool, on a hot summer day the place is busy with families and kids of all ages and their friends and guests, and someone notices a man taking pictures of the young children. Well, everyone has a cell phone with a camera," he points out, so it's a judgment call—to decide when enforcing rules crosses over to harassment.
"In another community," Ducharme adds, "the pool area had security cameras, but teenage residents were jumping the fence at night and skinny-dipping. The question came up about how often the cameras were monitored, and how secure do you really want to be as a community. Teenagers sneaking into facilities at night is nothing new… or surprising. Do you keep installing higher fences? In this case, the board decided to just check the security cameras more often."
Check with Town Hall—First
Taking care of amenities at condo properties can test the skills, and patience, of any manager, not just because of the extra costs and liabilities, but simply keeping up with local and federal regulations and the permitting process. Nick Ruccolo, vice president at Crowninshield Management in Peabody, Massachusetts, notes, "In this state, you're required to have a 'certified pool operator' (CPO) if you're operating a public or semi-public pool, such as in a residential community. This is someone who tests the water and chemical levels and logs everything daily. Some associations do it in-house, by getting an employee certified, while others job it out" to a pool maintenance company. He adds that "we use our own staff, or outside vendors, for pool management in general—depending on the needs of individual properties."
Ruccolo explains how the role of lifeguards has changed, at least in Massachusetts, "since the state no longer requires lifeguards at public pools. That decision is now left up to cities and towns, so the local boards of health now control regulations about pool use," and some still require lifeguards. "So, it's important to stay connected with the local health agent or board," he says. "If someone is taking on management of a property with a pool, I'd advise to first of all, get the facility and maintenance plan approved by the local board or health agent, then get someone signed up as the CPO, whether you're using a vendor such as a pool company, or getting your own staff certified."
He points out that the board or trustees must also get involved, "to come up with a plan for pool management … and iron out the details concerning pool regulations, including signage to present those rules clearly and warning users that there is no lifeguard. Some of the basics are… to make sure a security fence is in place and it's locked during off-hours. Also, consider security cameras, especially at the gateways."
As an alternative to lifeguards, Ruccolo adds, "Many places have pool attendants or monitors, for maintenance or cleaning duties, or checking security. They may be called 'courtesy patrols' or something that does not make promises about 'lifesaving,' which could imply a level of responsibility" by the association and extra liability.
Planning for 'Opening Day'
"Working with the associations can get more complicated, and the regulations may need more consideration, for properties that 'open up' their pools and clubhouse facilities." Ruccolo notes. "We have a property in New Hampshire let allows non-residents to join their 'club' for a fee and use the pool facilities. And what about multi-faceted communities where different neighborhoods or buildings, each with their own associations, are sharing the pool and other recreational facilities? They need extra provisions in management documents]to allow them to split the costs and controls."
Property manager Nathaniel Brown, the regional leasing manager at Corcoran Management Company in Braintree, points out that a major challenge in managing pool facilities is timing, and the fact is that outdoor pools are seasonal. "Everyone wants to be open by Memorial Day and usually close right after Labor Day," he states, "and you cannot open for the season until the pool has been inspected by a health agent…. With thousands of pools in Massachusetts and just a few inspectors, you have to pay close attention to scheduling and get approved as soon as possible in the spring."

Some properties have year-round facilities, Brown continues, and can avoid that seasonal squeeze. "We have a building in a more urban setting with its own parking garage and an indoor pool. The association uses a pool contractor to maintain it and meet state regulations, and it has proper signage about 'no lifeguard on duty.' The board of health can come anytime for an inspection since the facility is open all year, but they have not come in for a few years… it's as though they've forgotten about us."

But besides dealing with the intricacies of health boards and permitting, maybe the biggest challenge in managing amenities is simply keeping the peace, since issues around recreational sites—especially pools—will generate more contention than other common-use facilities such as laundry rooms or parking. Managers need to be proactive regarding residents and board members with different ideas about rules and regulations as complaints and conflicts are probably inevitable—sparked by anything from pool temperature to noisy children.
Brown acknowledges this challenge, and states, "When there are complaints from unit owners, they go to the manager and then we [at the management company] decide whom to enlist for a solution. This may involve the pool contractor or another outside vendor, or someone within the community" such as the trustees, a committee member or volunteer resident.
We're All Getting Old
One problem facing condo managers is the fact that, like baby-boomers, a whole generation of condo developments are aging—as a group. "Amenities, installed with new developments, are now a problem because facilities are aging," says attorney Charles Perkins, a senior partner with the law firm of Perkins & Anctil in Westford, Massachusetts. "In many cases, trustees are looking at ways to get rid of them, and you may need 75 percent of unit owners to vote to eliminate a pool or tennis court."
Another aspect of recreational facilities that property managers might face is handicap access. "Under the federal ADA [Americans with Disabilities Act] law, says Perkins, "condo facilities such as pools are considered private, not open to the public, and don't come under the act. However, there are other state and federal regulations prohibiting discrimination, and the Fair Housing Act," he adds, which may come into play for pool managers. In general, the New England states "have a handicap and access board" that fields complaints.
Recreational facilities, in general, says Perkins, "are a standing target for associations" to get sued, and the standards for liability keep getting tighter. He points out that a few years ago, "The case law for 'slip and fall' accidents in Massachusetts was changed" in a way that makes property owners more vulnerable.
As explained in a news report in InsuranceJournal.com, for more than 100 years, the state defined "natural" and "unnatural" accumulations of snow and ice, and property owners who did not remove "natural" accumulations of snow and ice could not be held liable for a slip and fall incident. The decision by the Supreme Judicial Court abolished the distinction between natural and unnatural accumulations of snow and ice, and brings Massachusetts in line with most other states in terms of liability lawsuits related to snowfall and cold weather conditions. The most widely applied standard, known as the "Connecticut Rule" in legal circles, makes no distinction between natural and unnatural accumulations of snow in deciding how liability might be applied in a slip and fall accident. The SJC decision would be retroactive to previous lawsuits as well—opening up the door for renewed interest in old slip-and-fall claims.
Keeping Values Up
Experts agree with Morse that amenities for sports and recreation can really divide communities into those who really use the facilities and those who don't, and who cannot abide the extra costs of maintaining them. Ruccolo points out that even when a pool or fitness center gets little use, it's difficult to eliminate them because of the "wow" factor. "We managed a property once that had a pool on the rooftop, and it was really a cool thing… a nice feature" that residents could boast about. "I think a lot of places have amenities with few users but they're kept up because of the value is seems to add, even for non-users. Ultimately, people associate amenities with value."
Marie Auger is a freelance writer and a frequent contributor to New England Condominium.