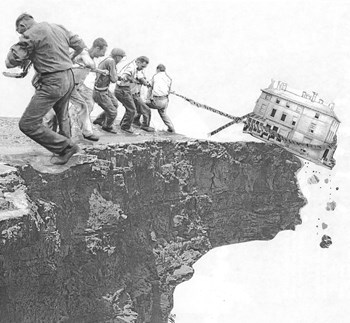 It happens infrequently, but when it does, it can be an enormous challenge: a co-op corporation or condo development has a long-running squabble with the building sponsor/developer, falls victim to long-term mishandling of funds — or outright fraud — by the board, or has to undertake a major unexpected or ill-prepared-for repair project. All of a sudden, they've got no money in the reserve fund, they can't borrow against the property to make vital repairs, and residents are beginning to think they may have made a poor investment. Suddenly the whole building is on the precipice of insolvency. It's a scary situation — but there are ways to edge back from the brink of financial wreck and ruin and get back on track. Here are some stories of communities who did just that.
Running the Numbers
At the end of the day, keeping a building solvent is about math. The money coming in has to be greater than or equal to the money going out. Extreme variation in either of the two sides of the equation can push a building towards financial difficulty. There are any number of ways, sudden or gradual, that this can come about.
The first reason is simple mismanagement. "Where communities fall into problems is when they don't pay attention to what their building needs," explains Enid Hamelin, longtime property manager and current board member at the Butterfield, a co-op in New York City. "They have no concept of the preservation of the structure of the building. They have not planned for it." For example, there are a number of prewar buildings in New York, built during the Roaring Twenties. These are often coveted addresses, with their oversized apartments, high ceilings, interesting features, and so forth. But they are old. And with age comes the need for renovation. So it's especially important in that type of building to be vigilant and plan carefully.
"What happens is that boards will low-ball the monthly fees," says Boston attorney Saul J. Feldman of Feldman Law Office. "If they want to keep out of financial trouble, they have to be realistic about what they need. If they really need $500 a month, that's what it should be; they shouldn't try to make nice at $400 a month."
And whether the condo building or community is a venerable urban high-rise or a sprawling suburban property, there are elements — from roofs to windows to boilers — that are going to require repairs and replacement as time marches on. Unfortunately, Feldman notes, many associations don't have adequate reserves set aside for that inevitable work. "They should have an outside expert come in for a reserve study, but they just don't do it," he laments. "Most mortgages today are sold on the secondary market, and Fannie Mae and Freddie Mac insist" on healthy reserves — but some associations don't even come close to what they should have. "So they fall short, then they panic and they do a special assessment, and people can't handle the special assessment."