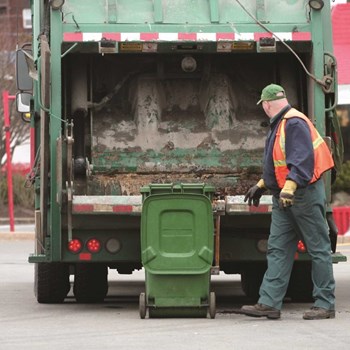 Some condo developments have the luxury of having their waste removal and garbage collection handled as part of the town's municipal services—but the majority still need to find their own private company and pay for the service on their own.
"There are the big established national companies, but a lot of smaller regional companies have come into the marketplace in recent years," says Tim Arel, property manager at North Point Management, LLC, in Amherst, New Hampshire, which manages condos in that state and Massachusetts. "What's interesting is that they used to be more expensive but in the past two to three years have come down in pricing and are sometimes more competitive than the nationals."
When the economy started to nosedive a few years back, many trash companies realized that it would be better to negotiate than to lose existing business and companies started to make their move.
David Barrett, senior vice president of American Properties Team Inc. in Woburn, Massachusetts, has had great luck with negotiating contracts down since about 2008 for this reason.
"About that time, I started to get solicitations from waste companies that wanted to bid on my properties and I was able to reduce one of my contracts—with the same contractor—by 40 percent," he says. "This was an 84-unit townhouse community with curbside pickup. We were paying $25,600 a year and reduced it to $15,400."
In the Beginning
Waste removal is something that any new condo or homeowner association should be thinking about from the time it's first ready for residents, as you don't want people moving in with no place to put their garbage.
"Typically, developers will sign on with one waste management company when the first few residents move in," says Danielle Meade, senior sales manager with Abode Residential Marketing and Sales and Gordon's Woods Condominiums in West Roxbury, Massachusetts. "They will sign a contract that can be renegotiated or terminated when the association takes over and the developer is finished selling all the homes."
Depending on the size and layout of the condominium, garbage collection will either be done curbside of each home with bags provided by each owner or in bins scattered around the property.
"The bins are provided by the trash company. They can range from 90 gallon toters that are purchased or rented monthly by the association to up to 10-yard containers that are rented monthly," Arel says. "The typical contract is based on the rent of the container and the pickup/disposal of the trash placed in the container."
When choosing a rubbish collection service, the management company or condo board needs to find a plan that's best for them and its residents. There are a multitude of options—number of pickups per week, adding recycling, bringing extra trucks during peak times—and all of these variables should be negotiated at the start.
"The contracts vary from site to site, depending on the number of residents and how often removal is actually needed," Meade says. "Typically, waste management companies will be flexible with the needs of the client."
Negotiate the Price
A savvy management company will examine its waste removal contracts at least every three years and bid them out because there is a possibility they could experience savings.
"We generally look at the waste removal contracts on a three year-cycle," says Jeff Martin, president of Foreside Real Estate Management, Inc. in Portland, Maine. "Not only do we look at the competitive bid process to negotiate the best deal, we also work with our waste removal vendor to provide competitive pricing through our buying power on behalf of our community associations."
Many of the companies will also bundle a recycling component to the contract, which could save an association money in the long run.
"The base cost for waste removal has remained relatively stable, however; we have seen higher cost in the form of fuel surcharges due to higher energy costs," Martin says. "To offset some of these costs, we have been very active with our associations in developing and using recycling programs."
Arel says it was about 5-6 years ago when he started to notice pricing going down as different companies were looking to enter the marketplace with aggressive pricing. Still, he advises, you need to know exactly what you're signing.
"What's important to know with trash contracts is they will give you a monthly cost for service, but all tend to have additional add-on costs—such as a variable fuel surcharge or an environmental surcharge—and then also some are charging for you receiving paper statements. All of these things could be negotiated when you go out to bid."
Check the Fine Print
The one universal theme that seemed to pop up when anyone described their garbage collection contract is that they are all very tricky. That's why it's important to pay attention to the language of the contract because there are things put in about annual increases, fuel surcharges and other things that could affect the future price.
"One thing to look out for is that these contracts are usually three years and they are self renewing for another three-year term unless you give them 90 days' notice and you can't give them more than 180 days' notice," Barrett says. "You have to make sure you put it in your calendar so you know the expiration date and you can go out to bid before you roll over into another three-year contract, otherwise, they are very difficult to get out of."
Some contracts have a right of first refusal in them, meaning if you get a competitive quote, your original contractor has a right to match it. It's not a problem, if you are happy with service you are getting, but it's a problem if you're not, as you won't be able to replace them.
"Most also say you have to provide your termination in writing and by certified mail and they will push back if you're outside the window or it wasn't delivered by certified mail," Arel says. "An association has to pay close attention to the renewing window, so they don't miss the automatic rollover."
Maybe the best piece of advice for not falling victim to this is to put it in your computer calendar as it can go ahead years at a time and remind you when it's needed.
Residents React
For those with curbside service, the biggest complaint from residents involves the rubbish truck coming late or missing a trash can altogether. If they are not emptied when specified, animals can get in or the wind can knock over the trash, creating a real mess.
"When you have the dumpsters, you end up with problems of people throwing in items that are not acceptable—computer screens, TV sets, paint, cardboard boxes—and that can get us fines or add additional charges," Barrett says. "The residents won't like that, but it's an issue that everyone has to deal with and take responsibility for financially."
Arel has seen condominiums that are in busy areas find themselves victims to having trash from contractors, other businesses and homes use their dumpsters.
Although many condos will monitor the situation so things don't get out of hand, policing it is very difficult. They can put up warning signs and fine those who disregard the policy, but it's not always easy catching someone in the act.
"To combat this, we have some that have installed hunting cameras, as video surveillance tends to be expensive and these are motion-activated and record onto a SIM card so that if a bunch of stuff gets put there, you can download and see the photos of who was there and what vehicles were there," Arel says. "If you use that effectively, it's a more affordable approach than a whole video system."
Liability Issues
Since the waste collectors are coming on private property and private ways many times, a condo needs to protect itself against liability issues.
"With any vendor, you will want to get a certificate of insurance and liability and worker's comp and keep them in a file," Barrett says. "If anything happens with the trash removal, it will be their responsibility."
As for staff, Barrett makes sure that they protect themselves when they pick up the trash around the dumpsters by wearing appropriate gloves.
"One of the things becoming more of a common occurrence is finding needles from properties with diabetics or for other uses," he says. "You could be liable if your employees get hurt policing these things so all of them wear puncture-resistant gloves and have the disposable plastic container that it's supposed to be in."
On the backside of every single trash contract in very small print are all the liability provisions and these will vary by company.
"One contractor I saw had a provision that if any damage was caused to a container, a resident vehicle or to the trash truck itself, regardless of causation, the association would be responsible," Arel says. "Even if their driver came and hit a vehicle, the association would be responsible to pay the cost. You need to look out for things like this."
Remember, whether you are dealing with a national company or a recent local startup, all contracts can be negotiated and it's up to you to find the best deal for everyone involved in the condo.
Keith Loria is a freelance writer and a frequent contributor to New England Condominium.