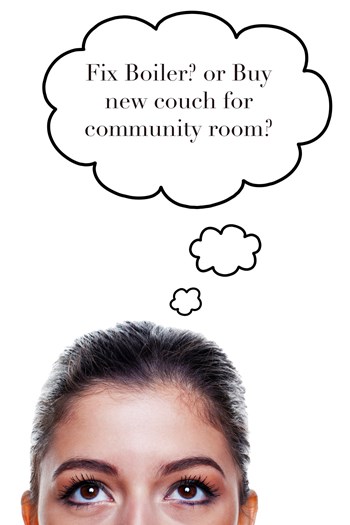 Now that the economy is looking better and heading back toward solvency, building administrators are more inclined to spend money on maintenance projects that they may have been putting off in years past. Of course, many community associations are still feeling the financial burden that has come about over the last few years due to increased operating costs, residents in arrears, defaults, and now repair costs in the wake of Superstorm Sandy, so they are considering the best ways to prioritize (or de-prioritize) certain maintenance/repair projects over others.
When it comes to spending money, it's clear that a new boiler or roof should take precedence over a lobby refurbishing project—but sometimes knowing what items can wait isn't so clear-cut.
Jules Lefcowitz, principal of Branford, Connecticut-based Community Planners LLC, which provides facility, maintenance and capital improvement planning, notes that many building administrators are looking for creative ways to save money and build up their bottom line, which is why they are taking a hard look at their maintenance and building improvement wish-lists—and making some tough decisions as they try to determine the projects they can afford to undertake, and which ones they need to put off until later.
While a small amount of reshuffling of priorities may be unavoidable when money's tight, the process raises some definite questions about liability, long-term planning, and how boards and managers can make wise decisions in tough times.
The Waiting Game
It's safe to say that any physical issues that require attention must be addressed in time. If an item is cosmetic in nature, there may be greater latitude in deferring its maintenance, although poorly maintained aesthetic elements can quickly have a negative impact on the perceived value of a building. Other than that, deferred maintenance on a building's structural or mechanical elements will inevitably result in higher costs the longer they are ignored.