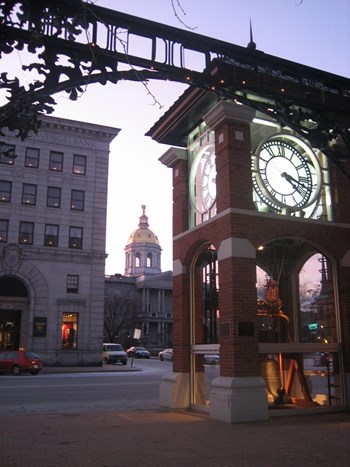 Situated in south central New Hampshire, Concord is one of America's smallest state capitals. The compact city in the Granite State boasts a wide range of architectural styles from commercial brick architecture with elaborate cornices to grand Richardsonian, gold leafed domed state buildings, a thriving performing arts scene, world class museums, a growing population and small town friendliness.
The city is also home to the University of New Hampshire School of Law, the private preparatory school St. Paul's and New Hampshire Technical Institute. Concord is comprised of the villages of Penacook, East Concord and West Concord. The town is around a 25-minute drive from Manchester airport, an hour drive from Boston and about four hours from New York City.
Early History
In 1659, the area's first settlement was named Pennacook after the Indian name Pannukog, meaning crooked place. The town was incorporated in 1733 as Rumford, but the name was later changed to Concord in 1765. In 1790, when the first census was taken, the population was 1,747.
In 1807, lawyer Samuel Blodget opened a canal with a lock system to allow vessels passage around Amoskeag Falls downriver, connecting Concord with Boston by way of the Middlesex Canal.
The following year Concord was named the state capital, even though the town of Salisbury offered $7,000 for the honor. In 1816, construction on the state house began by architect Stuart Park. The Greek Revival-style building with a gold leafed dome is outfitted with smooth granite blocks that were cut and shaped by inmates of the local prison.