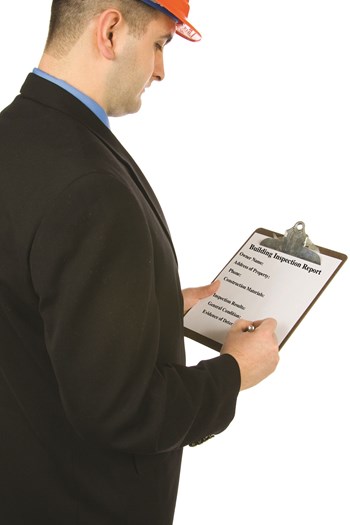 Remember that "better to be safe than sorry" adage? It applies to condo associations with regard to building code violations. Not only does it apply, it's an understatement.
No association wants to or intends to violate building codes. It's the sort of thing that "just happens"—meaning that it often comes as a surprise due to code changes or ignorance of the codes themselves.
Lynn Sallee, the East Coast regional manager at Facilities Advisors (headquartered in California with offices in Boston), explains four scenarios that alert the board of unwitting code violations. The first is a general yearly inspection in common areas that might include elements like sprinkler systems, smoke detectors, and elevators. Code changes from one year to the next, such as ventilation or capacity requirements for elevators, could trigger a violation. Another scenario is the inspection related to a new occupancy permit in individual units, particularly if it's been many years since the last one. The third is a repair or renovation, which can turn into quite the headache (more on that in a bit), and the fourth is the passage of certain laws (e.g., the ADA, or Americans with Disabilities Act) that trump existing code statutes.
Ted Salgado, co-founder and principal of Reserve Advisors, headquartered in Wisconsin with offices in New Fairfield, Connecticut, adds a fifth scenario: the response to a complaint, most often originating with a unit owner.
It might seem that buildings are poised for a potentially endless cycle of violations. However, attorney Jennifer Barnett, a partner with the law firm of Marcus, Errico, Emmer & Brooks, P.C. in Braintree, Massachusetts, points out that grandfathering applies. If a building is pursuant to code at the time it's built, it doesn't need to be brought up each time there's a code change. Unless and until there's a substantial repair or a violation of fire, life, or safety codes, it's in compliance.
Where Codes Come From
The codes derive from multiple sources. Federal, state, and local governments can all come into play, which can make untangling jurisdictions a challenge for anyone who isn't an expert. For example, the nationwide International Code Council creates the International Building Code (IBC), which states adopt. But it isn't quite that straightforward, explains George Condon III, president of Northeast Security Solutions in West Springfield, Massachusetts: The Massachusetts building code is made up of the IBC and references the National Fire Protection Association (NFPA) 72 (the National Fire Alarm and Signaling Code), the NFPA 70 (the National Electrical Code), and the 527 CMR (the newly adopted Massachusetts Comprehensive Fire Code—which everyone is playing catch-up on, Condon says). What's more, he explains, "Massachusetts is on the 2009 edition of IBC but hoping to jump over two editions and adopt the 2015 version in 2016."
In addition, Salgado notes that local ordinances and specific regulations pertinent to natural resources, environmental protection, or erosion control can also be factors. As to which apply, he says, it depends on the common areas and amenities. In other words, there's no one-size-fits-all for condo associations. Furthermore, it's the board—not the property manager—who is responsible for seeing that things are up to code.
The procedure for handling a violation can go from 0 to 60 quickly if the non-compliance is ignored. Once an inspector picks up a code violation, the board receives a notice of violation and a fine. Or, in the case of Condon's company, the inspection service organization offers to fix a fire safety violation; if that's declined, they're obligated to report it, which also results in a written notice.
Do It Now
Here's the crossroads where things can get out of hand, Barnett explains. "Many times, a board ignores the notice or tells the property manager, 'we'll deal it with later.'" If they let it slide, though, they can face a probable cause hearing before a magistrate. "The building inspector will appear and state where the association isn't in compliance. If it goes further, it goes to arraignment and criminal sanctions ensue." That's why it gets concerning; because the courts can't arraign an association or its governing board, a trustee would then have to be named.
Fortunately, Barnett adds that she's never seen a case go beyond that. It's a scare tactic of sorts—and it works. Once a promise to address the violation is made, the city or town wants to know that an association will do the work. Status hearings will take place, and if there's progress, the courts will agree to convert the case from criminal to civil and then resolve it. Not without great expense, says Barnett: "It can cost an association more in legal fees than if they dealt with it in the beginning."
Associations that find themselves in code violations will get an A for effort, though, and that counts for a lot. Working with, not against, the building inspector and the city or town is imperative—a sentiment universally endorsed by every expert who weighed in for this article. "They're often willing to work with you if you'll work with them," says Sallee. "A good relationship is key…be honest and they may give you more time to fix the issue." Salgado concurs, noting that when the apparent infraction is a response to a complaint, "it's important to engage the agency in a way that demonstrates the board is on top of addressing an alleged complaint." Condon also says that making an effort to address the issue often defuses it. Barnett agrees, adding that most inspectors are reasonable, and it's "when you ignore violation notices and show no effort that things proceed to criminal side."
Most code violations are minor. The cautionary tales, however, are significant enough to inspire even the most laissez-faire boards to take note. Sallee tells the story of a high-rise that had underground parking. The exterior walls had fireplaces set on the outside beam, and over the years, the fireplaces had sagged a couple inches and needed to be fixed in the units. It turns out that the repair inspection revealed code changes in the underground parking, which resulted in more renovations, including new exhaust fans to increase the amount of air flow. Then the association found that underground garage's suspended tile ceiling was no longer up to code and needed to address the flooring above it, insert fireproof drywall, and so on. "What was supposed to be a $100K fix on fireplaces became a half million dollar project. The association had to turn to owners because there wasn't enough in reserves. Some had to sell or became delinquent. It was devastating."
Salgado mentions a situation in which foot-dragging, rather than renovation stick shock, affected an association. They needed the communications devices required for emergency egress stairs but ignored the ordinance. Then "it became too late to avoid the 'rush' to install these devices, along with the threat of daily fines and higher costs to install at the last minute."
Associations often disregard a violation if it isn't pressing, Barnett says, because they don't have resources. Sallee, too, has seen this time and again. He says people sometimes don't realize the potential consequences of costly community repairs when they get into a condo and should take that, and the age of the property, into consideration. "Always ask about assessments per year and reserves. Does it include something for repairs?"
It's clear that lack of awareness and building code violations go hand-in-hand. While it's not always possible to be proactive, there are a few things associations can do to keep the surprise element to a minimum. You needn't become a code whiz; as Salgado says, that is a "daunting task best left to experts… As a manager or board member, you need not be an expert, but only be aware of changes in codes and ordinances." He suggests that boards develop and maintain relationships with suppliers and vendors who have a vested interest in maintaining the community. Barnett also recommends reaching out to vendors because, for instances, elevator service contracts will often have sections governing who is responsible for interpreting codes. Though she says boards shouldn't just rely on the experts; the board itself should at least be mindful of changes.
Then there are the respective roles of the management team, legal counsel, insurance agent, and reserve specialist. Salgado says each of these have a "tremendous depth of experience in dozens if not hundreds of community associations. Regular touches or contacts with them and your local CAI chapter can all function as an effective network to keep on top of changes in ordinances and codes."
Also, new developments typically do a building survey. Barnett says that unfortunately, most associations don't often revisit that idea when making renovation…but they should. Salgado says that a reserve specialist can help in planning: "For example, harmful air conditioning refrigerants have been phased out and continue to change. Greater efficiencies are required in air conditioning condensers. If your reserve specialist is aware, and they should be if the reserve study is comprehensive, they can factor in the additional cost of replacement due to these changes in standards and equipment. "
Staying informed about code changes, budgeting for something in advance and anticipating repairs, maintaining reserves, and working with the building inspector: together, such best practices will ensure that your board is on the safe side of sorry.
Jodie Lynn Boduch is a freelance writer and a frequent contributor to New England Condominium.