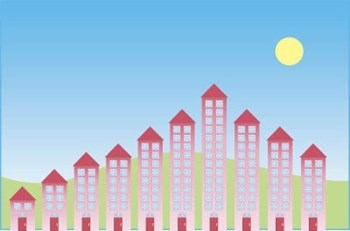 Pay no attention to the talking heads. The national media may be focusing on subprime mortgage scandals and far-flung neighborhoods teeming with foreclosures, but in Eastern Massachusetts, at least, the inventory of unsold properties has actually dropped since 2006.
Kevin Ahearn, president of Otis & Ahearn Real Estate in Boston, doesn't like to see homeowners in the New England region misled by doom and gloom stories from other, hard-hit communities around the U.S. "Through all this negative trauma in the national news, the local market has fared much better than what the perception is," he insists.
While he admits that many of the region's condo sellers and buyers may be seeing "a very mixed result" with real estate sales, he notes that "inventory for Metrowest [Boston] has dropped 19 percent from 2006 to 2007. We're currently looking at six or seven markets locally, where housing sales are doing substantially better [than national averages]. Some people are doing very well … especially in 'urban emerging' neighborhoods," where redevelopment is breathing new life into former industrial sites.
Ahearn reports that in Eastern Massachusetts, condos make up about 20 percent of housing units, and for both condo and single family homes, the number of [unsold] inventory peaked in 2006. Since then, a fall in prices and sales has not occurred. "The inventory is trending at about 5.2 months [time on the market] which is down from [over six months] last year," he adds.
In the Greater Boston area, he says, "The average [unit] price has held up very well… and high-end properties are actually increasing [in price]. Year-to-date [2007] transactions for properties selling at over $1 million number 384, compared to 331 [YTD] in 2006 and 376 in 2005."
The $2 million properties are even more dramatic, he notes, with YTD sales totaling 93 compared to 69 in 2006 and 86 in 2005. Real estate prices in Boston—already one of the nation's most expensive cities—have topped the peak sales period of 2005. "The average price for a condo in [downtown] Boston, today, is $614,547," Ahearn states, up from a 2005 high of $593,860, and also up from 2006, when the average was $578,891.
"The market in our region has worked through a lot of misinformation… It's been different than in any previous period," he says. "Demand has been driven by three buyer groups that represent a huge demographic housingchange. These are the empty nesters, looking for single-story living; young professionals, whether single or married; and the middle-aged single or divorced group."
Although the young professional has always been a factor in downtown residential real estate, the other two groups are a more recent phenomenon, he reports. These three groups are driving sales of condos in both urban and suburban markets. They all want the same things—urban conveniences and maintenance-free living.
Ahearn believes that condos sell easily "anyplace that you can produce an urban-like, amenity-rich environment…" such as nearby health clubs, restaurants, shopping, major roadwaysand other transportation. He cites new Massachusetts projects including Nouvelle at Natick, situated by the Natick Collection [the former Natick Mall] in Natick, as well as Westwood Station, slated for mixed use development on the MBTA commuter line in Westwood. Also, a former naval facility in Hingham is being transformed into the Hingham Shipyard, where upscale condos will feature a marina, among other amenities.
At Nouvelle at Natick, units have been selling "to people looking for high-end, urban amenities, but at 30 or 40 percent less than Boston prices," says Jane Sheehy, director of sales. The demographics of buyers, she says, agree with the figures cited by Ahearn. "We're seeing a mix of cashsales and mortgages, with buyers who are about 60 percent empty nesters… the rest are professional singles and couples, along with middle aged [divorced] singles," she states.
The Nouvelle has 215 units priced from about $420,000 to $1.6 million, in three towers. It features a rooftop garden park, health club and adjacent conservation land, and it accesses the Natick Collection indoor shopping mall from a fourth-floor hallway. Sheehy reports that "the primary attraction is the full-service, luxury living and convenience… you can just park the car [in the basement garage] and everything is taken care of… there's a 24-hour doorman." Even the convenience of a CVS and a Sears is an indoor stroll away.
"We're really happy with sales [of the units]," she continues. "But this is so unique, there's no competition." For the right buyers, she says, "If this is for them, there's nothing else out there."
Prices Are Still Settling Out
What about the condo communities without all the urban amenities? Ahearn contends that older condo stock may have more trouble selling. If properties lack up-to-date amenities, "those sellers will either have to adjust their prices or the time frame for selling," he says.
Outside of the high-end market, many people are contending with "mixed results" in current real estate sales. Adding to the confusion may be the fact that the total number of home sales peaked in 2004, although the highest average price for single family homes peaked in 2005. Settling on the best price at which to sell a condo today is like shooting at a moving target, experts say.
While some properties languish on the market for months, still others are experiencing a quick turnaround. Having dealt with both extremes, Realtor Jane Fine, president of Fine Properties, Inc. of Worcester, Mass., reports, "I sold [my own] condo in less than a week… I did what I advise other sellers to do: I priced it right."
Her unit was a two-bedroom, one-bath garden-style apartment conversion in thecity's desirable west side, and it sold for close to the asking price of $130,000.
But sellers, she notes, are still reluctantto "price right" in a new, lower market, after seeing the heights that were reached just a couple of years ago. Sellers must understand that "no lender will write a mortgage for the asking price if the appraised value is less," Fine adds.
That all-important "appraised value" can include a real caveat in a condominium community. Since appraisals are directly based on current market values, lenders gauge that value according to the most recent sale prices of similar properties in the same neighborhood. This job is quite straightforward in most condominium communities where units are virtually identical—the most recent unit sale [or sales] can dictate the appraised value for the next unit up for sale.
"This can really upset negotiations—for other owners—when a condo seller has a panic sale and lowers his price drastically," says Fine. That "panic sale" price can drag down appraised values for the entire community, making it difficult for buyers to get a mortgage for anything more than that low price.
But just as buyers of high-end condo properties can be identified—and courted with marketing strategies that will attract them—the more modest and affordable properties also have buyers who can be identified and marketed to. That's when some research, or an experienced real estate professional, can step in and really help a condo seller in an unsettled market.
Marie N. Auger is a freelance writer who lives in Westminster, MA.