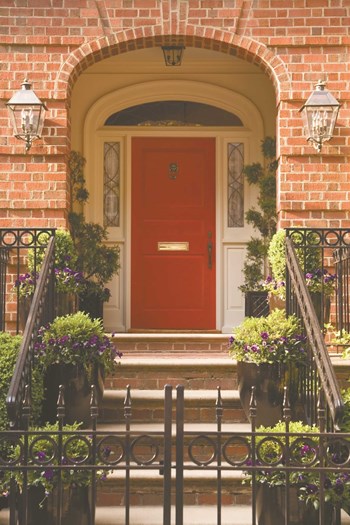 When you think landscaping, you probably don't think of a swanky Boston co-op or condo high-rise building. After all, landscaping is typically reserved for suburban homes where there is rolling turf, strategically placed trees, sprawling flower beds and maybe even a gazebo or fountain. No doubt about it that greenery and other design elements add to a home's curb appeal and, in a slowly-improving economy, curb appeal increase value and attracts buyers.
But take a closer look at the outside of that same co-op or condo building and you'll probably see that exterior landscaping is vital a part of the building's look, too. Whether it's curbside planters, historic shutters that complement the building's veneer or dramatic lighting that draws attention to a unique aspect of the façade, there are ways to landscape the building outside that draw its attention to passersby.
Experts agree that landscaping makes a good first impression and increases the value of any building. If the exterior and the plants look good, people will think that the community is being taken care of and residents will want to live there.
Planning a Picturesque Exterior
With any spring project, sprucing up the building community exterior starts with planning. "Landscape architects help their clients by first listening to what the purpose of the project is and what the client's needs are," says Michael J. Quirk, director of sales and marketing for Greener Horizon Inc., in Middleboro Massachusetts. "The first discussions that occur are to help the designer understand what exactly it is the client is trying to accomplish, and help steer the design based on those needs and/or wants. Sometimes several meetings between the client and the designer occur before a finalized landscape plan is accepted. Some general factors that are considered are project budget, appropriate plant material for the project, drainage, public safety and environmental concerns and ADA (Americans with Disability Act) code compliance."
"The first thing I take into consideration when talking to a condominium group is to consider their budget," says Arlington, Massachusetts-based Ecological Landscape Designer Laura Kuhn. "You also have to think of the role that each area of the property has for residents, so certain key areas are going to basically be worth spending more money on. The areas that face the public where you are experiencing the property for the first time either as a visitor or resident, then clearly those spaces need to not only function well but to look really beautiful."
"First, I take an in-depth look at the site itself and the sun and shade exposure," adds Bob Darocha, the owner or Greencare Landscapes in Rehoboth, Massachusetts. "It's also important to take a look at the area and what it's zoned for and try to incorporate as many hearty plants as possible for the winter."
Darocha also notes that containers are the added pop to entries and doorways. They welcome visitors and give an added special touch and provide mini-garden environments.
Follow the Rules
Planning your picturesque exterior and dramatic entranceway might come with some limitations depending on the history and design of the building.
"Codes and regulations must be considered and observed in every project; each jurisdiction differs in their specific requirements as well," says Quirk. "For example, there are guidelines for what type of plant material can be used in specific areas. Some cities require specifics that some others may not. For example, during a substantial landscape renovation at a large supermarket chain, we discovered during design that the city would only allow very specific shade trees. Those guidelines had been dictated by the local conservation commission. Even the required number of trees needed to be calculated as the city requires them to offset the amount of carbon dioxide generated by the shopping plaza traffic. Each city or town should be contacted prior to beginning a design concept to find out what rules apply."
Kuhn notes that permit requirements vary depending on where you are working and that oftentimes landscape designers act as a go between, between the historic commission and the board.
"Frequently the boards are concerned with what hard materials you are using and how you plan to use them," says Kuhn. "One of the most common issues that condominiums have to face is making sure their interior circulation is up to par, not only for residents entering the property with vehicles for parking but for accommodating visitor cars and also for trucks and vans making deliveries or leaving packages at the front door. Those kinds of improvements will frequently have to go through the engineering department or inspection services to insure that the transportation area meets city guidelines and standards."
Go Native
Native plants are better adapted to local climate and soil. All experts agree that they should be used as often as possible. There are several types of shrubs, trees, plants and flowers that thrive best in a New England environment. According to the Boston Water and Sewer Commission a few perennials that are best adapted to New England's climate are black eyed susans, catmint, day lilies and goldenrods.
For a full list of plants that are native to New England go to www.bwsc.org. Additionally, the New England Flower Society, a non-profit organization whose mission is to conserve and promote the region's native plants to ensure healthy, biologically diverse landscapes offers a wealth of information on native New England plants, for additional information visit their website at www.newenglandwild.org. The society owns and operates Garden in the Woods, the largest collection of wildflowers in the Northeast located in Framingham, Massachusetts.
"It's not only important to make sure plants are cold and hearty but with co-ops and condos they need to be able to withstand high traffic areas and de-icing salts," says Kuhn. "One fantastic native plant is fother gilla. It has beautiful, red fall color and it's a native plant. It's an excellent choice for combining with cold, hearty species so you don't have all greens and those plants tend to be more salt-tolerant than others."
Other Features
Experts suggest lighting as an emphatic and affordable way to change and illuminate an exterior and it's usually the least expensive and has the biggest impact without having to change the architecture.
Most importantly, when planning experts believe you should look above the first floor because when you step back you want to look over the whole building, not just one level.
"Landscape designers and installers use large nurseries as their suppliers of choice, often sourcing from more than one," says Quirk. "They typically cater to designers and tend to have very knowledgeable staff. Someone looking to buy plants to 'spruce up' their own property can usually find a good selection and good quality plants at local garden centers. They offer the best selection and variety. Local New England nurseries stock native material, as well as other ornamental trees, shrubs, and perennials."
"It's easy to forget in the Eastern Seaboard you have agricultural heritage so we have some phenomenal growers that are fairly spread out throughout the Boston region," says Kuhn. "Most of them are located outside of the city limits. We are lucky to have a wide range of local growers who provide plants that are suitable for the New England climate."
Lisa Iannucci is a freelance writer and a frequent contributor to New England Condominium. Staff Writer Christy Smith-Sloman contributed to this article.