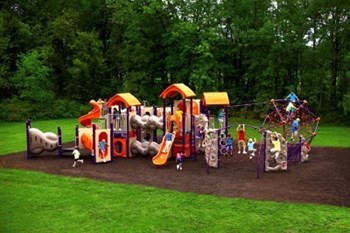 The weather is warming and as the temperatures moderate, New England residents everywhere are finally venturing outdoors again. After a winter that many people elect to spend indoors and largely on the couch, the urge to get physical again takes hold as the mercury rises.
Health consciousness is front and center these days, particularly in the wake of alarming recent news about rising rates of childhood obesity, and condo owners and trustees are taking notice. In years past, to meet the call for fitness installations, developers often elected to install a pool to attract buyers, but today this amenity is not as desirable because it offers only seasonal access. In today's tightening market, new developments are building in fitness rooms and walking trails, which offer year-round usefulness, to attract fitness-conscious buyers. Existent communities without those amenities are often installing or sprucing up playgrounds to keep their residents active.
Mirroring the trend in communities that house young families, active adult communities are also taking note of the interest in fitness, and are investing in fitness equipment specifically designed to meet the needs and exercise preferences of older adults in an effort to keep their residents healthy longer.
Exercise Across the Ages
Young or old, fitness is key to a healthy living. But fitness activities often bring about unexpected benefits to the people who take the time to engage in them. In addition to building muscles, increasing cardiovascular strength, and making people feel better, exercise can also be a social event that brings members of the community together to in a pleasant social context. For condo owners, the opportunity to gather at an event other than a tension-fraught board meeting might come as a welcome opportunity to make new friends and engage in the community. To that end, worth considering are exercise installations that meet the needs of specific age groups.
Moms Are Happy When Little Kids Are Busy
Pity the parents who are cooped up in a small condo with their overactive kids during a long, cold winter. In the condo without a play area, or only a small play area, options for outdoor activities are limited, and that means that mom and dad have to jump in the car and drive somewhere else to let the kids burn off their abundant supplies of energy. While they may be viewed as a mixed blessing by trustees and risk managers, playgrounds are vital installations for both parents and their offspring.