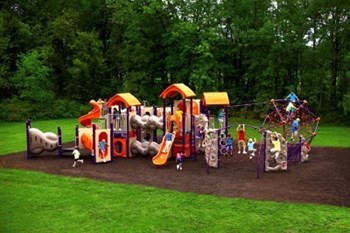 The weather is warming and as the temperatures moderate, New England residents everywhere are finally venturing outdoors again. After a winter that many people elect to spend indoors and largely on the couch, the urge to get physical again takes hold as the mercury rises.
Health consciousness is front and center these days, particularly in the wake of alarming recent news about rising rates of childhood obesity, and condo owners and trustees are taking notice. In years past, to meet the call for fitness installations, developers often elected to install a pool to attract buyers, but today this amenity is not as desirable because it offers only seasonal access. In today's tightening market, new developments are building in fitness rooms and walking trails, which offer year-round usefulness, to attract fitness-conscious buyers. Existent communities without those amenities are often installing or sprucing up playgrounds to keep their residents active.
Mirroring the trend in communities that house young families, active adult communities are also taking note of the interest in fitness, and are investing in fitness equipment specifically designed to meet the needs and exercise preferences of older adults in an effort to keep their residents healthy longer.
Exercise Across the Ages
Young or old, fitness is key to a healthy living. But fitness activities often bring about unexpected benefits to the people who take the time to engage in them. In addition to building muscles, increasing cardiovascular strength, and making people feel better, exercise can also be a social event that brings members of the community together to in a pleasant social context. For condo owners, the opportunity to gather at an event other than a tension-fraught board meeting might come as a welcome opportunity to make new friends and engage in the community. To that end, worth considering are exercise installations that meet the needs of specific age groups.
Moms Are Happy When Little Kids Are Busy
Pity the parents who are cooped up in a small condo with their overactive kids during a long, cold winter. In the condo without a play area, or only a small play area, options for outdoor activities are limited, and that means that mom and dad have to jump in the car and drive somewhere else to let the kids burn off their abundant supplies of energy. While they may be viewed as a mixed blessing by trustees and risk managers, playgrounds are vital installations for both parents and their offspring.
To keep playground equipment interesting, playground designers are constantly updating, refreshing, and reinventing their products. The very youngest set is perennially attracted to colorful climbing structures, and design innovations have made these structures not only more fun to play on but also more fun to look at. How about a play center that sprouts caterpillar-style antennas? Or one with a giant spider web, perfect for the antsy climbing crowd?
But interesting colors and quirky designs aside, change is afoot in the very nature of what playground equipment is intended to do. Eric O'Brien, owner of M.E. O'Brien & Sons, Inc., in Medfield, Massachusetts, a company that specializes in recreation equipment, notes that in decades past, playground equipment was designed to elicit a predictable response from the children who used it. "It was called directed play," he says. "The equipment included nothing creative and, more importantly, nothing that would injure a child. For every action, there was a reaction. Kids would climb up the stairs, slide down the poles, follow a path." The problem with this type of play? It gets boring, fast. This is particularly true for today's kids, who are used to being challenged and entertained during every waking moment. But newer playground equipment offers what O'Brien calls "nondirected play. Kids will come up with their own way of playing on this structure. Every kid that uses this doesn't do the same thing on the structure each day."
Laura Porretta, the Connecticut Recreation Consultant of UltiPlay, in Guilford, Connecticut, is the exclusive New England representative of Playworld Systems, which is headquartered in Lewisburg, Pennsylvania. Her business is play, and she is fully invested in making play not only as much fun as it can be, but also as safe as possible. Porretta also notes a change in how organizations are approaching playground installations, and in her experience the equipment is being designed to promote fitness. "There are more obstacle courses, more climbing equipment to promote upper body development, and more challenging equipment for the older market as well." But Porretta notes that designers are building socialization into their play structures as well. How? By giving kids the chance to play like kids. "We have new crawl tubes that enter from one deck and exit to another, or enter from the ground level and exit to a deck. Some of the tubes have one end with a large opening and one end with a smaller opening, and kids pretend it's a dragon." Also popular in Porretta's experience are playhouses. "We've done a lot to develop playhouses. Now we utilize more space on the ground level, so space under the deck becomes a clubhouse. You don't even need to go up the stairs to play, so there's an increase in socialization."
An Even Bigger Challenge: Pre-Teens
Trustees should be mindful of the perpetual problem with keeping kids entertained: they grow up and their tastes and abilities change. The swing set or climbing structure that kept the kids amused when they were 5 just will not do the job when they're 10. So what's an association to do?
For the condo willing to invest some money in keeping the community's children amused, the answer may lie in diversification. Just as municipal playgrounds include play structures for the very youngest playground users and structures for the older set, condominiums can do the same. The investment might turn out to be well worth the dollars spent. Busy kids don't get into trouble, they don't tear up the lawn, and they're not in the middle of roadways. A reduction in lawn reseeding, restoration, and maintenance might very well be a byproduct of installing better playground equipment.
So what are the hot installations these days? Climbing walls and boulders are gaining in popularity. They're big in size and big in attraction, particularly for the 5- to 12-year-old set who have aged out of tunnels and ramps. Climbing walls look like playground equipment, but climbing boulders may be more aesthetically appealing to adults in the community because of their more natural appearance. Also irresistible are skateboard ramps, which will keep skateboarders and in-line skaters busy for hours. The ramps carry more of an insurance implication, but if you want to ensure well-exercised, tired children at night, this is a popular way to go.
Don't Forget the Summer Heat
Kids and adults don't mind getting sweaty when it's cool, but many take issue with the same in the heat of the summer. If a condo doesn't have a pool—and doesn't want to be bothered with the expense of installing one, insuring one, and maintaining one—is there any way to give the kids a chance to cool off? Yes, indeed. And the options seem particularly well-suited to condominium requirements.
In the latest evolution in water installations, freestanding water play structures designed to elicit a giggle are gaining in popularity. The structures can be set to spray all the time, or at intervals, when a child least expects it. Key to the attraction of these installations for condos is that there's no standing water, so lifeguards aren't required. The structures come in all shapes and sizes, and while basic freestanding hoops that issue a mist are fine, how about one in the shape of a dragon or a palm tree?
O'Brien notes that beyond the giggle factor, ease-of-use is what makes these new installations so attractive. "They're nothing more than a high-class irrigation system," he says. The installations are connected to timers, so you can shut them off when the sun sets and the mosquitoes come out to feast and then lock the gate behind you so there's no illegal entry at night.
To keep the system interesting, the timers can be programmed so the system is unpredictable by design, says O'Brien. "You can sequence them so the sequence isn't the same. There can be 8 or 9 different sequences, so the kids don't get bored."
Condo consumers also have a choice about how to pipe the system to supply it with water. The system can either draw on fresh water and then allow the water used to drain into a storm drain, or it can be designed to recirculate water through a chlorinator and filter and pump it back into the system, so water bills are kept to a minimum.
For safety's sake, O'Brien advocates diversity in water play. "Water play areas should be subdivided so toddlers can go in and play, but there's a separate area for older kids." Install one for a quick water break on a hot day or a dozen to keep the kids busy all day long.
Active Adults Are Healthy Adults
There is much to recommend playground structures for children—after all, children who are tired and ready for bed in the evenings make parents happy—but the same observations hold true for adults. And for adults, physical fitness has even more to recommend it. The fact is that active adults stay healthy—and, therefore, independent—longer. So it's no wonder that as the numbers of retiring Baby Boomers swell, manufacturers of play structures are retooling their businesses to respond to the needs of this group of buyers.
UltiPlay's Porretta notes that her company's newest offerings are generating lots of buzz. It's a documented fact, say Porretta, that adults prefer walking over any other kind of exercise. "The number-one activity for this group is walking. Walking stretches and tones, and as they walk, they can socialize. Seniors are more active and living longer, and we want to reach out to that."
To meet the fitness needs of this particular group, UltiPlay offers a walking trail studded with Playworld exercise installations that are specifically designed for active adults. "There are 10 stations in all," says Porretta, "and we worked with the University of Pennsylvania to design them. We set them 100 feet apart on a circular 1-mile path, but it can be scaled to any size trail." Porretta notes that the exercise-as-you-go design encourages socialization along the way, and the installations support more than one user at a time. "One person, or two, or three could be exercising together," she says.
The trails are catching the eye of homeowners, trustees, and developers throughout the region, but Porretta notes that even as active adult interest in maintaining health and fitness is growing, the group is also committed to family activities. Porretta says that an often-heard call from unit owners is for diversification, so there is playground equipment to meet the needs of family members, particularly grandchildren, when they visit. Poretta says, "Developers and architects often make inquiries only on behalf of active adults. The developers believe that active adult communities don't want children, so they don't include equipment for children. But we find that residents would like to see installations for the grandchildren
and
the active adults." That more expansive, inclusive approach reflects the fact that families include multiple generations, and wise is the developer or trustee who understands that fact.
Planning for Next Winter
Much as everyone is ready for summer fun and more exercise, it's a fact of life in New England that in six months the weather will be getting cold yet again. For the community that's bonded on the summer playground or spray park, there are avenues to maintain those bonds and stay fit during the long, cold winter months.
One of the ways a community can meet the fitness needs of residents is to dedicate some portion of a common area to a fitness room. The good news, says Rob Holmes, owner of Fitness Exercise & Supply Company in Salem, New Hampshire, is that fitness equipment doesn't have to command huge amounts of space. Holmes specializes in designing fitness rooms of any size and to fit any budget, and key to his company's success during its 25 years in business is its vast experience of meeting the exercise needs of every age group. It has installed fitness equipment in schools, multi-family structures, and health clubs, and it offers design assistance to assure a successful installation.
Of primary importance to Holmes is that the equipment he sells is used safely and by the right people. "At age 11, you need to be cognizant of growth plates," he says. "Kids of that age shouldn't be using weights or dumbbells. Even at 13 years old it's an issue. Someone who's small shouldn't be throwing around weights. We recommend isometrics for kids. We want to make sure no one gets hurt."
To back up his focus on safety, Holmes makes it a policy to "ask the questions about who is going to use the equipment." Once he is assured that the correct equipment is being installed, he takes the time to train residents on how to use it correctly. "We'll go to a condo development or apartment complex and do an orientation. We invite all the residents, and we do it on a regular basis. If a property manger asks, we'll go back and do it again."
Holmes is perfectly willing to take on small projects, recognizing that condominiums may not have either the space or the budget for large-scale gyms. But he devotes himself to making the outcome both useful and attractive. "There are two factors that dictate how much we'll include in a fitness room. There has to be enough space, and the equipment should match if at all possible, so it doesn't look like a yard sale." If a condo is willing to compile a fitness room, first choice of equipment, says Homes, is a treadmill, followed by an elliptical, strength equipment (Universal or bench with free weights), and perhaps exercise bicycles.
Holmes takes a long-term view on both the equipment he sells and his relationships with his customers. To enhance those relationships, Holmes encourages customers to test drive equipment. "You're making an investment," he notes. "The last thing you want is to get it home and hate it. You're not going to use it if you don't like it."
A community that invests in keeping its members fit for life is likely to be not only healthy, but socially connected and happy. And in the end, isn't that what condominium life is supposed to be about?