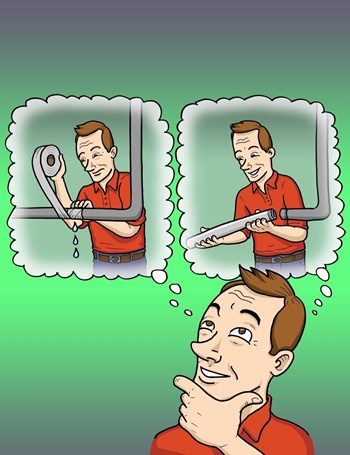 The shingles on the roof look worn. Paint is peeling off the clapboards on a few buildings. Potholes have turned the parking lot into a slalom course. But collections are down, several homes are in foreclosure, and the temptation to let things go "for one more year" is strong.
Resist the temptation, says Ralph Noblin, PE, principal of Noblin & Associates Consulting Engineers in Bridgewater, Massachusetts. "If you don't do the job now," he warns, "things aren't going to get any better."
After several years of watching associations adopt a wait-and-see attitude, Noblin says he's seeing a new trend building. Associations are biting the bullet on needed repairs—and it's not a moment too soon.
"We've seen associations caulk and paint over problems, replace a few boards rather than do the project correctly," he says. "They were patching and covering instead of doing the underlying project" while waiting for the economy to improve. But the economic situation hasn't improved appreciably, and the problems remain. "They're now accepting this economy as the new normal and coming to grips with it," he says.
That realization has been a long time coming—and though gaining steam, hasn't quite settled in at every community.
Not Everyone Is on Board
"In our portfolio of clients, there are basically three camps," says Steve Lewis, owner of Harvest Properties, LLC in Melrose, Massachusetts. "Some are basically on the brink of almost becoming apartment buildings again; the values have gone down, there are foreclosures … owners are ignoring problems or living with them. There's no tolerance for raising fees or having an assessment," he says.
The second group of associations, he says, are willing to do needed work, but "always the cheapest way possible." They'll avoid calling in an engineer to spec out the job, and go with the lowest bidder and ignore professional recommendations.
Finally, there are associations that are "willing to truly listen to what we have to say," to bid projects out and do what's best for the long-term viability of the community.
And an increasing number of associations, Noblin and Lewis say, are taking the plunge—often turning to financial institutions for association loans to fund the projects.
"A lot of the projects have to do with exterior envelope problems: leaks, roof replacements, re-pointing," Lewis says. "One association has been dealing with significant developer defects, and they're doing work on the building envelope."
The impetus, the professionals acknowledge, often comes from owners who have finally grown impatient about dealing with leaks that damage not only the common areas, but individual homes as well. "For the most part, it's reactive," Lewis says. "People have been dealing with things for a long time" and have finally reached the limit of their tolerance.
Noblin cites an association that's had an ongoing problem with leaks and is finally replacing a membrane on a garage roof "that's been leaking like a sieve." Also coming online are a number of siding projects—many on homes that were built in the 1980s, with components that have reached the end of their life spans. "Siding, roofing, paving—associations are looking at a lot of things they've let go for a while," Noblin says. "Paving is a little different, because it's not as much of an immediate need," although it does affect the appearance and value of a community. "High-rise buildings," he adds, "are dealing with a lot of roof issues. And a lot of parking garages are in desperate need of work."
Association boards across New England, he says, have come to realize "that if it's not done now, it's going to be more expensive and more involved in the future."
Banks are Listening
Fortunately, cash-strapped associations are discovering a lending environment that is favorable to common-interest communities.
"There are lenders that specialize in community associations," Noblin notes. They recognize that "the association may have no collateral and no assets, but they do have a cash flow." In the past, Noblin notes, most associations would have taken the funds out of the reserve account, or imposed a special assessment on homeowners. "But now they're doing loans, and spreading the cost out over eight or 10 years."
"More banks are offering these types of loans than in the past," says Erin Kremser, assistant vice president at Community Association Banc, a division of Mutual of Omaha Bank. "Before, there were only a few banks that understood association loans … but today, more 'corner banks' are getting involved." Over the years, she says, more institutions have come to see that loans to community associations are safe.
And the good news is that there's money available, and at reasonable rates. "The rates have gotten incredibly competitive," Kremser says. "They're the lowest we've seen in 10 years."
The attractive financing couldn't come at a better time, she notes. "We see associations that have been putting things off and they're at a point where they just can't put it off any more. They're also spending a lot on small repairs" instead of tackling a complete project. "Our average loan size now is about a half-million dollars," Kremser says, agreeing with Noblin that roofing, siding and paving are at the top of many lists.
While many associations do special assessments for major work, an association loan "gives owners an option," she says. If they have the money, owners can pay the assessment, or if not, they can take part in the loan, stretching their payments out over a long period.
"People are realizing it's better to get the work done now," she says. "Everything is getting more expensive. The costs for labor and material keep going up."
One positive result of associations looking for financing, Lewis notes, is that even small associations are being pushed toward professional management. "Lenders want properties to be professionally managed," he says.
Kremser agrees. While there's money available, and at attractive rates, banks are taking a hard look at associations before opening the vault. "They've tightened up requirements … they're scrutinizing the associations, looking for reserve studies. They might be looking for a larger increase in the condo fees, not only to support the loan, but also to build reserves. They want to make sure that down the road, the association is going to have the funds to pay for the loan."
Other items the banks are taking a hard look at are the number of fees that are 60 days past due, and the number of investor-owned units. Associations in which too many units have overdue fees "make banks uncomfortable," she notes.
Along with the increased interest in finally attacking long-overdue projects—and finding lenders willing to go along with those plans—there's a groundswell today for associations to conduct, or update, their reserve studies.
"We're definitely seeing an uptick in reserve studies," Noblin says. That attitude he says, is due in no small part to recent changes in requirements for HUD-backed mortgages, which specify the need for an up-to-date study of the property's physical assets.
A real challenge, though, still exists for very small associations that aren't attractive to lenders, but lack the reserves to do work that needs to be done. "It's always hard to get participation from the owners (of small associations)," Lewis says. And when you have a small association with the handful of units, banks aren't always as willing to lend to them. "But large projects are hard to swallow if you have only a few units paying the bill rather than a large number of owners."
At the same time, he adds, going through the loan process, with the fees involved, isn't really viable unless the loan is for a significant amount of money. "Typically, we don't recommend a loan unless it's $50,000 and up." Projects he's been working on range "from $50,000 to a couple million; most are in the $100,000 to $200,000 range."
Small associations do have a problem, Kremser agrees. "If an association has only 10 units, no bank will lend to them," she says. "The bank wants to spread the risk out."
For those associations thinking about launching a major project, Kremser says there are steps that can be taken to become more attractive to lenders. "If they know a project is coming up, it's a good idea to increase the budget ahead of time, to show that you can support the assessment level" that comes with the loan repayment. "You'll give the bank a stronger comfort level."
Pat Gale is associate editor of New England Condominium.