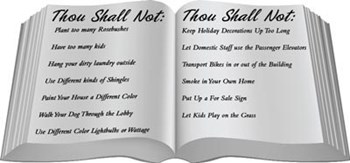 Condos and homeowner associations have made headlines over the years for passing all kinds of overreaching and downright silly rules and regulations—everything from forbidding the flying of the American flag to having prohibitions about hanging laundry outdoors, to discriminating against their own residents—even stopping kids from playing ball or riding their bikes in their own yards. It might sound like something out of a political satire, or items from a humorous 'News of the Weird' newspaper column, but these stories of some boards going too far are true, and we've collected some of the silliest, most unusual or most outrageous HOA rules ever passed.
The Ugly Truth
Did you hear the one about the Florida family that was about to be kicked out of their HOA because the wife had just had twins? The family already had one child, and the arrival of the twins would put them over the two-kids-per-unit allowed by their North Palm Beach condo. The condo was not an 'active adult' 55-and-over community, but nevertheless it had a rule on the books limiting occupancy to two children. A bit Machiavellian to be sure, but true.
Or how about the Fort Myers condo that fined a man suffering from ALS $100 a day because he was using a shopping cart instead of a walker to get around his unit, the parking area and the grounds? Apparently the community had a rule forbidding the use of any 'storage item' in a common area like a walkway.
Another Sunshine State condo passed a rule preventing two unmarried people from living together, aimed at stopping gay couples from living in the development. After an uproar about the ban, the rule was reversed earlier this year.
Or take the case of a Long Beach, California woman who needed to use a cane, and kept a cocker spaniel as a companion animal. Her HOA banned her from walking the dog through the lobby, because they had a rule that all pets had to be carried so their little paws wouldn't touch the floor. (Good thing she didn't have an English sheepdog.) She was fined $25 a day and racked up hundreds of dollars in fines before she finally gave up and moved from the building.