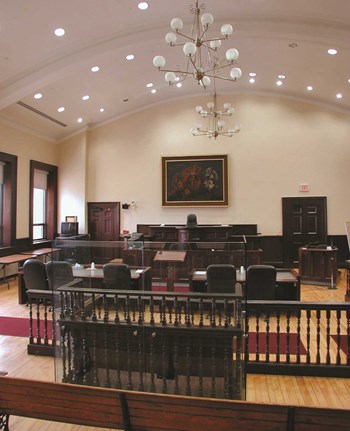 Lawsuits are usually not an association's go-to method for dispute resolution. Expensive and time-consuming, they can quickly turn into a financial burden and may create strained relations in the community. Unfortunately, in some cases there's no other way out. Last year a couple filed a suit against a neighbor, the association, individual board members, and property managers, who all neglected to respond to the couple's complaint of odors infiltrating their unit, the result of 20 cats inhabiting the neighbor's unit below.
This may have been an extreme case, but most associations will be involved in a lawsuit at some point, though the length, and certainly, the price tag may vary. "The only thing that's under your control, as far as costs are concerned, are the actions you take. You have no control over the actions the other side takes — and sometimes the other side will take all kinds of crazy actions, simply because they have the money to do so; they want to wear down the other side," says Foster Cooperstein, an attorney at the Law Office of Foster Cooperstein in Newton, Massachusetts. "Bottom line is if you end up in a courtroom, it's usually not cheap." Regardless of the cost or type of complaint, there are a few basic points about lawsuits that all associations should be aware of, he says.
The Basics
Unless you live in a utopian condo association, lawsuits are bound to happen. The most common ones include noise complaints between neighbors, construction defects in units and attempts to collect delinquent payments from residents. But how does a lawsuit begin? Boards should know what to do if they're the target of litigation.
"The first thing the defendant should do is consult a lawyer. The deadlines, procedures, and strategy are very difficult to navigate without one," says Adam Cohen, an attorney at the law firm of Pullman & Comley in Bridgeport, Connecticut. "In most jurisdictions, the defendant's first official action is to file an 'appearance' form with the court and the plaintiff, which acknowledges the complaint and provides contact information for himself or his lawyer to be used going forward."
In the case of maintenance fees, boards have to be strategic in going on the offensive. "The first thing that would happen is, obviously, over the time period before you bring suit you would've been sending a notice to the unit owner that they haven't been paying their condo fee," says Cooperstein. "Then what happens, is there's a statute called the Super Lien statute, it gives the condominium priority over even the first mortgage for up to six months' condo fees and expenses. Under that statute, when a condo unit owner falls two months behind, you give notice that you're going to bring action," he says.