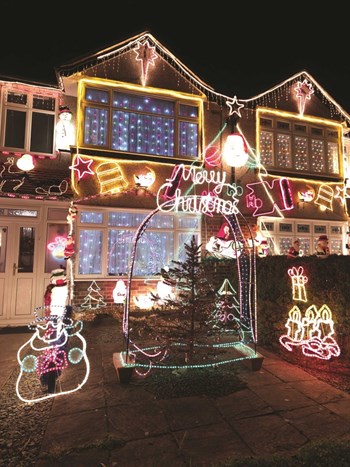 Holiday decorations are a bit like art—you know what you like when you see it. And our own sense of neighborliness and desire to live in a friendly community, combined with our need to respect freedom of expression, mean we must recognize each other's rights when it comes to decorating for the holidays.
But with many traditions of faith converging in the collection of households that comprise a condominium community, some practices that are routine for those of one tradition might be deemed beyond the scope of allowable holiday decoration by the majority of residents in that community. And that can be OK, too, since a condominium community is really more like a corporation than it is a mini-democracy. Even so, we are living in a democracy and are subject to its laws.
Many associations regulate decorations of individual residences, but experts say the best practices for such regulations should strive to treat all residents equally. In matters of taste or belief, though, a blessing to one person can be a pox to another. So, how a board ensures that decorations are done in a reasonable way and are not over-done, could help to define the atmosphere of the community. Enforcing holiday decoration restrictions that are seemingly biased could result in lawsuits, which could cost thousands in lawyers' fees and take years to settle.
While much of this area can be tactfully and equitably governed by an association, board members should remember to speak with their experts: their property management team and the building's attorney. They will understand the case law behind the rulings, and will readily see the nuances in restrictive wording that might be seen as biased. With the right direction from experts and a fair-minded approach, a community's restrictions on decorations will be respected and appreciated for clarifying the lines of a very gray area.
Regulating Fairly
Some communities take a hands-off approach when considering decorations that residents put up during the fall and winter holidays. Associations that have regulations regarding exterior decorations of residences sometimes disregard their own rules during the holidays, says attorney Stephen Marcus, a partner with the Braintree, Massachusetts-based law firm of Marcus, Errico, Emmer & Brooks. Associations with such restrictions are free to suspend or bend the rules from Thanksgiving through New Year's and many do, he says.