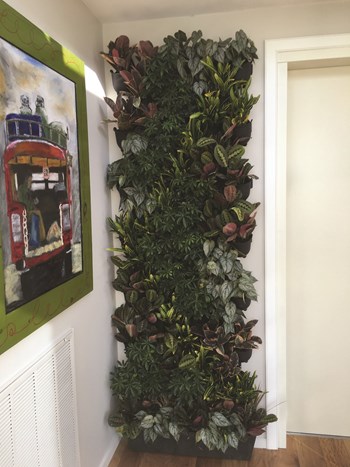 A green wall in a residential space is like having both an indoor garden and piece of art all rolled into one—and you don't even have to travel far to a botanical garden or a museum to experience it. It's a currently a very popular trend in landscape design in which walls are covered with plants and can be found these days in some businesses, public spaces, and homes. Not only will green walls (also known as living walls or vertical gardens) appease the conservation-minded, but they also provide an opportunity for boards and managers to think about how they could spruce up their lobby or common area. Installing a green wall in a residential building is sure to be a conversation piece between tenants and visitors, but there are definitely things to consider before embarking on such an undertaking.
The Benefits of Green Walls
Those who specialize in green walls agree that the major advantage of having them is purely environmental. "Plants help reduce things—the viruses like the common cold," says Trevor Smith of Land Escapes Design, located in Belmont, Massachusetts, "but they also absorb harmful VOCs [volatile organic compounds], like formaldehyde and benzene that are given off by rugs, paints, furniture and appliances. All these plastics and all these man-made items around us are constantly off-gassing and releasing subtle chemicals into the air, and plants absorb those chemicals and detoxify the air around us."
"There's a huge interest in what plants offer, in terms of benefits for improving indoor air quality or reducing stress," says Michael Coraggio, CEO and founding principal of EcoWalls, based in Bordentown, New Jersey. "A lot of the developers that we work with in the mixed-use arena are looking to create a certain context and space where people that are in their buildings can go and experience nature and the garden, and some of the holistic benefits that the plant material has to offer."
It's a sentiment that's shared by Sean Campbell, president of Grundys Plantscaping, which serves the greater Philadelphia and New Jersey areas. "They create ambiance of well being and happiness, they help reduce stress levels for people," he says. "They act as a sound insulator and thermal regulation...High-end residential or corporate spaces are investing in plants in more of the common areas where people can go take a break and relax."
Setting, Pests, Costs: What to Consider Before Installation
Boards or homeowners associations who are interested in installing a green wall (which could consist of panels or trays, according to national landscaping company Ambius) in their common space should think about the structural factors involved, including whether you want the vertical garden mounted on the wall or created as a freestanding structure.