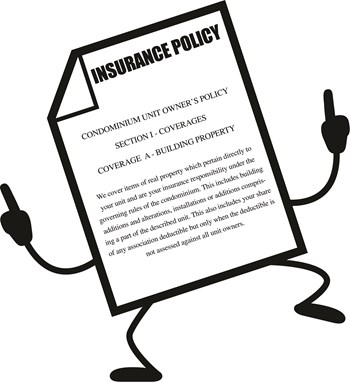 As any manager, board president or building administrator rightly knows, protecting your building community against a man-made catastrophe, natural disaster, act of God, or just basic negligence, is not a trivial task.
Property casualty insurance is a basic necessity of life, whether you manage or run a co-op or condominium, live in one, or walk by one every day as you head to your job in the big city.
Rainy days occur more often than anyone would like, but by allocating resources in a prudent manner, a board or community association can minimize its losses while advocating the best interests of its management professionals, unit owners and shareholders.
The Basics
It may sound simplistic. But let's start at the beginning: What exactly is insurance? And what types are must-haves for any board or association? Loretta Worters, vice president of communications at the Insurance Information Institute (I.I.I.), a national resource organization for the property casualty industry, details the basic coverages as these three items.
1. General Liability - Because the association bears much of the responsibility for maintaining the building and property, it faces significant liability exposure for injuries and damages that occur on the premises. Thus general liability insurance is particularly important to have if you have a swimming pool or other high risk amenities located therein. If someone is injured or the property is damaged as a result of negligence of the association, leadership, management or maintenance staff, the general liability coverage will pay for any judgments or settlements (up to the policy limits). Building administrators and insurance professionals should make sure that there is adequate liability limits commensurate with the risk inherent with an individual amenity. The general liability coverage will also pay for the cost to defend the association itself, but not its directors or officers. How much you should have depends on many factors including size of the building and types of exposures (pool, tennis court, etc.).