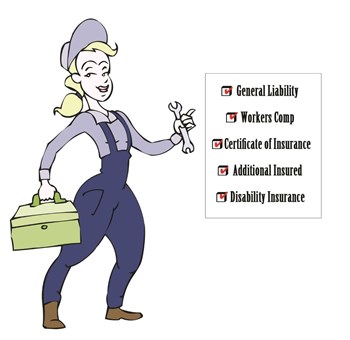 All professional contractors and service providers are required by law to carry insurance to cover their activities. Any condo building should also carry its own insurance to cover accidents or other incidents on the property—this could include anything from slip-and-falls to staff injuries to damage from doing electrical work.
The latter is important to help minimize risk. Lawyers advise that you can't always control your vendors' and contractors' safety habits, and negligence claims can easily end up in court and out of your hands, so it pays to make sure you don't expose your condo to serious liability and expense.
Are You Covered?
According to Celeste Vezina, treasurer of Maloney Properties in Wellesley, Massachusetts, all contractors must carry general liability insurance. Workers' compensation coverage is also necessary if they have employees.
"If someone is a sole proprietor, someone who is really that one person who owns the company and the only person who owns that company—sort of a rare event these days—that person does not need to have workers'' comp, so they can sort of stand on their own because they are not going to sue themselves. But for 99 percent of the companies [out there] that have more than one person, that would require workers' compensation insurance," Vezina says.
The same holds true for specialty contractors like tree or window workers; they still need to obtain all the above insurance, whether they are working at a condo or an HOA.