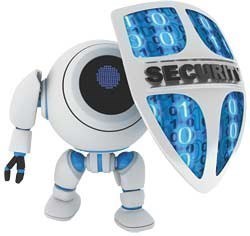 In today's world of high-tech property management and building security, there are more options than ever for managers and boards to choose from to keep their communities on the cutting edge. There are web- and device-based apps for everything from package delivery to door entry to bill paying. When considering updating, or introducing new management or security technology, the question for co-op and condo board members and their building managers is not necessarily which tech is best, but rather which is most easily adaptable for the people who will actually be using it: the residents.
Chris Lincoln, property manager with At Home Real Estate Group, Inc., in Boston sums up managers' relationship with technology this way: "If we didn't have technology, it would be rather difficult to function."
Broad Spectrum
And the functions that technology helps facilitate are broad. There are any number of apps and hardware designed to improve efficiency, safety, and security in all aspects of property management and communication for co-op and condo communities. They come in all shapes and sizes, from simple individual apps designed to answer your doorbell or track and accept packages, to broad-based, integrated systems designed to do just about everything. Choosing one over the other is often a function of the size and complexity of the association or corporation using it. A five-unit walk-up condo has significantly different needs than a 500-unit co-op with multiple elevator banks – but regardless of community size, for any app- or web-based tech assistance to be successful, the people living in the community have to believe in and use it.
BuildingLink is both a communication tool and a management tool, based in New York City that helps to collect, store, and distribute information for buildings, and serves more than 450 buildings in Massachusetts, New York, New Jersey, and seven other states. Their overall system includes many different modules that support services ranging from document delivery to communication with residents, key security to maintenance schedules. According to company CEO Zachary Kestenbaum, communication on all levels and about all subjects is the key. Functional, effective management/security tech should provide "everything related to operations and daily life at a property, from work orders to who can and can't enter the building. We view every building as an individual ecosystem. BuildingLink is for both building staff and residents – no more sticky notes."
The more complex the daily management structure of a property, the more apt managers and residents are to dig deeper into the features offered by apps and other technology-based tools. For example, Lincoln says that of the tons of apps and programs to choose from, his company doesn't go a day without Buildium. In fact, he says that he's been using Buildium since his company launched in 2004.
Buildium's primary focus is rental properties—it manages a total of 750,000 units in 46 countries via 10,000 clients. It allows management companies to do credit and background checks, create custom rental application forms and syndicate their rental listings. But even if a management company works with condos, co-ops or HOAs, Buildium offers them accounting and administrative tools for tracking payments, generating on-demand reports for boards, and taking e-payments via the website for monthly fees or other payments. Management companies can also streamline maintenance requests on the site by accepting, responding to and generating work orders.
"I check it at least once a day," Lincoln says. "Whenever we go to a property, we make sure we have the correct information so that when we meet the tenants, we make sure we have the correct email address and we have everything up to date. Then it syncs with the desktop version." Before he used his phone, tablet and computer to track his buildings, Lincoln says, "Things sometimes got lost. Now, it's straightforward and everything is right there."
How effective these communications are is heavily dependent on initial buy-in and participation of residents. be they renters or owners. They must register for email and text alerts, and – in the case of email, anyway – must check regularly for notifications. If residents don't sign up for text updates or don't check email messages, they may miss communications. Janelle Lott is Regional Account Manager for One Call Now, a mass communication app based in Boston that serves clients throughout the United States and Canada. According to her, "Our clients use our system to send one single notification to residents delivered by a phone call, text, or email – or all three. Our system is beneficial for bill payment reminders, community events, maintenance issues, and emergencies."
One Call Now is a 'broadcast' technology. It provides a pathway for management and boards to communicate with residents in a nearly complete format, with announcements sent through multiple channels – including direct recordings to land lines, which makes it useful to residents who don't have computers, or who don't use smartphones or email.
If they don't want to receive notifications at all, residents can also opt out of the system entirely. According to Lott, however, if a resident does opt out, part of that opting out includes agreeing to indemnify management for any damages the resident might experience as a result of them choosing to stay out of the loop. Say they suffer a fall as a result of the lights being turned off for scheduled maintenance that was announced via the alert system, for example. The board and building would likely not be held liable for failing to deliver a warning message, because the resident made it clear they didn't wish to get one.
Mark Smucker is a co-founder and CEO of Bixby, another online management tool. Based in New York City and servicing customers worldwide, Bixby offers vendor services in addition to communications and management features – essentially creating a private marketplace for Bixby users attached to their app and website that provides essential services, with preferred pricing to users for such things as dry cleaning, storage, moving, and insurance. Bixby's revenue-sharing agreements with its 'preferred partners' enable the company to offer clients access to the partner list at no charge.
According to Smucker, residents' comfort with and integration of web and app-based tools like Bixby and BuildingLink into their lives is mixed, and usually cleaves along generational lines. His company works with management and staff to get people comfortable with the app and its many benefits, but notes that "there will always be residents who say, 'We don't use apps and we're never going to.'" He finds that in older co-op communities – which generally have older populations – the breakdown between those who will use web-based communication apps and those who won't is about 50-50. In newer condos, where the population may be somewhat younger, the breakdown is about 70-30 in favor of app users. It's even higher in rental properties, where the resident base tends to be young and internet-savvy; app use in those communities can be north of 90 percent of the building population.
Kestenbaum says that for residents, the learning curve is day-to-day. "It's a hand-holding process, and it develops over time." He cites the example of a resident who in the past would perhaps report a leaky faucet to the doorman, expecting the doorman to then alert the super, who would arrange for a repair. With BuildingLink or similar software, supported by the training they provide to staff members, the doorman might now instead help the resident enter that same repair request into the online system. Shortly thereafter – perhaps even on the way to the subway – the resident will receive a text message or email confirming the registration of their complaint or request, and may even find the problem resolved by the time they get home. The idea is that these systems are so seamless and efficient, the next time a resident has a problem and needs to report it, they'll go straight to the platform and do it themselves.
Smoothing the Transition
Dana Greco is a mental health professional based in New York. She lives in a co-op building in the Bronx and has served on its board. When it comes to people's comfort with and integration of web-based technologies, she says that in her view, the biggest hurdle is plain old garden-variety embarrassment.
"Many people, particularly seniors, didn't grow up with these types of technologies," she says. "They don't find them easily accessible. Often, they will say they need to have their children or grandchildren come help them learn how to use it – almost to literally 'decode' the mystery of how to use the technology for them. They too easily accept as fact that they 'just can't do it,' when what they really mean is that they don't want to do it. They play dumb. They panic at the login – and god forbid the login doesn't work for whatever reason. If there's no tech help, the game is over."
Greco suggests that the best, most effective response to this kind of reaction is patience, with a big helping of compassion. One thing co-op and condo communities can do to help all residents – not just the older ones – gain comfort and facility with new technologies is to offer some training, with a bit of humor. Running a free learning seminar for residents born, say, before 1970 to learn how to use the new technology not only saves face, but can help make people overcome their self-doubt and see that what might have initially seemed intimidating is actually very useful, and ultimately gets the job done better and more easily.
That's not to say there won't always be Luddites. As Lott says, "There's always going to be that one grumpy resident," but a little understanding, plus good-faith efforts on the part of the board, management, and technology supplier can go a long way in making technological innovation a part of a well-functioning community.
A J Sidransky is a staff writer/reporter for New England Condominium, and a published novelist.