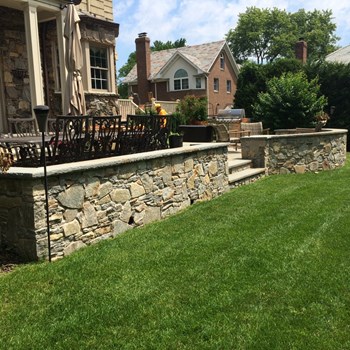 When most people think of landscaping, they think of shrubs, trees, meticulously laid-out and maintained flowerbeds, and artful plantings scattered around a building or development. However, landscaping doesn't need to end with the things that grow.
What's Hardscaping?
"Hardscaping is any part of the landscape that's not living," says Jim Schimmenti, owner/operator of The Grounds Guys, a nationwide landscaping company that has two locations in Massachusetts, four in Connecticut, and one in Vermont. "So it's the driveway, masonry, fencing, pergolas, patios, boulders and statues."
Other hardscaping elements that can be used on the property may include stone retaining walls, concrete patios, brick and flagstone patios, stone walkways, gravel paths, stone landscape steps, wrought-iron fences, wooden fences and decks. Hardscaping may also help correct potential topographical problems with the property. For example, a fence or stone wall can function as a windbreak. Pavers can be installed where there is grass to create an amazing footpath. Other hardscape features, such as a fountain or a patio may be more for beauty, or to provide residents with a usable common area. An outdoor oasis can also be created around the community pool with walking paths, fountains, statues, rock gardens, terraces and wall elements.
"There are also more housing communities being built where there isn't as much green space, but they need communal areas, and hardscaping is good for that," says Schimmenti.
Smart Growth
Hardscaping is more than just plunking down a few rocks here and there, of course. "We keep the client's needs in mind first, and from there we see what they want, come up with a concept that works within their budget and show them," says Schimmenti.