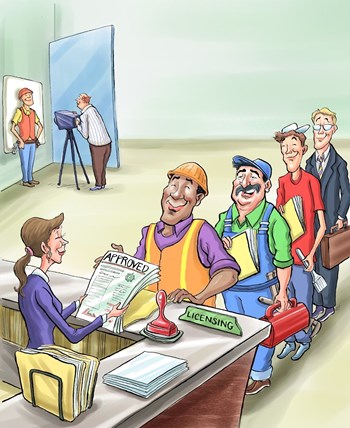 People say "ignorance of the law is no excuse." In the same vein, ignorance of contractor illegalities is no excuse—and no comfort—when something goes wrong. Association members are well-advised to bone up on what's important before they sign their names to a contract for repairs, renovations or new construction.
The courts, unfortunately, are full of litigants who didn't go that far.
Knowledge of bonds, licensing, workers compensation and insurance coverage may not be a factor when someone accepts a board role, but before long, given the nature of aging buildings and new projects, it can become essential. If a board signs a contract with an improperly licensed or bonded company—perhaps to save on construction costs—the end result may be expensive; unfinished work, financial losses and months in litigation.
If something goes wrong, not knowing enough about construction laws or contracts could even result in board members being held responsible.
"Take steps to make sure the association is not held liable for any negligence of the contractors," David M. Lewin says. The former chairman of the Illinois Association of Defense Trial Counsel's Insurance Coverage Committee, Lewin has spent 20 years representing contractors, owners and condominium associations. He writes extensively on the topic on his website, www.chicago-construction-lawyer.com.