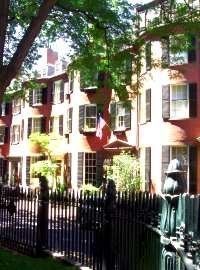 In a city with a history as rich and storied as Boston's, it's no surprise that history is told in large part through its architecture. The face of that architecture, quite literally, can be found in the facades that give each building its character, charm and personality. Within each neighborhood, Boston's buildings are as different as the people living within them.
From historical buildings that have stood for centuries to today's newest architectural statements, each building's façade is an important part of the story it tells. That is why the proper care and restoration of these structures is so important to maintaining the character and richness of not only each residential building but also of each neighborhood in which it stands.
"We seek to preserve character defining features," says Ellen Lipsey, director of The Boston Landmarks Commission (BLC). "We seek to preserve the physical features embodied in each building since all of these buildings are from different periods."
The Boston area, happily, is filled with engineers and architects intent on maintaining, improving and enriching the exterior look and appeal of the city's residential dwellings. And they're well-versed in the wide array of building materials they may encounter.
"You get a little bit of everything in this city," says Ralph Noblin, PE of Noblin & Associates, LC, Consulting engineers in Bridgewater. "There are old brownstones. There's brick and there's stone. You get curtain wall construction—glass and panels with a modern look." There's also pre-cast stone, sometimes known as manufactured stone. "There's even wood," he says. "Hundred-year-old cedar and fir."