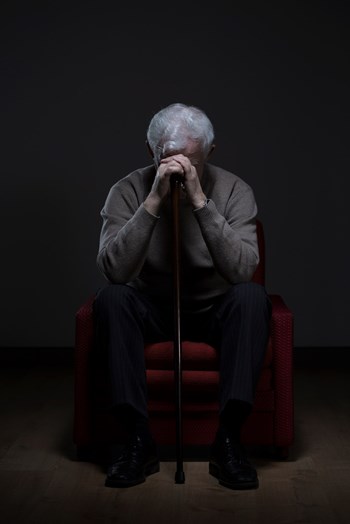 Condos and co-ops are called communities for a reason—families and individuals live side by side with one another, sometimes for years or even decades. Although residents may not exchange much more than a "hello" or "nice day" with their neighbors, there is still a human connection. So when a neighbor displays unusual or changed behavior, those who live next door or across the hall from them are often among the first to notice that something is amiss.
It can be an awkward situation, given the premium that so many of us place on privacy. It is difficult to know when to lend a hand, try to help or report the issues to others, whether it be family members (if any are known) or government agencies. And when it comes to older adults who may be coping with the difficulties associated with aging, the equation is further muddled by a desire to preserve respect and show deference to our elders.
What's Expected?
The issues can start innocuously enough. Perhaps an older resident goes to the wrong door, or arrives at their mailbox at an odd time, wearing inadequate or inappropriate clothing. Maybe newspapers begin piling up outside a door, or a neighbor catches a glimpse into an apartment and notices that it's filled with trash. It could start with a confrontation in the hallway, or with shouting behind closed doors. Problems with individual residents can manifest themselves in countless ways, all spurring questions of what can or should be done.
The truth of the matter is that for fellow residents, board members and managers, these instances can be very difficult to handle. Neighbors and building administrators are under no legal obligation to step in and rectify a situation; these are individual unit owners or shareholders. They are not living in assisted care residences. As much as the building itself may be a community, that community is still comprised of individuals, all of whom have a right to privacy.
"In most first instances—such as noticing newspapers piling up outside someone's door—neither the board, nor the manager has any legal obligation to take action," says Pamela Jonah, an attorney at Goodman, Shapiro & Lombardi, LLC, a law firm with offices in Dedham, Massachusetts and Lincoln, Rhode Island. "However, like any good neighbor, the board in such instances may want to attempt to conduct a wellness check by knocking on the resident's door or contacting a family member, (if any are known to the board) simply to inquire if everything is OK."
It's natural for neighbors, board members or managers to want to help, simply out of the kindness of their hearts. "Keeping in mind that it is a violation of the fair housing laws for the board or its agent to specifically ask if someone has a disability, like any good neighbor, if the board or its agent notices an obvious need for help, simply inquiring whether they are OK or even contacting a known family member, or in the case of an emergency, contacting 911 would appear to be reasonable," Jonah says.
But there are times when a person's personal problems can affect the community financially. "A property manager is hired to manage and maintain real estate assets," notes Donna Scholes, a spokesperson for the Greater New York Chapter of the Institute of Real Estate Management (IREM). "While individually we may empathize with an individual's personal difficulties, our fiduciary responsibility mandates that we treat all residents equitably, including expecting every resident to comply with the development's rules and regulations.
"When it comes to a resident's personal issues, most property managers will attempt to be supportive within the constraints of the management contract, and the development's rules and regulations," says Scholes, "but at the end of the day, the property manager is not given the flexibility to waive any violations or non-compliance."
"If it is a matter that the common fees are not being paid, despite whatever suspected reason, for privacy reasons I would recommend treating in the usual course pursuant to the Massachusetts Statute 183A, §6," Jonah says. "Often times in response to starting a lien enforcement action for unpaid common fees, if the person is having financial difficulties they will make it known to either the association or its legal representative. At that point boards may offer assistance through payment plans," she says.
"Typically, the appointment of a conservator or guardian on behalf of the unit owner is best left to other agencies or family members who will then usually step in to take care of unpaid common fees."
And beyond the financial implications of an owner's personal problems, the community may be affected by a person's inappropriate behavior. "If a resident becomes disruptive, such that it affects or may affect the association as a whole, then the board may have to take action," Jonah explains. "But these situations are very difficult and often need to be addressed on a case by case basis. For instance, if one resident is claiming another resident is being disruptive and calls the police, but the police do not witness the alleged offending behavior, than there is usually not much more the board can do, as these instances are often a 'he said, she said' situation."
Don't Just Stand There…
The scenario shifts slightly in certain cases like hoarding issues. The difference is that that particular issue may be causing damage to the property itself.
"It seems 90 percent of the time there's a mental health issue associated with hoarding that people need help with, and getting them to work on that has to be part of the process," says Kathleen Turner, a social worker for the Brookline Community Mental Health Center. "Just going in and removing the clutter doesn't—what we've learned—doesn't end the issues. The person, in a year or two, can go back to the way it was."
"In general, a board would not be required to take any action until it becomes an issue that is affecting the condominium association as a whole or is affecting the common areas," Jonah notes. "For instance, if a resident is suspected to be a hoarder, but there is no actual proof that the situation has risen to a point where not taking action could affect the health, safety and welfare of not only the offending unit owner but the other residents of the community, then there may be no action the board can take. However, if the hoarding has caused known issues such as rodent and insect infestation that is apparent because it is now entering other units or the common areas, then the board would have an obligation to take action.
"When the health, safety and welfare of the residents is deemed in danger, that is when the board should act," she explains.
Elderly Residents
As the nation as a whole becomes older and the Baby Boomer generation begins to hit their 70s, the challenges associated with aging are becoming more widespread.
According to a Massachusetts Healthy Aging Data Report conducted by Tufts University, "As baby boomers age, the older adult population in Massachusetts is expected to grow from 14 percent in 2010 to 21 percent of the state population by the year 2030." This population shift can't be overlooked. "The over-60 population is growing rapidly in Boston," says Mayor Martin J. Walsh. "This population has a strong legacy in Boston and they continue to contribute in important ways to life in the city. Yet too many of our seniors still struggle day to day as they face difficulties in maintaining their ability to continue to live independently."
The statistics seem to hold true in condo communities as well. Many residents who bought converted city apartments or suburban condos in the 1980s are still in place, and are now elderly. The signs of trouble can vary, but things to watch for include difficulties with mobility, falling, confusion and other changes in behavior. Problems can arise when a husband or wife is healthy but their spouse is ill and needs care. Depression can also be an issue among older adults. The Tufts study, for example, noted that 29 percent of Massachusetts residents age 65 or older have been diagnosed with depression.
Sadly, having troubled older adults in buildings is not an isolated or rare issue, especially in a large city, and especially in today's society, when families are often disjointed due to geography and cultural trends. "Before World War II, people went back to their communities and they took in elderly parents and relatives," says Susan Birenbaum, an aging life care manager and founder of the firm Humanittude LLC. "Today, people don't have their children there to help them. The kids will call their parents regularly, but they have their lives. They can't come in regularly from California."
Phone calls, though, are not always a good indicator of an older person's well- being. "People can hold it together for a ten-minute phone call," Birenbaum continues, "but how are you going to know your mother got lost that morning on the way to the grocery store she's gone to for 35 years?"
Ways to Help
It can be helpful for a board or management team to have emergency contact information for their residents, especially any older residents who may live alone. That way, should board members or managers want to help or feel that there is a significant need, they can get in touch with people who have the ability to really make a difference for that person. For people who live far away from their parents, or whose jobs prevent them from being able to spend additional time with them, social service workers can make an enormous difference.
Birenbaum also encourages basic acts of kindness to help neighbors who may be coping with difficulties. Socialization is important, so doing something small like having a cup of tea with someone can make a big difference. "There's real loneliness," she says. "No one tells you what it's like to get old."
In a big city, where people are often alone, living in a condo or co-op may be the closest thing individuals have to a community. While there are no legal or contractual obligations for board members, managers or residents to look after their neighbors, often the urge to help is simply a matter of kindness. We see someone in need and we want to help. By knowing who to call and when to call when things get bad, people can make a difference.
Elizabeth Lent is a freelance writer and a frequent contributor to New England Condominium. Associate Editor Pat Gale also contributed to this article.