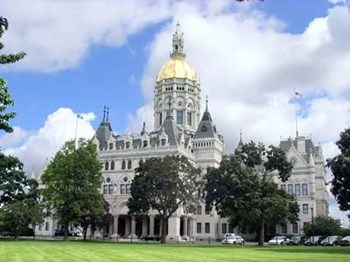 In today's troubled housing market, it's little wonder that condo associations are facing more foreclosures and tricky mortgage entanglements than ever before. A roundup of pending condo legislation for 2013 finds changes to notification and foreclosure laws as common themes throughout the New England states. Some serve to strengthen the health of local communities, but others could put association rights in jeopardy.
Rhode Island
Rhode Island's H5232 would alter the requirements for the publication of condo-related legal advertisements. If no public daily newspaper exists in the municipality where the affected condo unit is located, then the bill would seek to outline alternate requirements for publication. "What it's basically doing is saying the advertising requirement would be less onerous," says Frank Lombardi, a principal at Goodman, Shapiro & Lombardi, LLC, a firm practicing condominium law with offices in Dedham, Massachusetts and Lincoln, Rhode Island.
Under the proposed provisions, if there is no suitable city newspaper available, publication would occur in a public newspaper published daily in the county in where the condo is located – or, as a last resort, in a Providence-based local daily.
Also, notes Lombardi, who is the co-chair of the Community Associations Institute's Rhode Island Legislative Action Committee, the act would extend the right of redemption to defaulting unit owners. Under the provisions of H5232, within seven days of a foreclosure sale, the association would face the additional requirement of sending written notice to a unit owner's last known address.
"It's been tried before, and we opposed it," says Lombardi. "I want to bend over backward to make sure everybody gets notice, but we opposed the initial bill because we didn't want anything to go before the legislature that might give the banks a chance to hinder the super lien."
Legislative observers say the bill is likely to face revisions to the "last known address" provisions prior to a floor vote. "A good suggestion," notes Lombardi, "would be to add a requirement [stating] that when any unit owner purchases a property, he must tell the association where he wants his notices sent. And, if he doesn't do that, the association would be allowed to use the tax assessor's address."
Massachusetts
Among currently-pending legislation, likely the most financially significant to unit owners is "An Act Relative To Construction Defect Claims by Condominium Owners," the state Legislature's attempt to carve out specific condo provisions for the length of time homeowners have to file lawsuits against fraudulent contractors. "Under Massachusetts law, the statute on when you can file claims against developers is sort of a general statute–it's not a condominium-specific statute," says Matthew Gaines, an associate with the Braintree, Massachusetts law firm of Marcus, Errico, Emmer, & Brooks, PC.
Under current law, homeowners have between three and six years, depending on circumstances, to file claims against substandard developers. "A basic problem is that, depending on the condominium documents, the developer maintains control of the association for quite a while. Sometimes it may be until 75 percent of the condominiums are sold. Some documents may even say 100 percent," notes Gaines, who chairs the Legislative Action Committee for the New England chapter of CAI (CAI-NE).
"During that whole time, the developer is in control. He is the entire board of trustees—a one-man trustee. And clearly, he's not going to sue himself." Under CAI's proposed legislation, the actionable three-year period would not begin until 75 percent of a property's units are sold.
The pending bill faces opposition from the Home Builders Association of Massachusetts, which has proposed counter legislation. "Their bill—and I'm being a bit facetious here—basically says you have to give the developer a chance to sell everything and move to Bermuda before you can sue them."
Other CAI-backed legislation includes a bill to ease communication headaches between condo associations and banks, many of which, as first mortgage holders, may have voting rights with regard to condo bylaw amendments. "Back in the '70s and '80s, when most mortgages were held by local banks, it was much easier to get in contact with someone who could make a decision," says Gaines. "Obviously in this day and age, where mortgages are held by Bank of America or Chase or Wells Fargo, good luck finding someone down there at that bank who can consent to a condo amendment in Massachusetts."
The pending bill would allow HOAs to move ahead without mortgage holder consent following a reasonable waiting period. "If there is no response from the bank within sixty days, consent is deemed to be given."
Other proposed legislation includes the "home rule occupancy tax," which would allow local municipalities to collect up to six percent tax on short-term condo rentals, effectively treating them under the same guidelines as inns and hotels. The so-called "condo tax," as introduced by State Reps. Sarah Peake, D-Provincetown, and Cleon Turner, D-Dennis, is being supported by Gov. Deval Patrick, who has introduced the tax into his supplemental budget for 2014. (The current legislative session marks the fourth time the condo tax has been introduced into the Massachusetts legislative schedule. Patrick's move, however, signals the first time the bill has garnered executive support.)
In a move that could threaten the finances of many condo associations in the state, the District Court Appellate Division has ruled that the lien for HOA fees is limited in its priority over a first mortgage to one six-month period. "Up until now, it's been the norm in the industry for associations to file multiple priority liens at six month intervals, to the extent a unit owner's delinquency continued," says Gary Daddario, a partner in the Westford-based law firm of Perkins & Anctil. "The banks have never been OK with the notion of multiple priority liens, but, if it was a choice between that and a protracted legal battle, then they would just begrudgingly write the checks."
The decision of the Appellate Division of the District Court has been appealed to the Massachusetts Appeals Court, and CAI-New England has filed an amicus brief with the appeals court, including input from a number of major condominium law firms in the state. "This one District Court case created a chink in the armor," says Daddario, "and now everyone is trying to jump on it. And the same thing happened in Connecticut."
Connecticut
Much like the pending Massachusetts case, a recent ruling from the New Haven Superior Court could have costly consequences for many Connecticut condo associations. Under the new ruling, a bank or other mortgage lender would have no obligation to pay more than six months' HOA fees in the event of a foreclosure—a finding that runs contrary to long-established practice in the state. Past precedent held that lending organizations were liable for all condo fees accrued during a bank foreclosure, despite the length of proceedings.
The new ruling could be particularly problematic for smaller associations, many of which do not have the reserve funds to absorb unpaid HOA fees from a unit in foreclosure. The association at the center of the issue is the Lake Ridge Condominium Complex of Meriden, a 56-unit association that lost the Superior Court ruling to Bank of America.
New Hampshire
New Hampshire is among the states considering several pieces of condo-specific legislation, the most significant of which seeks to create a statewide condominium law review board. The new 11-member board would hold the authority to hear complaints and determine the need for changes to existing condo legislation. Under the proposed legislation (HB 154-FN), New Hampshire condo dwellers would be allowed to petition the board regarding potential amendments to state condo law. If unit owner petitions are deemed to be valid, the board would be tasked with crafting proposals for new condo legislation.
Other condo-specific bills include HB 108, a bill permitting associations to access local dog registration records, and HB 158, which would seek to allow the Department of Environmental Services to issue waivers for lot loading or setback distances in condo conversion projects.
HB 463-FN, an act requiring property managers to be certified, would seek to impose limitations on property managers throughout the state, requiring them to obtain certification, although the exact requirement has not been spelled out. While Daddario does not anticipate passage of the bill, he feels that many in the management community favor confirmed standards. "We don't think it is very clearly pinned down yet as to where the standards would come from," he says, "but I don't think this issue is going to go away."
HB 339-FN, an act relative to consumer credit, while not targeted specifically to condo properties, could place onerous burdens on many HOAs. "This one's really sort of a nightmare. It included, as the definitions were stated in the proposed legislation, condominium assessments," says Daddario. "Some of the provisions would have imposed a five-day period for putting settlements with a debtor into writing. And aside from the fact that there appears to be no reason for the [time] prohibition, it really doesn't work for condos because most boards meet on a monthly basis."
Maine
Barring a late entry into the legislative calendar, Pine Tree Staters can expect no condo-related legislation in the current session. "So far nothing has really turned up," says Wells-based attorney Joe Carleton, who heads the Maine Legislative Action Committee for CAI. "Unless something [adverse] is filed in the legislature this year, we have no plans for submitting legislation on our own."
Vermont
A bill pending in the Vermont General Assembly desires to give unit owners the ability to demand arbitration in challenge to newly adopted association rulings. Under the proposed legislation, any unit owner who is adversely affected by "a provision of the declaration, bylaws, or rules" of an association, may, within 45 days of the adoption or implementation of said rules, submit a written demand for arbitration to the condo board. The bill (H.7) was first introduced by Rep. William J. Lippert, D-Chittenden, in a similar form last year, but the measure failed to reach a floor vote. The 2013 bill was sent to the committee on Commerce and Economic Development in February, and as of mid-May, remained there.
If experience is any measure, the fate of the various laws proposed this year is likely to be a mixed bag. Condominium boards and owners will be watching closely to see the effects of the governmental action on their properties and pocketbooks in the months ahead.
Matthew Worley is a freelance writer and a frequent contributor to New England Condominium.