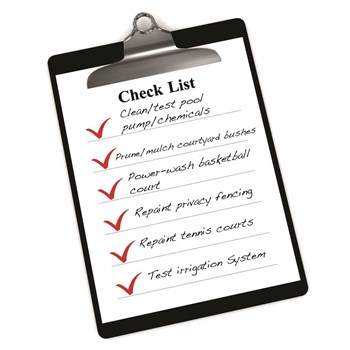 The winter of 2015 certainly was one for the record books. From epic amounts of snow to the never-ending plowing and clearing of the pesky white stuff, the first few months presented many weather-related challenges for New England's condominium communities.
In addition to dealing with ice damage to their properties, communities in this region also have to contend with destruction from periodic hurricanes, cleaning up fallen leaves, and ongoing tree trimming. There's always lots to be done around any condominium—especially during the spring.
Now is the ideal time to head outdoors and check your property's amenities from playgrounds and pools to tennis and basketball courts. Here's a look at the numerous tasks associations need to tackle before the exterior amenities can open for business.
Grab the Clipboard & Take a Walk
"The spring walk-through is a must for assessing the current condition of existing amenities," said Meghan O'Brien Taylor, president of M.E. O'Brien & Sons of Medfield, Massachusetts, which provides and maintains site furnishings—including fencing, playground equipment and benches. "As soon as the snow melts, get outside and evaluate what the heavy snows and ice may have damaged. Plowing can do a real number on outdoor amenities at condo complexes. Snow plows pushed snow back further and further and may have disturbed or even moved playground equipment and benches."
The initial spring walk-through is best done between March 1 and April 15—or whenever the snow melts, offers David J. Levy, CMCA, PCAM, president of Sterling Services in Holliston, Massachusetts, which manages 32 condominium properties. "Make sure every asset is safe to use."