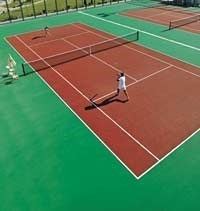 Most homeowners love the idea of having a swimming pool, athletic court or health club as part of their association's grounds because it adds value to their property and it gives them something fun to do throughout the year. But HOAs that offer these types of facilities may need to have supplemental or additional insurance to cover the potential hazards that come with deluxe amenities.
Insurance Concerns
When it comes to potential high-risk amenities like pools and gyms, basic liability coverage just doesn't do the trick. All insurance policies are not created equal, and getting proper coverage for your association's amenities is crucial.
"Anything that the association provides is an issue," John Hegarty of Commonwealth Insurance Partners in Quincy, Massachusetts. One association he is familiar with, he says, provides a woodworking shop. "It's a nightmare. It's entertaining for the people who live there," but providing insurance for such a venture is expensive, he says. Associations that provide day-care areas, or that actually own golf courses also face liability issues, and, therefore, potentially large insurance bills.
"It's all about what an association is willing to pay for," Hegarty notes.
The Deep End
The amenity that makes association boards nervous, and which can raise an association's premiums significantly, is the swimming pool. Since pools are also one of the most popular amenities, boards need to be aware of the insurance issues involved.