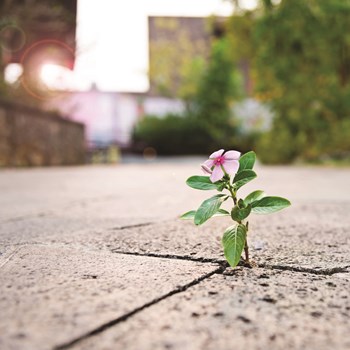 Beyond the obvious concerns of injury and liability from accidents caused by disrepair, sidewalk maintenance is also important when it comes to establishing a good first impression of your building overall. With some basic knowledge of what to look for in terms of damage to an otherwise well-crafted sidewalk from weather, tree roots, or other factors, an informed management/maintenance team can protect a long-lasting investment with expert pavement replacement. As for what to address along these lines, we asked some industry experts to weigh in on what to look for in all aspects of repair, replacement, and maintenance.
Composition and Key Threats
Given the variety of pavement colors, textures, and finishes one sees throughout a city, one might assume there are endless choices at play when it comes to pouring a sidewalk. More often however, paved pedestrian stretches are composed of the same basic elements — the variation occurs with additives that are mostly just for aesthetics. Matt Serna, Director of Concrete Operations at DuBois Paving Co., in East Dundee, Illinois, says, "There are different mixes and different designs that an architect can call for, but any standard public sidewalk would be the standard ready mix. These sidewalks are mostly the same material, but can vary in thickness. Both factors are dictated by standard city ordinances."
"Most walks are four inches of clean stone on top of four inches of 4,000 psi concrete," says Jack Onorati, President of Onorati Construction, a paving business based in Boonton Township, New Jersey — adding that the main factors contributing to sidewalk deterioration are "poor subbase, poor concrete, and frost."
According to Serna, the factors that contribute to the deterioration of paved surfaces include a wide variety of elements, such as "tree roots, heavy equipment traffic, and salt or any type of de-icing agent." Beyond that, Serna says that where the sun hits the pavement can affect longevity and care as well, especially in areas where the elements can be punishing on all exteriors. "Whether the sidewalk is on the north side or south side can affect the amount of sun it gets and when the ice melts," he says. "The moisture then penetrates the surface, and when it freezes overnight it pops or loosens the concrete."
Replacement Versus Repair
One of the big decisions to make about sidewalk maintenance is whether or not to do a patch job on a potentially hazardous stretch, or to completely replace the entire walk. Our experts gave us some insight as to why the most cost-effective choice isn't always what you might initially think.