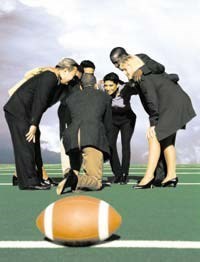 Management of any property requires a varying degree of resources and skills. Materials, capital, and personnel are required for everything from ordering supplies to the complete overseeing of a multi-unit, high rise condominium. Above all resources, human resources, are typically considered the most important asset of any business or company, and managing those living resources is an art, a science, and a very necessary skill set.
"To me, human resources are not only support for the staff, but it also has to do with benefits and financial services," says Dan Rivers, director of the management division at G&G Management in Newton, Massachusetts. "It's also an ear for the staff if they have any issues or if they need any support, whether it's financial or issues going on with another person."
"I would broadly define the term 'human resources' as anything related to the discipline of managing employees," adds Michael R. Phillips, CPA, the chief operating officer of The Copley Group in Boston, "including hiring, terminating, payroll, personnel, benefits and creating a culture and work environment for the employees."
Well-trained, motivated employees enhance the appeal and ambiance of a property, adding to both the real and perceived value. Who does the hiring, the training, and the evaluations may vary between properties, but generally speaking, the trustees, the board of directors, and the property management company will work together to achieve the best results. When an effective system is in place, and working well, the board will delegate to the manager on the staff's performance expectations, the manager will develop and enforce the policies, and be held accountable to the board. The manager will generally act in an advisory capacity, before, during, and after new staff is brought on board, while the actual hiring of new employees is usually a board function.
"I believe that employees of a condominium building have dual employers: both the condominium association and the management company. It is critical for the board and the management company to work together in managing employees," says Phillips.