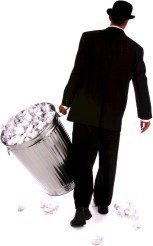 Condominiums that pay their full share of taxes but get shortchanged in municipal services like garbage pickup and snowplowing are an old story. So, too, are a lack of interest in local politics and a feeling of general dis-empowerment by the electorate.
But a condominium coalition in Milford, Connecticut, has taken issue with the situation and rewritten the book on politics as usual. They group has worked to gain comparable city services for condominiums, while also rallying condominium voters into a potent voting block that has caught the attention of city and state politicians, who now put condominium interests front and center.
A Coalition Grows to Solve a Problem
Since its founding in 1992 as a non-profit, the Milford Coalition of Condominium Associations has grown to include 62 condominiums and successfully tackled issue after issue.
One of the group's first challenges involved a pocketbook issue dealing with trash collection in the City of Milford. Although condominiums in the city paid full real estate taxes, they didn't receive regular trash or bulk trash pickups, both of which single-family residents received at no additional charge.
That inequity in services for taxes paid led the Milford Coalition to take the lead in rectifying the situation in the late 1990s. After negotiating with city officials, an ordinance was drafted and passed to authorize the city to reimburse condominiums for up to the full cost of their recycling and regular trash pickup. Milford condominiums are now reimbursed $470,000 a year for recycling and trash pickup.
Also included in the ordinance was a provision to deal with bulk trash pickup for large items, a service that single-family residents received four times a year from the city without additional charge. As a result of the ordinance's passage, condominiums now receive two free bulk pickup days a year.
Voting to approve the new trash arrangement were a majority of the city's aldermen, who no doubt had taken notice of the Milford Coalition's growing political strength.
A Campaign to Raise Political Awareness
As part of an effort to work with city officials, the Milford Coalition typically holds a pre-election open forum in October and invites all candidates to city and applicable state offices. The participating political parties are given a list of questions of concern to condo owners and each party chooses a member from their delegation to answer the questions.
"The Republicans would give their answer, the Democrats would give their answer, and the Green Party would give their answer," says Frederick Chidester, Sr., a member of the Milford Coalition Board and also its spokesperson.
The Milford Coalition does not endorse candidates, but the forum does focus the candidates on condominium issues and the size of the voting block the coalition commands, says Chidester.
"We've really got a bit of clout," says Chidester, who estimates that the Milford Coalition includes about 3,000 adults eligible to vote.
"The election is only going to turn on 300 or 400 votes. In this city, 3,000 votes makes a big difference," says Chidester. As a result of the voting block, a number of city officials and state reps have "really taken up the [condominium] cause, to say, 'We really understand what you want,'" says Chidester.
The Group Takes on Other Issues
The ability to influence city hall also helped the Milford Coalition deal with a problem with fire hydrants. Before the Milford Coalition complained, condominiums were saddled with paying for the upkeep of fire hydrants that weren't on their property, says Chidester. Working with the city Fire Department, a survey was taken of all city fire hydrants to determine which ones were definitely on condominium land, says Chidester. After the survey was completed, fire hydrant upkeep fees were substantially reduced, he says.
Dealing with problem contractors is another area in which the Milford Coalition's power has given the group clout. Contractors who don't show up on time, or who perform shoddy work, are a problem facing all condominiums.
But shoddy work by a contractor on one Milford Coalition condominium can be quickly telegraphed to other members by way of its Vendor List, a database maintained by the group on various contractors and their work.
Explaining the way the database works, Chidester reads from typical entries that tell volumes about different contractors. "I use Lee for snowplowing. We're extremely satisfied. Rob did our snowplowing two years ago and he hit the mailboxes three times and plowed up the curbing. We had to wait half the night until he came at 2 a.m."
Although the list contains performance reviews of contractors, it doesn't contain any pricing information, says Chidester. Condominiums have to negotiate prices on their own, he says.
Monthly Meetings Are Key
Another way that condos help each other solve common problems is through open monthly meetings, where during an "open forum" section problems can be discussed and common knowledge dispersed.
One recent example, says Chidester, involved dealing with proliferating pigeons, which were flocking to certain properties. "We're on the waterfront, and we've got pigeons up the gazzoo. What do you do? How do you get rid of them?"
The answer to the pigeon problem came from another condominium, which was more than willing to share its knowledge, says Chidester. "Well this guy here, he has a material which is approved by the Audubon Society. They spray it on the railings and roof ledges and within a week and a half there were no more pigeons. They didn't kill they pigeons, they just don't land there anymore...Yes, it was expensive but considering the power washing we had to do and the dirt and the droppings, it was a lot better."
The monthly meetings, held on the second Saturday at South Wind Village Condominiums in Milford, also feature speakers sharing their knowledge on a variety of topics.
In March, for example, a reconstruction contractor spoke on preparing for and responding to disasters. Other topics covered deal with problems the condos are facing at the moment, such as an unpopular increase in town assessments, and switching to energy-saving common area lights to reduce high electric bills.
Of all its legacies, the concept of condominiums sharing both problems and solutions has been the Milford Coalition's most important, says Chidester.
"Instead of everybody doing it on their own, it gives them a way to help each other."
And by the simple act of helping each other with common problems, Milford condominiums have found there is strength in numbers.