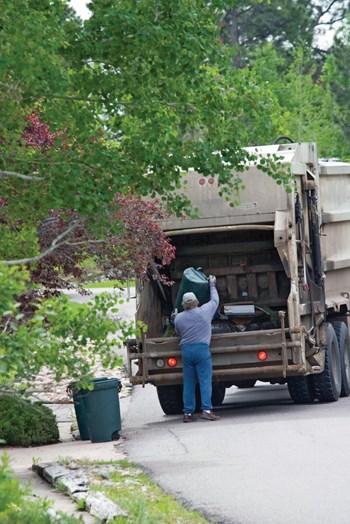 They pay the same property taxes, and pull electricity from the same wires; their residents go to the same schools and libraries, and vote for the same municipal officials. Yet there is one marked difference between many condominiums and their single-family house neighbors: trash. In towns and cities where the governments provide free trash pickup to single-family houses, condominiums are often required to foot the bill for the same service.Although this is certainly not a new issue, sharply rising costs for trash removal—and rising property taxes—are prompting condominium associations to re-examine the fairness of the situation. Following a number of successful campaigns across the country, many condominium residents throughout New England have organized and are pressing the local governments with renewed vigor for equality in municipal services.
While some condominium associations have pursued legal action, the most common and effective route seems to be the one that leads to city hall. Many condominium associations are learning to flex the political muscle of hundreds of condominium owners paying hundreds of thousands of dollars of property taxes. In some cases, larger umbrella organizations, like the Community Associations Institute's New England and Connecticut chapters, are providing organizational support and procedural advice while others make use of local attorneys like Richard Brooks of Marcus, Errico, Emmer & Brooks, PC, in Braintree, Massachusetts, for legal advice.
Pro Bono Work
Brooks' involvement with over 60 campaigns on behalf of the condominiums (most of them pro bono) began with a simple request to borrow his firm's conference room. A group of condominium residents in Framingham, Massachusetts asked Brooks if they could use the conference room at his office for a meeting. They wanted to see if they could devise a solution to problem they were having with equity in trash pickup. Of course, it was not long before Brooks was pulled in and offering impromptu legal advice.
By the time the Framingham group had successfully petitioned the town government for trash pickup, Brooks was fully involved. Word of their success quickly spread and Brooks has since helped condominium organizations across New England prepare and lobby their local governments for help with trash pick-up, a large number of them successfully.
In Brooks' experience, it is better to work a grass-roots campaign than start a legal battle. "It's all politics," he says. "You can't force the towns to provide the service. You have to convince them to do it." The issue essentially hinges on the fact that condominium residents pay the same property tax rate as single-family homeowners who receive the trash pickup for free, yet the condo owners must pay additional fees through their condominium associations. For the condo owners, it is an issue of fairness.