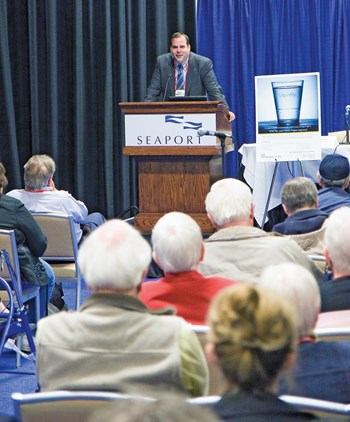 Now in its fourth year, the New England Condo Expo has become the annual must-attend event for the New England property managers, board members, real estate professionals and unit owners. Returning to the Seaport World Trade Center in Boston on Tuesday, May 22, from 10 a.m. to 5 p.m., the 2012 Condo Expo will showcase over 150 exhibitors from throughout the region, along with free advice booths and a full slate of educational seminars.
Good information and clear communication are crucial for anyone involved with the administration of a community association—crucial not just to thriving, but even surviving in today's challenging economic times. Finding that information and developing communication strategies isn't always easy, however. The New England Condo Expo offers attendees the opportunity to do both, in one day and under one roof, with a full slate of unique educational programming.
Full Day of Seminars
This year, a full schedule of seminars will be presented, running throughout the day and covering topics such as board operations, effective property management, saving energy and more. Seminar presenters will include attorneys from Marcus, Errico, Emmer & Brooks, PC, and Goodman, Shapiro & Lombardi, as well as energy experts from National Grid.
Last year's seminars attracted standing-room-only audiences—so make sure to arrive early so you don't get shut out.
Free Advice Booths & More
Vendor booths and a full schedule of seminars may be the big draws to the Expo, but that's hardly the whole picture.