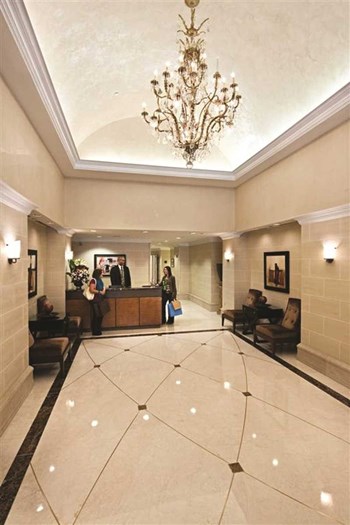 A decorous, welcoming lobby in a high- or mid-rise condominium entices interested buyers to purchase, and it encourages current residents to interact more socially. The entrance area has also customarily been the hub for the day-to-day life of condominiums as well. Usually, packages for residents are delivered there, and visitors entering the foyer may require permission to go any further. In addition, condominium owners in need of maintenance or with questions for management traditionally have rung through to a central lobby desk. In recent years, though, the way in which condominium lobbies function has changed.
According to John Thiboutot, vice president of The Niles Company in Canton, Massachusetts, "Associations are turning to technology to assist in the security and management of visitors, packages, etc…." He says that security cameras and key fobs, essentially keyless remote entry systems, "are more commonly being used as deterrents." These provide safety measures which require less need for actual on-site oversight. Security cameras posted at lobby entrances allow management to "see" the goings-on of the lobby in the event of an issue about package delivery or an unwanted visitor. Key fobs provide tighter security because it is more difficult to copy access cards than keys, and condominium owners tend to be more conscious about not losing them.
Keith Shirley, managing principal at Meridian Realty Group, LLC in Boston, Massachusetts, adds that "routine maintenance and day-to-day questions can also be answered online" now through the use of condominium websites versus "contacting the concierge to get the answer." This, of course, "significantly reduces labor costs." It also provides a more timely response since usually the questions are directly answerable by information posted on the website. More importantly, though, the websites also foster and promote community among the residents and between the condominium owners and the homeowner associations as they share information with one another about concerns related to building life. For many condominium associations, the website has replaced the older, lobby bulletin board method of sharing information. Instead of reading flyers on the board in the lobby, residents can learn what they need to know in the comfort of their own living room.
Mail Call!
Along with the advent of better technological measures for security and information gathering and giving, there's also the convenience that technology brings today to condominium owners. For example, digital tracking now provides accessible information for package drop-offs and retrievals. This means residents can know exactly when a package has arrived for them because they've been automatically notified. This removes the need for a concierge to call and also helps management to track packages when they do sometimes go amiss.
Stephen DiNocco, principal at Affinity Realty & Management in Boston, adds that in his experience, "technological change may have improved ease of access or provided greater opportunity for accumulation of data." As a result, more information is readily available at the fingertips of any lobby concierge or condominium supervisor than ever before.
Brian Buhler, general manager of One Charles Condominium in Boston, adds that a web-based management service such as a BuildingLink, "allows the concierge to keep track of each owner's needs because each unit has their own page with information such as security notes, package delivery instructions, dry cleaning desires, etc…." Gone are the days of having to log everything in by paper, too, he says. It not only has "made things easier but allows us to be able to do so much more now."
Exactly who is supervising these improved technologies, however, varies. "In some cases," DiNocco says, "the building has a 24-hour presence at the door that monitors the coming and going of residents, guests, vendors, packages and so forth. In others, the building may employ a superintendent who assists visitors during normal work hours but who also has many duties and functions that take the person away from the lobby for extended periods of time."
Shirley adds that "most concierge services are provided by third-party vendors and are on a contract. They usually are trained security guards who understand the importance of security and tracking residents' personal possessions when needed." Moreover, these vendors advertise services at more affordable prices and have access to a variety of advanced technologies which, in the long, run benefits the financial, safety and convenience needs of the condominium owners.
At One Charles, though, Buhler explains that "we prefer to control our own destiny, so to speak. For the makeup of our building and the concern we have for maintaining staff, we felt it would work better if we hired our concierge personally rather than use a third-party vendor."
Thiboutot, however, notes that some "condominiums do not have attendants or concierge for the lobby" at all. "Maintenance staff may assist in the daily operations," he says. This may be due to recent economic pressure. "Many sites have reduced the hours of the concierge or removed the concierge staff entirely," Shirley says. Two significant issues he cites as the result of reducing or eliminating concierge hours, however, are "missing packages and people moving items in and out of the building without proper notice being given to management." Apparently, condominium residents moving items without proper notification "can lead to significant damage and cost to associations with damage to walls, flooring and elevators." Thiboutot adds that "the challenges of associations without 24/7 staff are that the management relies on the residents when they are not on site." The problem with this, he says, is that "there have been instances where other residents believe another has or will call in an issue" — and therefore no one does.
"Buyers are attracted to buildings with the services and lifestyle they desire," DiNocco stresses. "Buyers develop expectations based upon information they are able to gather during the buying process—what they observe, financial statements, discussions with current residents, developer promises and so forth." Since every condominium has different needs, he says that those needs "suggest a service level both required and desired that must be subsequently adequately funded by budget" which either attracts or deters potential buyers.
One Charles Condominium is a prime example of a developer establishing their own rules for service. "We have a hybrid system," Buhler explains, "where I was hired by the developer to manage the condominium on the developer's behalf, but I work hand in hand with The Dartmouth Group, our managing property firm." He says that this means there's some redundancy, but "we are sort of like a belt and suspenders, where together we can be sure to meet any expectations the residents may have."
Great Expectations
What exactly do condominium owners expect in current times when it comes to lobby staffing? "Owners expect more today than ever before from their associations," Thiboutot says. "They expect their fees to take care of everything, from security to maintenance, but still want to keep fees low." So when it comes to lobby activities such as packages being delivered and tight security, residents expect good service whether someone is literally "manning the desk" or remotely overseeing events. This is why, he says, "Management and boards need to work together to set realistic expectations for homeowners while staying current and providing services that maintain or raise property values. It is important to educate and set realistic expectations as to what an association board does and is responsible for."
Maintaining the balance between providing good service and fiscally managing a condominium building sometimes can present a conflict, however. So, what does one do when the two diverge? "Clear communication is the key factor to managing expectations," Shirley says. "Many residents do understand the cost issues that all have felt over the past several years. With clear communication from trustees and the management company about the duties and responsibilities of the lobby staff, residents or owner expectations can be and are met."
DiNocco adds that "it is simply a case of identifying your needs and instituting policies and procedures to make them happen. Good management practices." He adds, though, that in his experience, he has "not seen an instance in recent times where service levels are appreciably altered due to the impact of a poor economy. Usually services are not reduced for this reason. Sometimes if people are feeling good about the economy they may do more, but budgets should always be adequate to the task."
At One Charles, Buhler says his experience has been that "over the years people have come to expect more." Consequently, he says that when hiring, he now gravitates more towards people with hospitality experience. As he explains, "Hospitality people are more engaging and possess a mental attitude that helps them to not only gauge but to anticipate the needs of residents so they'll have the answers ready before they're even asked." No longer are the requests simply for routine maintenance. "They might want us to hire someone to paint their unit for them or get them a reservation at a restaurant or replace a washer and dryer while they're away, and as long as it's within reason, we provide the service," he says.
Essentially, condominium lobby services provide comfort to their residents. Whether it's simply the protection of security measures at the door or concierge being at the beck and call of residents to meet their requests, owners can rest easy, knowing their needs will be met. No matter what is going on in their lives, whether it is people visiting or packages arriving, someone or something is maintaining the homefront, even though that front is the foyer of a condominium building.
Paula Castner is a freelance writer and a frequent contributor to New England Condominium.