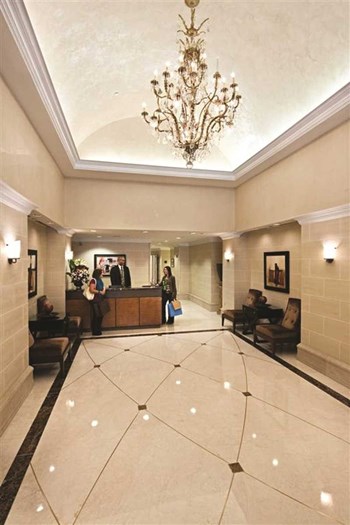 A decorous, welcoming lobby in a high- or mid-rise condominium entices interested buyers to purchase, and it encourages current residents to interact more socially. The entrance area has also customarily been the hub for the day-to-day life of condominiums as well. Usually, packages for residents are delivered there, and visitors entering the foyer may require permission to go any further. In addition, condominium owners in need of maintenance or with questions for management traditionally have rung through to a central lobby desk. In recent years, though, the way in which condominium lobbies function has changed.
According to John Thiboutot, vice president of The Niles Company in Canton, Massachusetts, "Associations are turning to technology to assist in the security and management of visitors, packages, etc…." He says that security cameras and key fobs, essentially keyless remote entry systems, "are more commonly being used as deterrents." These provide safety measures which require less need for actual on-site oversight. Security cameras posted at lobby entrances allow management to "see" the goings-on of the lobby in the event of an issue about package delivery or an unwanted visitor. Key fobs provide tighter security because it is more difficult to copy access cards than keys, and condominium owners tend to be more conscious about not losing them.
Keith Shirley, managing principal at Meridian Realty Group, LLC in Boston, Massachusetts, adds that "routine maintenance and day-to-day questions can also be answered online" now through the use of condominium websites versus "contacting the concierge to get the answer." This, of course, "significantly reduces labor costs." It also provides a more timely response since usually the questions are directly answerable by information posted on the website. More importantly, though, the websites also foster and promote community among the residents and between the condominium owners and the homeowner associations as they share information with one another about concerns related to building life. For many condominium associations, the website has replaced the older, lobby bulletin board method of sharing information. Instead of reading flyers on the board in the lobby, residents can learn what they need to know in the comfort of their own living room.
Mail Call!
Along with the advent of better technological measures for security and information gathering and giving, there's also the convenience that technology brings today to condominium owners. For example, digital tracking now provides accessible information for package drop-offs and retrievals. This means residents can know exactly when a package has arrived for them because they've been automatically notified. This removes the need for a concierge to call and also helps management to track packages when they do sometimes go amiss.
Stephen DiNocco, principal at Affinity Realty & Management in Boston, adds that in his experience, "technological change may have improved ease of access or provided greater opportunity for accumulation of data." As a result, more information is readily available at the fingertips of any lobby concierge or condominium supervisor than ever before.