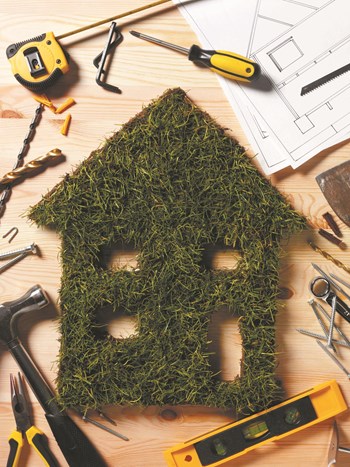 Even before Rep. Alexandria Ocasio-Cortez (D-NY) introduced the Green New Deal resolution to Congress on February 7, the impending consequences of climate change and global warming has been a hot topic (no pun intended). While some may cover their ears and avert their gaze when it comes to things like carbon emissions, sustainable building and green energy, most of us want to know what we can do to live better and healthier while helping to keep our planet hospitable to human life.
This concern extends to residential development and, in turn, to community associations. Trends in green design continue to capture the collective imagination, whether they involve building materials, aesthetics, or big-picture ideas about sustainability and wellness.
Below, we spotlight some of the people, places and projects involved with the broader green residential movement, beginning with four design professionals from varying backgrounds we asked to weigh in on eco-friendly market trends:
People
Frank D. Hodge, Owner of F.D. Hodge Interiors in Boston.
"Today, it's very important to utilize more sustainable and environmentally-friendly techniques and materials. Most everyone is concerned with off-gassing and chemicals coming from paints and other substances. We only use eco-friendly products in clients' homes and, when that isn't possible, we always ensure that the client is out of town while we work.
"Materials costs in general have risen across the board, so I don't feel that something like, for example, eco-friendly fabrics cost any more or less than non-specifically eco-friendly fabrics.
"In regard to federal or local incentives for incorporating green design methods, those mostly apply to out-of-ground construction, windows and HVAC, and not as much to interiors."
Anica Landreneau, Director of Sustainable Design at global design, architecture, engineering and planning firm HOK, which has 24 locations worldwide, including New York.
"One thing we're seeing is that the focus isn't exclusively on environmental footprint, but also on health and wellness. Healthy and resilient buildings, communities and neighborhoods also impact the environment. Anything that makes our neighborhoods more walkable and pedestrian-friendly, more bikeable, and more resilient to storm events makes them more healthy. Design that encourages people to opt for stairs over an elevator or offers more exposure to natural light can save energy while also impacting people's well-being. And buyers are absolutely willing to pay a premium on a home they perceive as healthier.
"All of the above can affect material selection – namely those that have better filtration and offer better air quality. Green walls and additional houseplants can help there. And people are increasingly likely to want more operable windows to minimize air conditioner usage, to turn on those ceiling fans again. Low-flow water fixtures, smaller boilers or on-demand hot water... all of these can have a great environmental impact while simultaneously lowering water bills.
"We're also seeing an uptick in interest in having some space within a condo or townhome that isn't necessarily the standard fitness room, but maybe a yoga area or meditation space. Gardens are popular, sometimes on roofs. Communal spaces in general are increasingly desired."
Dan Piselli, Director of Sustainability and Senior Associate with FXCollaborative, an architectural firm with offices in New York City and Washington, D.C.
"Often, sustainable strategies can have double benefits for both condo/co-op owners, and toward the greater good. Energy efficiency saves owners money by reducing energy costs while also reducing greenhouse gas emissions and global warming impacts. Reducing water use and rainwater runoff can also save owners money while reducing water supply burdens and overflow issues at city sewage treatment plants. Selecting healthy materials can keep residents healthy by avoiding toxic off-gassing while also reducing supply chain impacts on the environment. When working with community associations, we regularly advocate for these and other sustainability initiatives, for the benefit of all involved.
"Increasing demand is slowly but surely increasing the market for eco-friendly design, while lowering costs. LED lighting has been a great success story. Manufacturers heard the demand for energy-efficient lighting and performed the research and development to bring cost-effective products to market. Building owners can help continue to push the market by requesting more of these products and services.
"Sustainable retrofits usually cost a bit more than code-minimum retrofits. However, to minimize cost, we recommend upgrades when building components are at the end of their service life and need to be replaced anyway. For example, when a roof wears out, consider adding insulation as a minor incremental additional cost to the replacement project. It's crucial for condo and co-op associations to have a long-term sustainability plan in place to guide decision-making when replacement needs arise."
Steven P. Besch, President and Founder of Besch Design, Ltd., in Chicago.
"The work I do in condos really does not include much by the way of 'green' or sustainable material. We typically deal with high-end condos, and those owners tend not to have interest in sustainable materials when it comes to finishes. I recall a time when bamboo flooring was popular, but I have not seen as much lately. Clients sometimes consider water-saving products, but I believe most of that is regulated by federal code with which manufacturers need to comply. Clients still want good water pressure and fixtures that look nice within a space.
"On projects like home additions, or even new home construction, we try to be proactive with as much as we can, but it usually comes down to cost in the end – even with clients who have larger budgets. Any green feature that a contractor can swap out with something more cost-effective usually gets replaced in order to keep the budget in line.
"I had one client a few years ago do a geothermal heating and cooling system. But for the common homeowner, that initial cost of installation is just too far out of reach, and many cannot commit to long-term home ownership in a single location to reap the benefit of any payback down the road.
"We've used trees that we took down on properties and repurposed them for things like flooring, wall finishes or even stair treads. Again, this is something that comes with a cost – not only in dollars, but in time to prep the raw material that your average homeowner cannot afford.
"I believe that the market has improved over the last decade. Ten years ago I might have had one client express an interest in trying to 'go green.' Today people are interested. But in the end, when confronted with the cost, it's one of the first things cut from a budget as it's just not viewed as a necessity."
Places
In January 2018, construction was completed on Carbon12 – an eight-story, 14-unit condo project in Portland, Oregon that is currently reported to be the nation's tallest wooden structure. By spring of that year, half of the units had been sold for prices ranging from $800,000 to $13 million. The project was developed by Kaiser Group and designed by PATH Architecture, both firms owned by developer, architect and general contractor Ben Kaiser.
A nearly all-wooden multifamily residential mid-rise is virtually unheard of, but Carbon12 flaunts its environmentally-friendly materials in every aspect of its design. The cross-laminated timber and glulam beams with which much of the structure was built were left visible inside the units themselves. The exterior of the property features vertically-striated metal paneling and solar panels on the roof.
In response to the march of climate change all but guaranteeing more frequent and more severe weather events, PATH Architecture claims that the Carbon12 project is especially resilient, regardless of what Mother Nature throws at it. In an interview with green design site Inhabitat in early 2019, a firm spokesperson said, "Carbon12 is one of the most well-prepared residential buildings in the country in regard to earthquakes and other natural disasters," due to a thickened basement slab resting upon deeply-planted steel pilings. In fact, the building weighs only about one-fourth that of a concrete equivalent, but according to its designers, it's every bit as strong.
Things
Green design not only extends to eco-friendly materials, but to the health and general well-being of those who reside within these structures – and how those concepts are intertwined. In early 2017, the Center for Active Design – a global not-for-profit launched in 2011 by then-New York City Mayor Michael Bloomberg to promote health in the built environment – debuted the Fitwel Certification System. Developed by experts in public health and design, including advisers from the Centers for Disease Control (CDC) and the General Services Administration (GSA), Fitwel aims to evaluate how well participating buildings support the well-being of their occupants, as well as their surrounding communities.
The Fitwel Multifamily Residential Scorecard measures communities in areas like walkability; building access; outdoor spaces; entrance/ground floor; stairs; indoor environments; dwellings; shared spaces; water supply; grocery stores/prepared food retail; vending machines/micro markets/corner stores; and emergency procedures. Participating properties have a chance to earn as many as 144 points among these categories.
According to the Center for Active Design, the number of projects achieving Fitwel certification between 2017 and 2018 increased 80 percent, making for a total of 650+ currently registered developments, including those in the multi-family space (The organization recognized The Pearl, by Tower Companies, in Silver Spring, Maryland; Montclair Residences by Clarion Partners, in Montclair, New Jersey; and AVA NoMa, by AvalonBay Communities, in Washington D.C., as scoring particularly highly via Fitwel criteria.)
Whether the Green New Deal becomes law or stalls out in the halls of government, the reality of climate change – and its impacts on how we live our lives – will continue to influence residential architecture, development, and research. Boards, managers, and residents committed to doing their part to reduce their footprint and make sustainable changes can help by doing their homework; partnering with like-minded design pros; and taking advantage of incentive programs that help make going greener more attainable.
Mike Odenthal is a staff writer/reporter with New England Condominium.