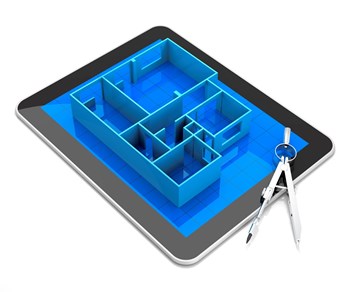 In the past, when it came time to do a remodeling project, no one really ever had much of an idea as to how things would turn out. Architects and designers would come by with blueprints or swatches of color and fabric and ask you to just imagine how it would look when finally complete. They'd try to explain their vision as you stood there in the room as it was, trying to see it as it could be. Your eyes would move from the swatch of color or the flat blueprint that you had no idea how to read, then to the rest of the room, and then back.
Just imagine, they would say. Their faces lit up by expectation, excitement, that you would see what they saw and be amazed with the possibilities. You'd nod your head, probably unable to see what they saw, and agree anyway--never entirely sure that their vision of what could be matched up with your own.
That's just how things were, but time moves and things change. Now you can see, with your own eyes, how things will look in the end. To know in advance that you're getting exactly the design you wanted. The process of design has taken quantum leaps from those days and while it isn't always feasible to use the latest techniques or technologies, these days you can see what you're getting before any of the changes even begin.
Seeing is Believing
"Remodeling projects can be some of the most complex projects; if they are not managed properly they can wind up as a huge disaster," says Oleksii Klymenko, the founder of Vanguard Development, a firm that does design work across the world.
Klymenko explains that his firm gets rid of a lot of the complexity by streamlining the process and they do that by making sure every part of the design in nailed down before the work even begins. His firm does this by creating a series of true to life images, almost indistinguishable from actual photographs, of whatever project they are working on.
"In creating the mockup the client will get an estimate of how much the materials and finishing will cost, but not the actual construction," says Klymenko.
They create these mockups through the use of 3D Max, the same program Dreamworks used to create Shrek. He explains that it takes more than just the program to do the job; that they have to start with a series of accurate measurements and use a number of filters to get the results they are looking for. In doing this they create not only one image showing what the final design will look like, but a number of them.
"We give them at least four options per room, each one very different but within their chosen style. Our goal is to develop five or six decent options from them to choose from and step back," says Klymenko.
Klymenko explains that they look to create a feeling that you can actually imagine yourself in the room, he says by making these hyper accurate pictures they're able to nail down exactly what the client wants.
He goes on to say that it's not only the ability to make the pictures themselves that help keep down the costs, but their catalog of furnishings to choose from.
"We carry a library that consists of 5,000 items that can be sold in this country, so once we design and present something to the client we know how much it will cost," says Klymenko.
So if a client likes a particular design, but wants to save some extra money Klymenko says they can, "redevelop some images, give you some options and there can be another bed that will be the same black tufted bed that costs $2,000 instead of $10,000. We'll give you an alternative image to show you if you are ready to compromise with this bed and save $8000. So we still use these images to go through small adjustments."
The idea being that if everything is decided beforehand, that there will be no surprises and costs will be kept down.
The Limits of Technology
This isn't to say that every job requires the best and most cutting edge technology. Most architecture firms have access to Building Information Modeling (BIM) technologies, but using them can get very involved and time consuming.
"We have higher technology tools in the office, but we also have small projects on tight budgets. It's not always cost or time effective to use the best technology out there," says Marc Maxwell, the founder of Maxwell Architects, LLC in Massachusetts.
Maxwell explains, "We learned our lesson the hard way with a 90,000-square-foot, seven-story historic building and we tried to use Revit to model a very complicated interior renovation of the common areas. We found that it took us two or three times longer to set the project up because we didn't know the thicknesses of the walls, the construction of the floors, all of these things that these BIM products need as a baseline, we didn't have that information."
So it's not always about just having the technology available, it's also about the building itself. Since most modern programs require exact measurements and perfect information, they aren't always the best fit for an older building.
"With many buildings that are not new buildings you don't always have perfect information about how they were originally constructed and that modeling from the structure is much harder to do with an existing building than a new one," says Maxwell, "So we can't quite embrace the new technology for smaller interventions, though our clients love when we do model things in 3D. It's not a one-size-fits-all situation."
"It depends on the size of the job," says James Collins, AIA, NABIE, LEED AP, an architect with Midwest-based Criterium-Collins Architects & Engineers, "on a little job where people have a tight budget, you need to sit down and explain it to them instead of doing a 3D drawing which takes a lot more time and money." Criterium is a nationwide architectural, engineering and consulting firm that has offices in Glastonbury, Connecticut, Rutland, Vermont, and Portland, Maine.
Basically, due to the time it takes to create a 3D drawing of a blueprint, which would allow you to see a virtual representation of the blueprint and look at it from multiple angles; it's not always a feasible path to take.
"It depends on the size of the job. On a bigger job there are a lot more involved tools that you can plan and coordinate the drawings. Where the drawings will indicate where the piping is going and make a three-dimensional drawing so that when construction is going on something isn't running into other piping. On small jobs it doesn't really involve too much, we use computer drafting and a lot more structural design is done by computer. You can do the calculations and then you can try the different options or different types of beams or columns to find the best way or the most economical way," says Collins.
Collins adds, "Bigger jobs will have a budget that will allow that or will have a committee that will want it."
But 3D modeling isn't the only tool architects have, through the use of computer drafting what was once a long process becomes as simple as a few clicks.
"Computer drafting, you do it for so long it becomes second nature. We used to do everything by hand and measure everything out but now the computer allows us to do it easier. It allows us to make changes easier or to try different things, like changing measurements," says Collins.
Which means if they want to change the width of a beam or move a wall a few feet back all it takes is the click of a mouse, the drag of the cursor, and the change is made—and can be changed back if it doesn't work.
"One thing that's nice about the computer is trying different things out to see what the possibilities are," says Collins.
After Construction
The use of technology in co-op and condo design doesn't end on the professional's end, there are a number of new technologies that boards are implementing to increase security and make everyone's lives easier.
"There's a whole bunch of technology that we now use in condos like electronic directories and audio/visual entry systems, door releases, auto dialers and that sort of thing. Also surveillance technology," says Maxwell.
While things like electronic directories and A/V entry systems and door releases are slowly becoming more and more common, there are a few things that are not being implemented for one reason or another.
"We have spoken to clients, we haven't installed one, but we've spoken to clients who want to use electronic entry door lock systems on even the units, where it's either push button of fob related on the apartment unit. No one has embraced it yet but we've talked to clients about it as a way to get out of the business of using hard keys, rekeying doors and the inability to control the access of apartments or a change-over," says Maxwell.
There's no real cost advantage to installing something like a fob or push button system right away, that comes later down the line once you factor in cutting keys and all the annoyance that can cause, but part of the hesitance is on the part of unit owners not liking the idea of an electronic system that can log when they enter and exit their apartments. That hesitance is increased by the fact that property managers would have access to the system. Maxwell notes that it is out there and is being used, but he hasn't seen it become warmly embraced himself.
Maxwell adds that while most condo and co-op buildings are more than happy to add surveillance cameras to their entrances and exits that this hasn't really translated into more surveillance of parking lots. Though, that's more due to issues of liability than anything else.
John Zurz is a staff writer for New England Condominium and other publications.