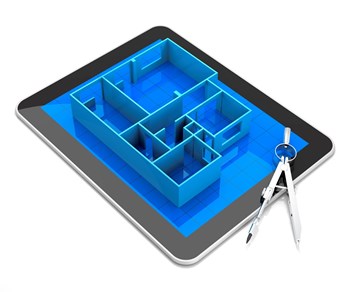 In the past, when it came time to do a remodeling project, no one really ever had much of an idea as to how things would turn out. Architects and designers would come by with blueprints or swatches of color and fabric and ask you to just imagine how it would look when finally complete. They'd try to explain their vision as you stood there in the room as it was, trying to see it as it could be. Your eyes would move from the swatch of color or the flat blueprint that you had no idea how to read, then to the rest of the room, and then back.
Just imagine, they would say. Their faces lit up by expectation, excitement, that you would see what they saw and be amazed with the possibilities. You'd nod your head, probably unable to see what they saw, and agree anyway--never entirely sure that their vision of what could be matched up with your own.
That's just how things were, but time moves and things change. Now you can see, with your own eyes, how things will look in the end. To know in advance that you're getting exactly the design you wanted. The process of design has taken quantum leaps from those days and while it isn't always feasible to use the latest techniques or technologies, these days you can see what you're getting before any of the changes even begin.
Seeing is Believing
"Remodeling projects can be some of the most complex projects; if they are not managed properly they can wind up as a huge disaster," says Oleksii Klymenko, the founder of Vanguard Development, a firm that does design work across the world.
Klymenko explains that his firm gets rid of a lot of the complexity by streamlining the process and they do that by making sure every part of the design in nailed down before the work even begins. His firm does this by creating a series of true to life images, almost indistinguishable from actual photographs, of whatever project they are working on.