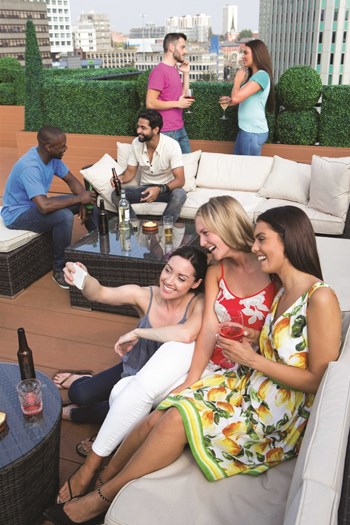 When space is a commodity, where can condominium associations put their gardens, their social spaces, even their hot tubs?
"On the roof," says Jack Carr, licensed engineer and senior vice president of Criterium Engineers in Portland, Maine.
"Roof decks," he explains, "are getting to be more popular for high end condominiums which want to show off a good view of water." In his experience, "as associations reach a point of needing to redo roofs, there is more interest these days in adding or redoing an existing deck."
Daniel Wallace, a landscape architect with Sudbury Design Group in Sudbury, Massachusetts, adds, "Urban landscapes are very desirable to those who are downsizing from their suburban properties, and whether public or private, access to an urban oasis is a great asset in the confines of city living. Owners and associations recognize the value that these spaces offer." Sean Skapars, owner of Skapars Design Group LLC in Cambridge, Massachusetts, concurs. "In the South End of Boston, roof decks are pretty common, though how we do roof deck gardens is uncommon."
Walk Lightly
As Skapars explains, creating a roof deck garden is not a process to be lightly undertaken, precisely because the materials needed must be so lightweight. "Roofs tend to be pretty well constructed and are not necessarily weak, but you have to consider weight. You don't want to damage the structure, so instead of plopping down huge heavy planters, we custom design and build our own lightweight planters; and instead of gravel, we use foam pellets and light potting soil." Wallace agrees that weight must be considered and says that "the first step in planning a rooftop deck is to engage a structural engineer to assess structural feasibility. Rooftops are typically only designed to support the weight of historical snowfall. An engineer is required to determine what weight the roof can support and/or what efforts will be necessary to increase the strength of the roof." Carr concurs, but adds, "Be sure to look into issues of warranties on the roof which may exist. The vinyl roof membrane surfaces may be subject to damage if you put weight onto it, and you need to talk to the manufacturer of the original surface to confirm what can be put onto the roof surface without violating any existing warranties."
In fact, when making a decision to create a roof deck, there is much to consider. According to Wallace, "Zoning ordinances and state building codes will determine if a roof deck is permissible. Zoning ordinances protect the historical fabric and type of use for the city infrastructure, and building codes protect the safety and integrity of the infrastructure. Most always, barriers and handrails are required for fall protection." In Carr's experience, though, "Different neighborhoods have different rules, so you should contact the code enforcement officer and the local fire marshal right at the beginning. If you hire a roof deck specialist, they will do that for you, but if you do the background work first, you'll be a smarter person when you hire your roof deck specialist." For example, says Skapars, a "smarter person" should know that "you have to be careful about water drainage, so you need to make sure the design takes into account issues with possible rot and drainage problems. Wind, too, is a problem which you need to account for. Essentially, you need to plan for all the issues which come with being on top of a roof —sunshine, snow, rain, wind."
How, exactly, should an association begin if they want to plan for a roof deck addition? "Well," says Carr, "you begin like any construction project: Associations should form a building subcommittee or at least have someone who is specifically in charge of getting the deck done. In my experience, condos like to control their assets, so protocols need to be determined for the roof deck: Where will the access to the roof be? Will grandkids be allowed to run around alone? Can unit owners bring up umbrellas which might fly off? What hours will the roof deck be opened? How will the roof deck be used? Who cleans it up? Will it be used during the winter? Does the association want a closed-in cabana or an open roof deck? Do they want power, lights, and sound?" As Wallace explains, "Community engagement in the planning process will ensure that the design meets the community's expectations for use and cost."
Make a Team Effort
Once an association knows exactly what they want, what then? Skapars jokes, "They should call us." He's quick to add, though, "If there's not already an existing roof deck structure in place, call an engineer or architecture firm first. Either way, though, you should have a team to do it right, specifically a combination of an architect or engineer, a landscape designer, and a contractor. All three work together to create a master plan which takes everything from the bigger vision to the nuts and bolts of entrances and exits into account and which is detailed, accurate, and scaled."
"More and more," says Wallace, "new construction in the city is taking advantage of opportunities to give tenants outdoor space, and older buildings have hidden potential to create rooftop decks and gardens. We have been involved in both scenarios and the complexities and constraints are similar at either stage of planning." For example, "once built, a roof deck can prevent maintenance and inspection of the waterproofing and drainage beneath it. So, it is critical to ensure that measures are taken to doubly ensure that waterproofing and drainage is effective and protected." Another alternative, according to Carr, is to use "modular panels so people can check the roof surface in case there is a leak. This allows you to move pieces of the deck for any necessary repair work and also allows access to the roof surface for inspections which may be needed for warranties." With both options, it's important to consider the conditions of the roof, which essentially, according to Skapars, is "like a desert, given the amount of sun exposure on a rooftop." This is why he often recommends sedum, a succulent plant, for roof top gardens, because sedum dries out completely and can come up with just a little bit of water." He also suggests installing a drip irrigation system and using wood which is very rot resistant and meant for outdoor applications.
For associations looking to put on a roof deck, the good news is that many products are now available to help achieve their goal. As Carr explains, "There are companies which specialize in outdoor modular cabanas. Others make modular systems which you can simply add to existing frames on the roof." Skapars adds that "there are paver systems specially designed for roof work and innovations like vertical gardens or green walls which are angled planting cells especially for roof decks and trellises, that allow you to use vertical space for climbing vines." In addition, Wallace says that nowadays there are "lightweight planters and building products which help minimize the load on roof decks. Access is often limited to stairways or small service elevators; however, lightweight materials closely mimic their heavier counterparts but can more easily be carried through a building."
Don't Skip Maintenance
Once a new roof deck is in place what should associations know about maintenance? According to Skapars, for deck gardens, "Usually roof deck gardens have much less maintenance for the clients but we'll put people on a contract where we will look for issues and make sure the irrigation system is turned down, and the grass is cut. Three or four times a year at the most is when we'll come in which is lot less than for most gardens. We'll set the roof deck garden up in the spring, do a check up in the summer to adjust the water and fertilize, and then autumn time, we shut things down. Sometimes you may need to re-treat wooden items in the spring. The way we design the garden ensures that there shouldn't be an issue with rot and drainage problems."
As for the roof deck itself, Wallace says, "Roof decks should be inspected at the beginning and end of every season. Preventative maintenance is always more cost effective than reconstruction. Those who have been through the construction process of building a roof deck understand just how difficult it can be to get building supplies out onto the roof." He adds that "seasonal maintenance is a special concern for roof decks. Outdoor furniture, pots and planters will all need to be stored or secured during the off-season. Storage on the roof deck can help with the logistics. Outdoor furniture, planters, and decor need to be secured if the roof deck is in a particularly windy location." Carr concurs, adding "Associations should treat their roof decks like any other asset. The property manager or a maintenance committee should make sure a roofing contractor inspects the roof once a year because the deck will be integral to the roof once it's completed. They should also be proactive about preventing any damage to anything they've put onto the roof deck."
As for the costs of creating a deck roof, as Skapar says, "It depends on the client. Certain types of woods are better for roof decks but people have choices. You can use cedar, fir, or mahogany which is resistant to rot and meant for outdoor applications or you can use teak if you wanted to overspend." Carr agrees that there are options. "Some like wood. Some like artificial products. They can choose either as long as it's lightweight. For wood, there is everything from pressure treated to high-end imported tropical woods. Sturdiness, safety and modularity are the most important things to consider in addition to weight, though." Wallace adds for informational purposes that "composite materials are relatively maintenance free, eliminating repetitive maintenance like painting and staining," something which is always good to consider.
The three agree: Whether an association is thinking about adding a roof deck or refurbishing an existing one, they should take into account all the details with the help of professionals to ensure their roofs don't come crumbling down—literally.
Paula Castner is a freelance writer and a frequent contributor to New England Condominium.