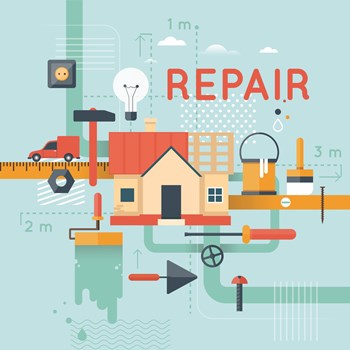 There are a lot of machines and pieces of physical equipment that contribute to the functionality of a residential complex, whether that property is a condominium, cooperative, or a homeowner's association. These items vary in complexity from fairly simple to mind-bogglingly complicated, and no board of directors or board of managers, who are usually volunteers, and have their own lives to run—can be expected to have in-depth knowledge about all of them. Combined with the often high price tag on many of these machines and systems, this can cause a board to put off looking into potential upgrades or overhauls until something goes awry, at which point the property as a whole may suffer.
While a qualified property manager may see to it that building systems are examined on a regular basis by specialists, there's still such a wealth of options out there that it can be overwhelming to assess which systems—from boilers to HVAC to solar panels to ventilation—are best for your association given its specific needs. Here's a place to start.
Brass Tacks
In 2016, an association with some extra money and a desire to replace some outdated equipment that may no longer be functioning optimally has many choices. Especially with an increased spotlight on green energy and sustainability in vogue, much newer technology is focused on saving the planet while saving the buyer money.
The first step is to ascertain whether a systems upgrade is even appropriate. That starts with information. "You should be benchmarking your building's energy and water usage; that will help account for weather differences," explains Fritz Kreiss, a nationwide energy consultant and president of Alternative Utility Services, Inc. "When you see the weatherized volumes, it will tell you that something needs to be looked at. And age of the equipment also makes a difference. Chillers older than ten years should be looked at because the efficiency of today's models is vastly improved."
"Boilers are the same, and need regular combustion tests and tune-ups," Kreiss continues. "Properties that have an older, large boiler and use a side-arm heater in the summer to make domestic hot water can offer a good opportunity for your property." AUS is licensed to operate as a competitive electricity provider furnishing aggregator/broker services in Maine, and licensed as an electricity broker and gas retail agent in Massachusetts.
Energy usage can vary from building to building, region to region, so it's important to have your property's specifically assessed. "That's the first thing an association must do," says Brody Vance, multifamily product manager with national energy efficiency company Franklin Energy Services, which has offices in Bedford, New Hampshire. "If a client comes to me and says 'this is what needs to be done,' nine times out of ten I don't believe them; they're not experts in energy, they're experts in managing a condo. And various unit owners and board members tend to have competing interests; some will think that new lighting is necessary, while others are more concerned with comfort issues, and still more will feel that aesthetics need to be altered, i.e. the carpet be replaced. And they have one budget from which they must prioritize. As an energy efficiency consultant, we come in and say 'here's what your usage is,' and offer up a full history of the building, explaining for what exactly the association has been paying. And we look at water, which tends to be one of the bigger concerns, especially in drier areas like Texas, California and Arizona, where it's legitimately their largest expense. In other associations, they may need to fine-tune lighting in the corridors or exteriors, or mechanical systems like HVAC and plumbing."
Whether a Storm
Weather is another factor that an association should factor into its decision regarding systems replacements or upgrades. Boards need to have a serious discussion regarding from where damage could be inflicted on the machines that keep their properties running in the case of a storm.
"After major storms, people tend to take a step back and reassessed their situations," notes Ariel Babcock, director of corporate communications and investor relations at the Waltham, Massachusetts-based Tecogen Inc., a nationwide combined heat and power distributor. "When snowstorms are a concern, you don't want your residents without heat and power in freezing conditions. And lot of properties need emergency standby power, and should be considering it. Also, in crowded urban environments, where the grid is over-extended, the possibility of brownouts grows more and more likely."
As the New England area is prone to brutal winters, insulation is paramount in order to minimize the energy expended on heating. In instances where this needs to be upgraded or replaced, Vance warns that disputes can arise. "If you're dealing with installing insulation in the attic, people on the upper floors may weigh in that it should be everyone's responsibility to chip in, as that's how buildings tend to operate," he says. "But then people on the lower floors may object, as they don't feel the effects of insulation, new or otherwise. One of the biggest issues when dealing with associations is education. Once you come up with your analysis and your recommendations, you get the support of the board and then you have to present the plan to everyone. A lot of people are going to have mixed feelings on why things are important, or wonder what's in it for them. You need to accentuate how any upgrade will better the entire community, and then everyone will buy in."
Cheap, Cheap, Cheap
As every condo or co-op board has a fiduciary duty to act in a way that's fiscally responsible and best serves its constituents, blowing a surplus on the latest in green technology for a property may well not be in its best interests. As with any market, there are both low-cost and more expensive solutions when it comes to replacing and upgrading building systems, not to mention potential incentives from federal, state or municipal governments that come with adapting certain options.
"It's our job to get properties as energy efficient as possible, and some states offer a public benefit for that," says Vance. "Even those that pay into energy programs may not take advantage of the offerings available to them. We tell people to participate in whatever may be offered, whether that be a walk-through audit or some other no-strings attached free program, such that they get their money's worth."
For its part, Tecogen has started to offer smaller-sized products for properties or units that may not always require the energy usage to which much of the market caters. "Our products had previously only gone down as far as 60 kilowatts, but we've recently introduced a smaller-sized micro-unit that's 35kW," says Babcock. "In the past, only buildings with at least 150 apartments could really see the value of installing our combined heat and power equipment, but now, with this micro-unit, buildings with as few as 50 apartments can contemplate that installation and reap those benefits that their larger counterparts had enjoyed in the past. And the micro-unit doesn't require additional ventilation, thus it can be installed in a wider range of places, and saves installation costs."
And natural gas is another cleaner option for boards that can incur savings. "We offer natural gas-powered heat pumps, which are basically boilers, and chillers, which are large A/C units," continues Babcock. "Natural gas is cheaper than electricity to provide your buildings with heating and cooling. And in case of a blackout, the gas lines are rarely interrupted, whereas the electrical grid is a little more vulnerable. So for people who are very concerned with sensitive climate control issues, there's a little more of an advantage."
Pie in the Sky
While not every association is equipped to take advantage of solar programs, it remains a viable option for many, and, like co-gen, can greatly alter the way a property consumes power, given that it's now generating its own onsite.
Some service providers, such as Community Green Energy, a nationwide energy company of which Kreiss is also CEO, actually offer an installation as a free service. "Our upgrades, which include lighting, boilers and [variable frequency drives] VFDs, is an investment," Kreiss explains. "We do the installation, own and maintain the equipment, and bill our customers out of savings, so there's no debt and no one's taking out second mortgages. Then we maintain it as needed. And our service fee is less than what most associations currently spend on energy and maintenance. Their money stays in the bank. One way to think about it is that electric and gas utilities are services that you pay for every month, while we literally become an onsite utility service, including co-gen, solar, and many other efficiencies."
And while you're reaching for the sky, a roof upgrade is something worth considering. "A white roof is always an energy saver, and it removes overall heat from the city," says Kreiss. "Of course, a green roof with plants offers some benefit, but it also adds a lot of potential work and upkeep. Solar can be a solution, depending on the height of a building and the amount of clear sun it gets throughout the day. And it can be done on a power purchase agreement where the condo would act as a host site, and panels would be purchased by the condo owners, wherein we have a platform to give them credits toward their own individual electric bills."
Vance advises that, before an association looks to generate its own energy, it should make sure it conserves the energy for which it's already paying. "Let's first not hemorrhage energy that's being generated in other parts of the building," he says. "For condos and multifamily, solar thermal is often a good option, as there is a demand for hot water in many larger residential buildings all day long, due to the large variance in people's lifestyles. People are probably using the gym at night, or doing dishes at 1 am, or taking a shower in the afternoon; it's a good option if that demand for hot water is always there."
Expand Your Horizon
"A lot of boards are just unaware that much of this equipment is available and it is a possible solution that will check several boxes for their association," says Babcock. "There's standby power, energy savings, cuts in your utility bills, and it can actually increase your property's net operating income. Plus you get a nice fuzzy feeling from cutting your carbon footprint and helping out from that perspective. When people are aiming for LEED green certification, our equipment is often a big piece in their achieving that goal. It should be something that you consider when your boiler is nearing the end of its life; maybe the right thing to do is make the leap towards a clean energy future."
Mike Odenthal is a staff writer for New England Condominium and other publications.