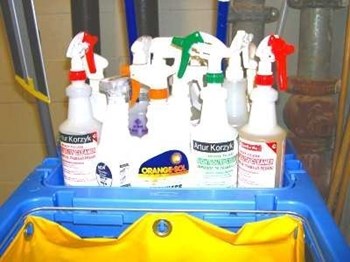 Time was, if the tiles in your building's front foyer got grimy, your super would pour some ammonia or bleach in a bucket, grab the nearest mop, and get down to business. If a drain was slow, out came the heavy-duty industrial solvents, and down the hatch. Sure, those cleaning products made everybody cough and rub their stinging eyes, but they got the job done.
Today however, things are different in a great many residential buildings. There's been a shift away from harsh, potentially dangerous cleaners and chemicals, and more and more boards and managers are requiring their building staff members to shelve the strong stuff in favor of gentler, "greener" products.
The reasons for this shift are multiple. These days, people are more conscious—not just about what kinds of substances they expose themselves and their families to, but of what they put into the environment.
In the context of an urban residential building, the issue of product safety and environmental impact becomes even more pressing. It's not just one family living in the building—there could be hundreds—so it's more important than ever to carefully consider what types of products are being put to use in your building or association.
That's Harsh
While few would argue against the many benefits of disinfectants and sanitizers, some cleaning products do have a significant downside: they may kill germs, but they pose distinct hazards to our health. The danger may be immediate—as in the case of caustic chemicals that burn the skin or cause respiratory or eye irritation upon contact—or they may be more slow-acting, contributing to long-term health problems such as cancer or disruptions of the endocrine system.