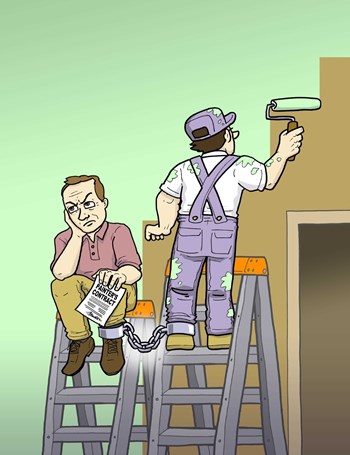 While the vast majority of one-time projects and long-term service contracts involving vendors and service providers and their condominium or HOA clients go smoothly and either conclude or continue without incident, a small percentage of jobs do jump the tracks in one way or another. Sometimes it's a contractor's inability to stay on schedule or stick to an agreed-upon budget that does it; sometimes it's the quality of work itself that's not up to par.
Whatever the cause, sometimes it's necessary for condo administrators to pull the plug on a contract—and that sometimes can be easier said than done. But before any contracts are signed, experts agree that associations should make sure that all vendors and service providers are properly licensed and have a good record with the Better Business Bureau. Another useful search in Massachusetts, for example, would be the Clerk of Courts offices in each county to determine whether the contracting firm or its principals appear in litigation.
Breaking Ties
There are numerous reasons why a condominium manager or board might feel it necessary to break a contract with a vendor or service provider but some are more frequent than others.
"The most common reason is because the service provider, vendor or contractor is not performing in accordance with the terms and conditions of the contract," say Mark Rosen, an attorney with law firm of Goodman, Shapiro & Lombardi in Dedham, Massachusetts. "It's because they're not providing the service or they're not doing the job because it's unsatisfactory to the homeowner of the association."
"The typical reason is poor service or they are not satisfied with the performance of the contractor," says Janet Aronson, an attorney with the Braintree, Massachusetts-based law firm of Marcus, Errico, Emmer & Brooks, P.C. "Any service contract could be a problem: laundry, landscaping and snow plowing. Truly, the contract itself governs the whole process of termination and the relationship between parties. The contract itself is very important."