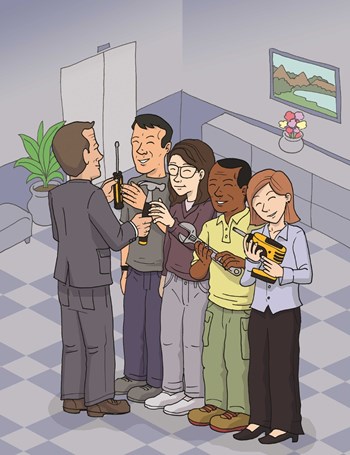 The past several years have been a challenge for community associations trying to keep properties looking sharp and running smoothly while battling the forces of a shaky economy. Foreclosures, hurricanes and the relentless effects of time on physical plants haven't made the lives of board members and managers easy.
Is there relief in sight? Are things finally getting back on an even keel? And what new challenges—and opportunities—lie ahead for condominium communities in 2014?
At this time of year, New England Condominiumturns to a panel of industry experts—members of the Editorial Advisory Board—for some thoughts on how associations have weathered the past year, and what trends they anticipate seeing in the months ahead.
Keeping Up with the Times
"All the mega-trends are continuing to accelerate, and I think we're at a tipping point," predicts David J. Levy, president of Sterling Services in Holliston, Massachusetts. Technology and "green living" are among those major trends, he says. "Technology used to be a luxury, something that was nice to have," Levy notes. Today, with "Millennials" and "Gen Xers" moving more solidly into the marketplace, technology is becoming a baseline, rather than a luxury, for managers and associations.
"They can't fathom not having a website, email, texting, phone blasts," he says of the younger home-owning generation. Community residents who do their shopping and banking online expect easy-access services from their associations and management companies, too. "Managers today are competing with people's best experiences in other areas of their lives. I'm competing with Amazon in their minds. The standard we're being compared against is higher and higher, and it's 24/7."