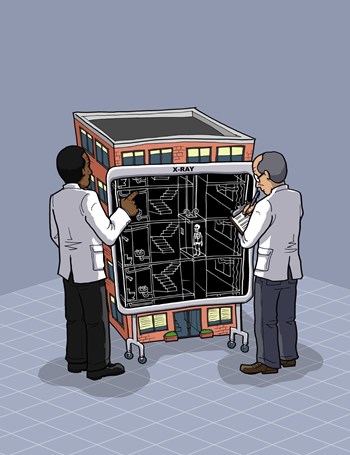 From the outside, the structure of a condo, co-op or townhouse building may appear to be monolithic; just pieces of brick, steel, vinyl or wood, punctuated with some glass here and there. That's an oversimplification, however. A multifamily building is perhaps more like a human body, with a multitude of organs and moving parts working together to keep the building healthy and vibrant. From the roof to the boiler and all points between, ensuring that systems are operating efficiently is a continual challenge.
The primary operating systems in a multifamily building include roofing, the building envelope, waterproofing, electrical, mechanical, heating, ventilation and air conditioning (HVAC), plumbing, and in some cases, elevator systems. In high-rise or multi-unit buildings especially, the association is responsible for providing many of these basic utilities to unit owners.
Experts say there is no standard maintenance plan, since mechanical systems in New England residential buildings vary widely, reflecting the wide variety of building ages, and wide—some would say wild—variations in weather. Certain regional trends stand out, however.
Lynn Sallee, reserve study specialist with Facilities Advisors, Inc., in Marlborough, Massachusetts, observes, "We deal mostly with older buildings, and they will typically have forced hot water heating systems, often with a master boiler. In New England, oil has been the standard, besides being low-cost (in the past) but mainly because it's easier to transport than natural gas, which requires buried lines." Getting lines installed underground is a real challenge in this region, he points out, because of all the ledge lurking just below the surface or "boney" (boulder-laced) glacial outwash.
"In addition, air conditioning in old buildings amounts to window units or portables. By contrast, in new, more upscale buildings, you find all central air with ductwork" to all the living spaces, he notes. "In cold months it's forced hot air from one or more master boilers, using natural gas where available… In hot months the process is reversed and air is run through a chiller—like a big air conditioner. In smaller buildings, you'll probably see heat pumps, mounted outdoors or on the roof."