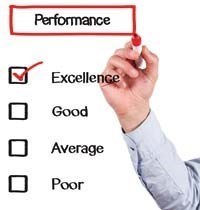 How can you tell whether the on-site property manager at a condominium or homeowners association community is doing a good job? And what is "a good job"? Whether a manager is well-liked and whether he or she manages well may not be the same thing. How do you distinguish one from the other?
Such questions arise whether an association's board of directors or board of trustees hires the on-site manager or contracts with a property management firm that employs the on-site manager. The major difference is that management firms assume responsibility for periodic performance reviews of on-site managers, although some firms involve their clients in the review process.
If your board hires the manager directly, resources exist to help ensure that your performance-review process is fair and accurately measures his or her performance.
Performance Review Consultants
For a fee, your association can tap into the resources of a consulting firm that will provide forms you can use or adapt, and manage the paperwork and record-keeping. One such vendor is ADP TotalSource, a subsidiary of payroll-processing firm ADP (Automatic Data Processing, Inc.) that provides human-resources services and benefits programs.
To find other vendors, Google the search terms "performance appraisal consultants" and "performance review consultants"—but expect that many of the firms listed are targeting clients much larger than your association. Your board's attorney may be able to offer a referral, and networking at Community Associations Institute (CAI) and Institute of Real Estate Management (IREM) events also may help you find suitable consulting firms.