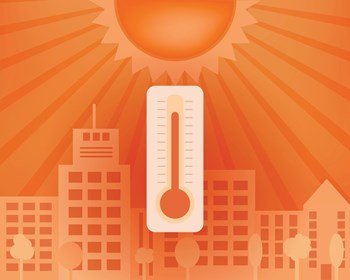 The reality of climate change is upon us. Weather patterns have changed, and seasons have been altered. We experience more intense heat, more frequent, destructive storms, wide-ranging wildfires, and more destructive cold. Tornadoes—the spawn of conflicting hot and cold air masses—touch down in places they were once almost unheard of. What was scientific prognostication only a few years ago has become reality. It's also a reality that most of the structures that house our homes—particularly high-rise multifamily buildings—were not designed for these types of changing climate events. While that's a chilling thought, today's communities have no choice but to deal with that reality, as well as plan for what may be ahead.
The New Reality
Perhaps the two most pressing and dramatic ramifications of climate change facing our communities today are the rise in sea level, and the increasing intensity and frequency of severe storms. More concerningly, these two events overlap, causing even greater peril, which is particularly severe for communities built along our coasts.
"The biggest issue is along our waterfronts," says Kevin Keating, an architect with Selldorf Architects, a global architectural firm based in New York. "For communities along our coasts in Long Island, Florida, and New England, for instance, rising sea level is the biggest issue. Combine that with bigger storms up and down the East Coast, and you must ask the question of how we will fortify the properties against the combination of these two factors."
"Hotter is hotter, and colder is colder," says Howard Zimmerman, owner and founder of Howard Zimmerman Architects & Engineers, a consultancy based in New York. These new extremes in temperature, he explains, add stress to our building systems, reducing their useful life and requiring more maintenance and earlier replacement.
Another concern, explains Peter Varsalona, vice president and principal of RAND Engineering, is that with worsening extremes of hot and cold, more energy is necessary to maintain interior temperatures through existing HVAC systems, exacerbating the original problem of human-made carbon emissions by necessitating more energy use to achieve the same results as before. So not only does climate change cause more extreme conditions, but the extreme conditions it causes require still more energy to mediate, which in turn worsens the problem...you see where this is going.