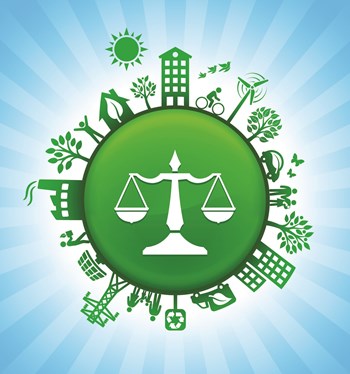 While the 'Green New Deal' and other long-term climate solutions are being debated at the federal level, some states and municipalities are getting in on the action as well, setting legal emissions benchmarks that will have a real impact on the lives of multifamily community residents – including those in co-ops, condos, and HOAs.
For example, New York City passed the Climate Mobilization Act in May of 2019, setting emission caps on buildings larger than 25,000 square feet beginning in 2024, with the goal of an 80 percent reduction in total emissions by 2050 – the year scientists warn will be a point of no return if we fail to drastically reduce carbon emissions and curb climate change.
Writing for The New York Law Journal, William D. McCracken, a partner with the New York City-based law firm Ganfer Shore Leeds & Zauderer, makes the case that attorneys are well-situated to help association boards understand – and abide by – emissions standards that may seem intimidating at first. He notes in the piece: "Lawyers are fiduciaries, and they have an obligation to help their clients avoid a nightmare scenario wherein a building fritters away the next few years [and then] finds itself seeking a building permit behind 37,000 other properties, using unproven or incompetent professionals because its preferred choices were fully booked long ago, and incurs million-dollar fines year upon year."
New England Condominium spoke with McCracken about the responsibilities of attorneys outside of New York City in regard to their clients' energy emissions; their general ability to act as climate stewards; and the root of his own personal interest in environmental issues. We also checked in with other attorneys to discuss what they feel their roles will be in all of this going forth.
The Advocate
New England Condominium: Outside of the passing of the Climate Mobilization Act, what compelled you to consider attorneys' involvement in environmental issues, on behalf of their clients?