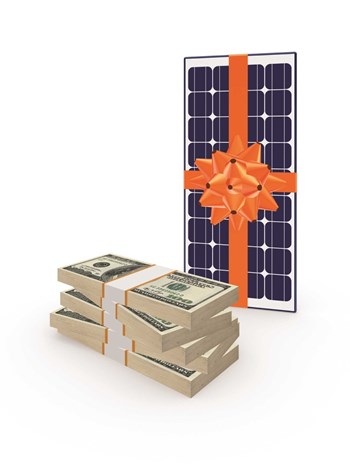 Saving energy: it's good for the environment and it's good for your wallet. Researching your options can be overwhelming, though, because there's a lot of information out there on clean energy, incentives, and paybacks.
Where's a condo owner to begin?
The most popular starting points are the programs offered through utility companies, which usually represent "the best incentives and tend to be very generous," according to attorney Lyn Huckabee, residential energy efficiency program coordinator at the Massachusetts Department of Energy Resources. MassSave is a one-stop shopping, utilities-sponsored initiative that consolidates a range of programs and incentives.
National Grid, for example, has the Multifamily Energy Efficiency Program, which is open to any multifamily facility (i.e., both condominium communities and apartment buildings) with five or more units.
Elizabeth Terry, the multifamily energy efficiency program manager for Massachusetts and Rhode Island, explains that a free assessment of common and individual areas can yield energy-saving recommendations for energy-efficient lighting, occupancy sensors, water heating equipment, water-saving measures (e.g., low flow or pipe insulation), programmable thermostats, insulation in the attic or walls, high-efficiency heating and cooling equipment and control, and Energy Star-qualified refrigerators. Conservation Services Group of Westborough, Massachusetts, and Rise Engineers of Cranston, Rhode Island, are the two lead vendors National Grid uses for implementing these upgrades. And different measures, Terry notes, have different incentives, so it isn't a uniform figure or percentage. In Massachusetts, there are approximately 22,000 electric participants and approximately 7,000 gas participants in the Multifamily Energy Efficiency Program. In Rhode Island, the approximate numbers are 3,000 electric participants and 900 gas participants. Both states offer substantial incentives. Terry says that when all is said and done, "the customer pays significantly less than the cost of the upgrade."
Huckabee notes that sometimes Massachusetts will do pilot incentives on a smaller scale, apart from the utility companies. The Massachusetts Clean Energy Center (MassCEC) has programs that are designed to give incentives for fossil fuel generation such as the installation of solar photovoltaics, biomass boilers (replacing an oil boiler with one that uses biofuel), or heat pumps (similar to an air conditioning unit but it also puts out eat, then a ground source pumps heat out to the ground). Although these are worthy projects, Huckabee says that they're typically a better fit for single-family homes than for condos.