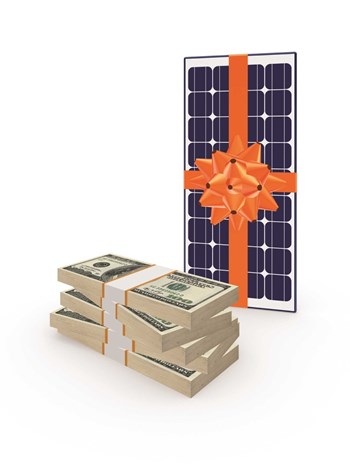 Saving energy: it's good for the environment and it's good for your wallet. Researching your options can be overwhelming, though, because there's a lot of information out there on clean energy, incentives, and paybacks.
Where's a condo owner to begin?
The most popular starting points are the programs offered through utility companies, which usually represent "the best incentives and tend to be very generous," according to attorney Lyn Huckabee, residential energy efficiency program coordinator at the Massachusetts Department of Energy Resources. MassSave is a one-stop shopping, utilities-sponsored initiative that consolidates a range of programs and incentives.
National Grid, for example, has the Multifamily Energy Efficiency Program, which is open to any multifamily facility (i.e., both condominium communities and apartment buildings) with five or more units.
Elizabeth Terry, the multifamily energy efficiency program manager for Massachusetts and Rhode Island, explains that a free assessment of common and individual areas can yield energy-saving recommendations for energy-efficient lighting, occupancy sensors, water heating equipment, water-saving measures (e.g., low flow or pipe insulation), programmable thermostats, insulation in the attic or walls, high-efficiency heating and cooling equipment and control, and Energy Star-qualified refrigerators. Conservation Services Group of Westborough, Massachusetts, and Rise Engineers of Cranston, Rhode Island, are the two lead vendors National Grid uses for implementing these upgrades. And different measures, Terry notes, have different incentives, so it isn't a uniform figure or percentage. In Massachusetts, there are approximately 22,000 electric participants and approximately 7,000 gas participants in the Multifamily Energy Efficiency Program. In Rhode Island, the approximate numbers are 3,000 electric participants and 900 gas participants. Both states offer substantial incentives. Terry says that when all is said and done, "the customer pays significantly less than the cost of the upgrade."
Huckabee notes that sometimes Massachusetts will do pilot incentives on a smaller scale, apart from the utility companies. The Massachusetts Clean Energy Center (MassCEC) has programs that are designed to give incentives for fossil fuel generation such as the installation of solar photovoltaics, biomass boilers (replacing an oil boiler with one that uses biofuel), or heat pumps (similar to an air conditioning unit but it also puts out eat, then a ground source pumps heat out to the ground). Although these are worthy projects, Huckabee says that they're typically a better fit for single-family homes than for condos.
Incentive programs are one way to gain energy savings. Another path to clean energy and reduced costs is the installation of a cogeneration system (also known as a CHP system for combined heat and power). Cogeneration is the simultaneous production of usable heat and electricity from a single fuel source that allows for on-site energy generation. When large power plants produce energy, they generate a lot of heat with no way to recover it. On site and through the use of cogeneration systems, heat can be recovered. The process also reduces emissions because the grid has to run less.
Free Electricity
Dale Desmarais, the sales and marketing director of Aegis Energy Services in Holyoke, Massachusetts, put it in very easy-to-understand terms: "It's like a boiler that makes free electricity." There are several fuel options; Aegis' systems work with natural gas. Natural gas goes into the boiler and hot water comes out…but so does electricity; there are no transition losses. Desmarais describes it as "two for the price of one." Condos represent about 15-20% of Aegis' business in Massachusetts.
The dollars-and-cents aspect of energy use reduction comes in the form of both short- and long-term savings. "Everyone pays an energy incentive charge as part of their utility bills, which funds the incentives," says Terry. "In other words, we are already paying it—it's in our best interest to get as much as we can for it." Huckabee cites the MassSave HEAT Loan Program, which is administered through the utilities, as an excellent means of making energy upgrades affordable: Available at participating banks, it's a 7-year term unsecured loan with 0% interest.
MassSave incentives for cogeneration systems, which come in the form of grants, are calculated per kilowatt. There are three tiers of incentives ranging from $750/kW to $1200/kW. In addition, Aegis itself has a Shared Savings Program to offset the upfront capital expenditure of a system. The company is responsible for installation and operating costs, whereas the customer purchases energy (at a discount).
Desmarais says that in order to qualify, facilities must use the heat in order to meet minimum parameters. "The goal is to have as much bang for your buck as possible. Condos use a lot of hot water—much more than an office building, for example—so they save more money." Condos also consolidate energy costs because even with individual units, there are central heating loops; the CHPs are particularly effective for large building condos with 150 or more units.
Showers, laundry, and cooking at different times of day mean the CHP load is spread out, making it more efficient for energy and savings. That's right: energy use variability is an asset. "You pay for the system 24/7," Desmarais says, "so the more spread out, the better. " The payback for cogeneration systems is usually between three and six years, and there are often federal tax credits, too (Desmarais advises checking with your tax professional for details.)
Like Cash in the Bank
Indeed, saving money is at the heart of energy-saving initiatives. Their origin lies in consumer protection from price increases rather than environmental concerns, at least in Massachusetts—which is ranked #1 in the country by the American Council for an Energy Efficient Economy (ACEEE). According to Huckabee, Energy Efficiency (EE) programs have been in place across the Commonwealth for decades, spurred at various times by Middle East oil concerns, changes in the electric company industry, and infrastructure practicalities. Aegis has been around since 1985, born at a time when natural gas prices were low and CHP became an appealing substitute for nuclear and traditional power plant construction.
There are plenty of success stories, yet one gets the impression energy-saving incentives are New England's best-kept secret. Chances are people don't know just how much they can save—or how little they must spend to reap the benefits. In general, homeowners also don't have a keen sense of precisely how, or where, they can or should make clean energy changes. This is why a comprehensive assessment is so key.
National Grid isn't able to track the average amount of money that a condo saves, Terry says, because "each facility is different—different size, different layout, [they] may choose to install different measures, and so on." That being said, the example of a condo community in Westborough provides an impressive figure: The project cost $69,000 and the incentive was just above $65,000. The total cost to the customer was only $3,800.
Although they represent multifamily communities outside of New England, several case studies by Aegis serve to indicate how much can be saved with cogeneration projects. An installation at residential co-op 2 Tudor City Place, which consists of 300 units and 11 buildings, yielded savings of $170,765 in 2012. Another residential co-op in Manhattan, The Hamilton, is a single building with 359 units. Their projected savings were $7,500 per month—but the actual savings turned out to be $9,200 per month.
Savings projections come as part of the free initial assessment for both the CHP and the National Grid options. "It's important to find out details about your system," says Desmarais. "We strive to use real numbers as opposed to estimates." From there Aegis works with customers on every facet of the process—they design, engineer, monitor, install, and maintain their cogeneration systems.
National Grid's Multifamily Energy Efficiency Program is available to condo owners through an authorized community representative such as a condo board member or someone from the property management company (individual condo owners cannot initiate the process).Terry explains that after the assessment, a condo board can decide to adopt some, all, or none of the suggested measures. There are no upfront fees, but there are co-pays associated with the upgrades. The amount depends on the size of the condo community and the extent of the measures.
Despite the incentives and benefits, National Grid has found that it's often a challenge to get all condo owners to participate. Some may not be interested (the perceived hassle of an upgrade is often cited), some may not be aware of the association's initiative, or some may be out of town when the energy upgrade options are instituted. Terry says that implementing the energy upgrades in phases has helped, because once people see what their neighbors are saving, they're often intrigued enough to participate themselves.
Incentives and programs vary by state, and there are many private companies like Aegis that approach clean energy from an equipment standpoint. Online resources are available to help homeowners wade through the information on energy savings. One thing is for certain, regardless of which option appeals to you: Energy incentives are a win-win for everyone.
Jodie Lynn Boduch is a freelance writer and a frequent contributor to New England Condominium.