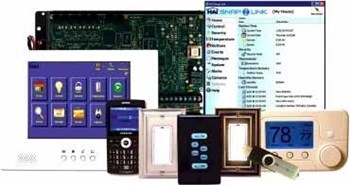 Technology is affecting the way we do business, how we go about our daily tasks, and even how our homes function. Putting existing technology to use in a home or residential building is the essence of what it means to be an "intelligent" building or home. An "intelligent" building is able to monitor its environmental, mechanical, and lighting (among other) systems, through a computerized network of electronic devices. Maintenance, communications, security, and other residential building functions are now being handled by new systems, whose upgraded operations are helping building personnel do their jobs more effectively. In many cases, intelligent homes and buildings provide savings for their owners, by helping them to cut back on their energy usage.
Recent technological innovations are part of the operation of an intelligent building. Heating, lighting, security and other building functions increasingly are being controlled by new or retrofitted systems, especially in residential buildings. Depending upon a building or unit owner's needs, new systems can help to manage a building's temperature, its natural and artificial lighting, and other functions. New systems also are helping with routine tasks in residential buildings. The technology is used in part as a fail-safe reminder of work to be done in the building, or of system conditions that should be addressed.
Technology Streamlines Operations
Fran Besdin is the marketing manager of BuildingLink.com, a web-based business that assists owners and managers with recurring building tasks. Her company has served about 100,000 residential units, by providing software for work orders, recurring tasks (such as preventive maintenance), and other jobs. The company stores a building's information on multiple servers, to keep it safe. "We provide software solutions for running a building," Besdin says.
Some of these time-saving building automation systems that are available do not require major upgrades to a building's heating or lighting systems. Wireless technology increasingly is being used as part of such systems, which makes installation much easier than wire-based system installation.
U.S. Energy Group, of Fresh Meadows, New York, sells systems to monitor and operate buildings. Dan Margulies, chief executive officer of U.S. Energy Group, says even older buildings can benefit from system upgrades. The company installs the indoor temperature sensors and software to enable owners or managers to set different temperatures at different times of the day, Margulies says.
One tool available from U.S. Energy Group is USE Manager, an energy management system for residential buildings. USE Manager's online monitoring program allows the user to have quick and easy access to heating system and fuel use information for a building. The system can be programmed to create alerts for maintenance, or to notify managers or vendors of critical conditions, such as over-heating or under-heating, or heating system water loss. The USE Manager system has a fuel gauge alert that double-checks fuel deliveries to prevent "short" deliveries, as well as a low fuel warning. The system enables managers to track fuel use over time, as well.
The number of systems and companies that facilitate operation of a building, or which help to monitor the operations of a building or home, is growing each year. The variety of tools available to property managers, supers and homeowners also is expanding. Board members, supers, and residents now can choose from whole-building systems that limit energy use in the building at different times (depending upon the time of the day), such as Demand Response, to building-wide monitoring systems watched remotely by a security firm.
Companies that "integrate" building systems now fill the need of buildings and homeowners to modernize their home operations. Automated Homes of New England, a Winchester, Massachusetts, company, provides home automation systems integration to home and building owners. The company's main service offers a system from New Orleans-based Home Automation Inc., which provides security systems that also include heating and lighting controls.
The system typically provided by Automated Homes of New England includes cost-saving features, such as one that shuts off the heating or air conditioner if a door or window is left open for eight minutes. In winter, if the door is open and the temperature of the home drops below 45 degrees, the heat will kick back on.
"We installed such a system in an apartment building, because the owners could see that it would be beneficial," says Richard Shook, owner of Automated Homes of New England. "The owner installed a home automations system to be monitored remotely by property managers."
Simple Installation
Home automation usually consists of lighting, which can be simply retrofitted with new switches; and heating control, which can be upgraded by switching the thermostat to a wireless, networkable thermostat that can be controlled remotely and serviced by a service company. Home automation systems also include the building or unit's security system, which can be retrofitted with controls triggering lights in the home when a fire alarm sounds, or lights coming on when the resident enters the home.
Installing such a system is partly a matter of making sure the controls for the system suit the needs of the owners. When installing a home automation system, Automated Homes of New England will set up controls for the system, and then have the residents live under those conditions for six months before assessing whether they want to change the system. They might decide that they don't want the blinds to automatically open at 7 a.m., or that they want the heat or air conditioning to kick on right after they enter the home.
Installing a new system in a residential building isn't necessarily costly or time-consuming. For example, with something like U.S. Energy's Energy Management System (EMS), a building will get a package that includes a boiler-control system; an HVAC functions monitoring system; and a thermostat system. Installation of the system takes a day in the boiler-room. Getting access to several units to install wireless sensors also is necessary for the system to work properly.
With the systems that Automated Homes installs, the security system uses the existing electrical wires to control the light switches. Each light switch has a unique address that a controller can turn off and on at predetermined times. Motion detectors in rooms turn lights off and on when people enter and leave the room. If the fire alarm sounds, the system turns off the heating system, or even the building's gas system, if something is wrong with the gas.
The system can be monitored and controlled remotely by the owner is she is away from home. "All of it can be controlled by a computer, in or outside the home," Shook says.
For Giuseppe Petruzziello, owner of Power House systems in Walpole, Massachusetts, home automation is tying together security, video surveillance, home theater and other home or building functions. "The primary thing is networking," he says. "You need to make sure you have a network in every room. Every outlet should have a cable, phone and network line."
Home automation, in general, can be fairly inexpensive, because many systems require no wiring work when they are installed. Such an installation might involve replacing light switches for as little as $50 per switch. Master controls for such systems sell for as little as $200, and can be controlled from an iPod or cell phone.
Because you can rent movies via the Internet, and because a lot of televisions now can hook into the Internet, having the capability to do so throughout one's home is convenient and more sought after, Petruzziello says.
Going Green
Today's innovations enable homeowners to live in greater comfort, while being more eco-friendly in their lifestyle. With a home automation system, a homeowner can program the system so that lights automatically turn off when he leaves the room. Such a system can be programmed to lower the heat and turn off the lights when the homeowner leaves the house. "A lot of people do [home automation] for convenience, and it saves them energy," Petruzziello says.
Demand-response energy systems are becoming more attractive to buildings and communities, due to rising energy costs that are passed on to shareholders, says Ken Sinclair, owner of online magazine AutomatedBuildings.com. Building managers and staff can find out about new technologies that mighth elp their communities through websites and magazines, and from people they know, Sinclair advises.
Taken as a comprehensive approach, using building control systems can naturally lead to options such as demand-response, or even co-generation, when a building creates part of its energy by capturing and converting throw-off heat from the heating system. The possibility of a structure consuming little or no power from the grid is becoming a reality for some residential buildings. Net-zero buildings are increasing in number because of high energy costs and greater energy needs. A net-zero building generates (annually) all of its own power. Usually, such a building generates its own power through photovoltaic panels on the roof.
"If a person is thinking green, they need to think home automation," Shook says. "It's a really important part of cutting your carbon footprint."
Take, for example, a person about to go out of town for a while. He turns down the home's thermostat, and turns the lights off, and leaves. With a home automation system, he can turn off the lights and turn down the heat by pressing a button. By setting the system in vacation mode, the system also will turn on lights periodically, so that it appears that the home is occupied.
Home automation, combined with green concepts, can provide a level of comfort and efficiency unmatched by traditional home systems, Shook says.
"In your car, everything is at your fingertips," says Scott Jordan, systems consultant for Electronics Design Group, located in Piscataway, New Jersey. "People want that for their homes now, as well."
Jonathan Barnes is a freelance writer and a frequent contributor to New England Condominium magazine and other publications.